What We Know About Dance Moms Star Abby Lee Miller's Love Life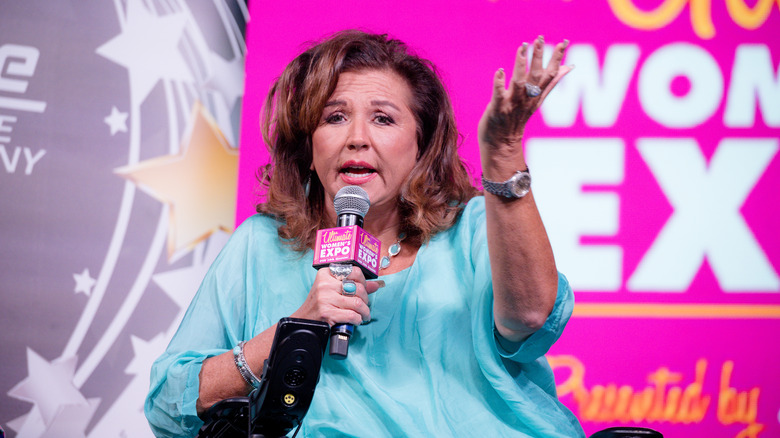 Marcus Ingram/Getty Images
Abby Lee Miller is known for being the sometimes strict coach on "Dance Moms," often contributing to some of the most problematic moments in the show's history. Aside from training young dancers, Miller also served prison time for fraud in 2017. Then, after the series' spinoff, "Abby's Virtual Dance Off" was pulled by Lifetime in 2020 following racially insensitive remarks, she was also prohibited from participating in the ninth season of "Dance Moms." Even through such controversies and an episode with cancer in 2018, Miller said in 2017 that she was still open to dating — though she has never been willing to let go of her high standards.
Viewers got to see Miller getting close to artist Jordan "Jordy" Rodriguez on the show in 2017. She had her team perform to his veganism promotional record, titled "Food For Thought," and the pair seemed to be getting close. However, that fizzled out rather quickly and wasn't exactly a romantic union off-camera. Since then, any possible suitors in Miller's life have remained mostly under wraps.
Abby Lee Miller faked an engagement to please her dying mother
Abby Lee Miller has never been married, but that did not stop her from making people believe she was going to be. In January 2014, Miller shared an Instagram photo of her and actor Michael Padula. The two were cozied up together with the caption, "I do!!! @michael_padula." The photo attracted over 34,000 likes, with several followers congratulating Miller on the supposed engagement. She'd even doubled down on the relationship in a July 2014 episode of "The Wendy Williams Show."
Though it seemed Miller had found love, she revealed days after the "Wendy" appearance that she and Padula faked the entire relationship so that her mother, Maryen Lorrain Miller, could die in peace knowing that her daughter was loved. "My mother was very ill, and she just passed away. I just think it was a comfort thing for her to know there was somebody," Miller shared in an interview. Maryen died in February 2014, believing that Miller was actually headed down the aisle.
Rodriguez admitted he and Miller staged their relationship on 'Dance Moms'
Abby Lee Miller pulled another fast one on her fans when she introduced Jordan "Jordy" Rodriguez on Season 7, Episode 16 of "Dance Moms." While she paraded him around as an artist whose music she wanted to use for routines, her team and their parents all picked up on some chemistry between the two. Rodriguez was even referred to as Miller's "boy toy." However, this, too, was just another sham. Days after the episode aired in August 2017, the musician told Radar Online the truth. "I'm friends with Abby Lee Miller. I'm going to remind you that you were watching a television show," Rodriguez told the outlet. When he was asked why the cast alluded to his relationship with Miller being more than just pals, he responded, "Because it's a TV show!"
These days, Miller is focused heavily on continuing her career. She has been growing her YouTube channel, which sports an impressive 695K subscribers. Miller is also dedicated to her "Leave It On The Dance Floor" podcast. While she has seemingly bounced back following her prison stint and troubled exit from her reality series, if there is a new man in Miller's life, the world may never know.