Travis Kelce's Most Over-The-Top Fashion Moments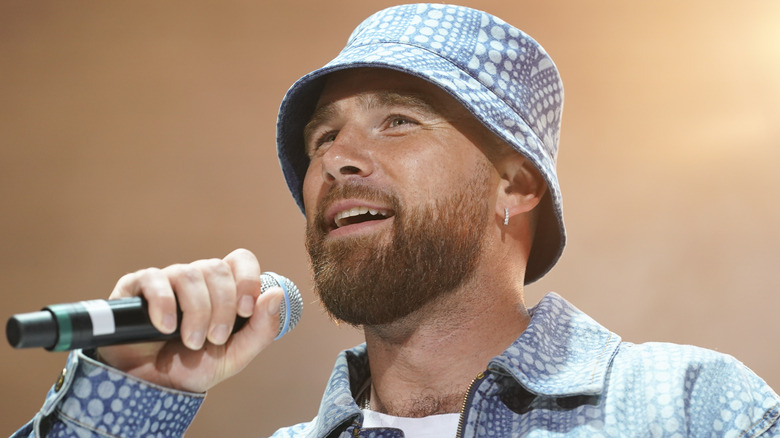 Kyle Rivas/Getty Images
Not many professional football players garner a reputation for being fashion novices, but Travis Kelce is well on his way to establishing himself as a style savant who can both keep up with trends and throw it back with some drippy retro looks.
The Kansas City Chiefs tight end has long shown a penchant for thoughtfully curated outfits, but in the past several years, Kelce has evolved his tastes to include more daring, over-the-top looks. The NFL player's unique ensembles not only cause the media to anxiously await his next captivating outfit but also garner the attention and praise of high-profile stars like Snoop Dogg, who once commented on Kelce's fit saying, "That s**t fly trav." Kelce has taken a liking to showing off his impressive style before kickoff on Sundays — and on many other occasions.  
With statement pieces like patterned fur jackets, imaginative suits that should have other celebrity men taking notes, and the wildest shoes and accessories that pair flawlessly with his clothing, Kelce is embracing more than just football through his skyrocketing fame. When he's not on the field or making a smooth exit in a getaway car with Taylor Swift, the athlete is proving he'll never go out of style — and his ability to confidently serve OTT look after look is truly impressive.
Bundling up in a pastel cable knit sweater set
In December 2022, Travis Kelce bundled up in a cozy unisex outfit. The NFL player proved he has no qualms when it comes to traditionally "feminine" colors, opting for a tie-dyed cable knit sweater set in Easter egg shades. The hoodie and pants featured a blend of yellow, pink, purple, and blue. Kelce wore his hood pulled over his head, adding to the cozy, slouchy vibes. 
The athlete donned an oversized burnt orange puffer coat over the set, which complimented the soft pastel colors surprisingly well. Kelce expertly added a pair of camel-colored Timberland boots to complete the winter outfit. Sure, the outfit was over the top, drawing mixed reactions from fans. One person advised Kelce on Instagram, "Break up with that vibe," and another poked some fun: "When care bears are shaved this outfit is created."
Nevertheless, the ensemble certainly was, as the NFL player himself noted on Instagram, "Cozy af."
Going grunge with retro deconstruction
Travis Kelce served '90s grunge in September 2023 with a pregame outfit that was definitely out there. The professional athlete chose a deconstructed suit that was predominantly a taupe-colored plaid print. However, the edges of the jacket, as well as its pockets and shoulder seams, were trimmed in a black and white cowhide-esque fabric and frayed for a distressed look. Both the suit jacket and trousers were relaxed and slightly oversized — a common fit in '90s menswear.
Beneath the jacket, Kelce went with a classic white t-shirt. He continued to mix casual elements with business attire through his choice of headwear — a retro black "Wayne's World" trucker hat. The Kansas City Chiefs tight end finished the look with a polished pair of black patent leather boots, as well as a black Louis Vuitton briefcase and a small carry-on luggage bag by the fashion house. Kelce's modest handlebar mustache brought the whole vintage ensemble together with finesse — and, we have to admit, we love the attention to detail here.
Saddling up with a little Southern swagger
In August 2023, Travis Kelce combined a deep rust and vibrant yolk shade in an outfit that embraced not only color but also a bold print and material. For his shirt, Kelce chose a sunny long-sleeve button-up that featured large desert-inspired motifs in a reddish-brown tone. His pants — a pair of leather straight-leg cargos — were of the same rich sun-baked clay color. That's right, the athlete wore leather pants in August — that's how dedicated Kelce is to being a style king. 
The NFL pro accessorized with a retro pair of Nike sneakers, which featured the vivid macaroni and cheese color seen in his top. Kelce also donned an oversized pair of sunglasses in a deep espresso color and matching stud earrings. Not one to carry a clashing accessory, he opted for a dark woven leather duffel bag. Instagram comments about his OOTD were mixed, with one fan saying, "Obviously he has no clue what the ladies like" while another praised Kelce, writing, "That boy SMOOTH."
Opting for Elton John-inspired flair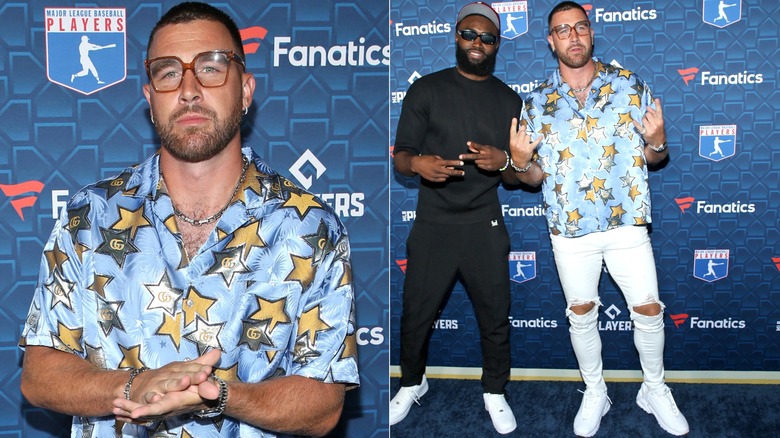 Phillip Faraone/Getty Images
While attending The Players Party x Fanatics event during MLB's All-Star Week in July 2022, Travis Kelce embraced his vivacious side for a look that felt equal parts Elton John and Justin Bieber. The Kansas City Chiefs tight end chose a silk Gucci shirt with a bold pattern for the occasion — the short-sleeve button-up featured a baby blue base overlaid with silver, gunmetal, and gold stars, with the former two stamped with gilded double G logos. Kelce paired the top with white ripped skinny jeans.
The pro athlete kept things clean at the base of his look with a pair of bright white sneakers, and he incorporated several gunmetal accessories to coordinate with the metallic shade in his shirt. Kelce wore a chainlink necklace and matching bracelet, a silver watch, and a diamond-encrusted ring with matching small hoop earrings. He finished the look with an oversized pair of amber-colored eyeglasses — they were very reminiscent of the beloved "Rocketman" singer's staple shades.
Having a psychedelic print-clashing moment
Travis Kelce debuted one of his most outrageous outfits to date in January 2022. While there are tame elements that anchored the look, the football pro chose two patterned pieces — one of which was much bolder than the other — as well as a vibrant accessory to tie the ensemble together.
Kelce began with a relaxed white shirt and a pair of blue and white pinstriped trousers. He matched his white tee with a classic pair of white Converse and then decided to get super funky with his top layer. The tight end donned a knee-length fur coat featuring multiple contrasting colors and prints — cerulean blue collar and hem, burnt orange shoulders and sleeves, and an abstract print that was largely sunflower yellow but included blue lines and red circles at the break line. A large red and white checkered print was also incorporated, which fell from the upper thighs to meet the blue hem and lined the sleeve cuffs. The back of the jacket featured the blue and burnt orange shades along with the checkered print. Across the back, the coat was emblazoned with the words "Fell in love with the Dancer" along with the brand's name, KidSuper. Kelce finished the look with a red skullcap. It was a wild and wacky ensemble, that's for sure. 
Embracing a theme with a bright and bold look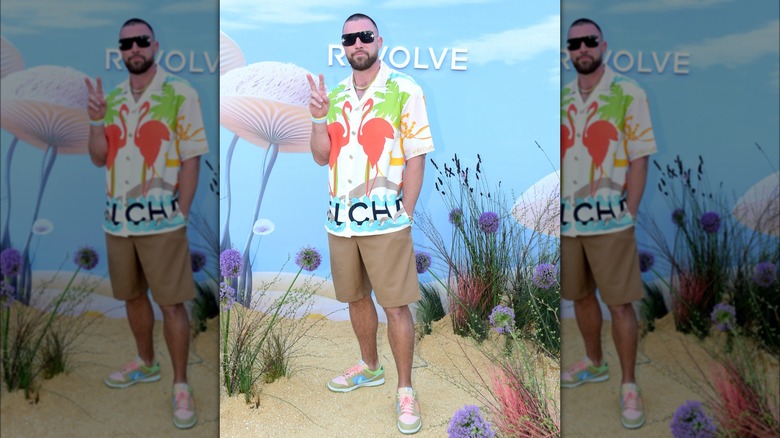 Vivien Killilea/Getty Images
During Coachella in April 2023, Travis Kelce attended the Revolve Festival. He embraced the tropical California vibe with a colorful outfit that featured a daring but fashion-forward graphic shirt. The white short-sleeved button-up featured a relaxed fit and elbow-length sleeves. One either side of the buttons were mirror images of flamingos and lime green palm trees. Aquamarine ocean waves outlined the hem.
The Kansas City Chiefs player proved, once again, that he has an eye for matching by pairing tan chino shorts to match the greige color of the shirt's graphics and buttons. The tone was emphasized further by Kelce's Nike Dunk Low Sun Club sneakers. The colorful shoes featured a muted olive green shade that pulls a bit greige in combination with the shorts and shirt. Additionally, the sneakers included baby pink, aquamarine, and lime green, further emphasizing Kelce's color-coordinating skills. The Midwest native finished the look with a thick gold chain necklace and an oversized pair of black shield-style sunglasses, nailing West Coast drip.
Strutting in an Elvis-inspired ensemble
In September 2023, Travis Kelce seemed to take style cues from another musical fashion icon: Elvis Presley. For his stylish pre-game outfit, the NFL pro donned a pair of white wide-leg trousers with pleating at the front of the hips and a crisp ironed crease running down the center of each leg. Kelce also chose a black and white short-sleeve button-up shirt with a gold chain print across the collar and shoulders, around the sleeves and hem, and down the front of the garment alongside the button closure. The campy collared shirt and pleated pants felt like a modern nod to The King, and Kelce's white-heeled boots really drove the rockabilly reference home. 
For his accessories, the Kansas City Chiefs tight end chose a camel-colored version of his woven leather duffel bag — a clear favorite item in his wardrobe — as well as a gold watch, gold chainlink bracelet, gold medallion necklace, and '90s-style frameless rectangular sunglasses. The OTT drip earned him admiration from Snoog Dogg and fans alike.
Going grandpacore with a knit set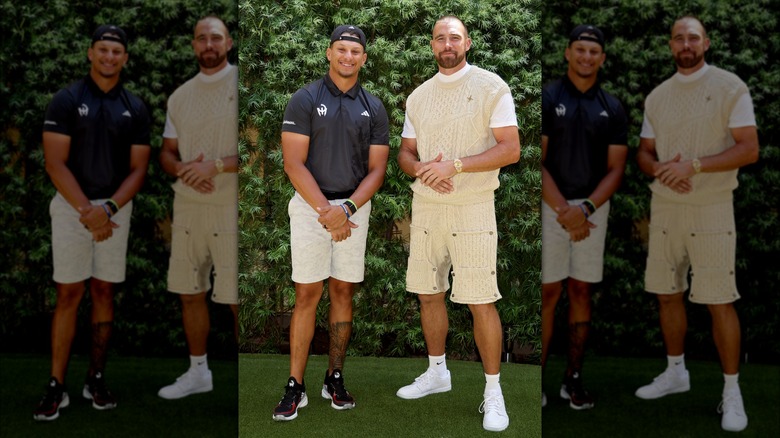 Ezra Shaw/Getty Images
When Travis Kelce partnered with his Kansas City Chiefs teammate, quarterback Patrick Mahomes, to face off NBA players Steph Curry and Klay Thompson in PGA's 2023 installment of The Match, Kelce didn't show up in your regular-degular polo shirt and golf shorts like his pal Mahomes. Nay, nay — the tight end took the opportunity to show off his elevated aesthetic, as any fashionista would. 
Kelce still went sporty for the event, but not in the way anyone would have expected. The football pro donned a matching set, bringing back his love for cable knit with an oatmeal-colored sweater vest and coordinating shorts. The set, designed by Nike, featured the brand's iconic swoosh logo across the chest and included vertically stacked pockets at the front of the shorts, which included button detailing. Beneath the vest, Kelce wore a classic white t-shirt — another clear staple for the athlete. He finished the look with white Nike socks and sneakers, as well as a dazzling gold watch and a pin secured to his chest. 
Bringing art deco to life
In November 2020, Travis Kelce showed his fellow celebrity men how they should be dressing at the Met Gala — except it was just a typical football Sunday for the NFL player. Can you imagine what he'd actually rock at the esteemed fashion event if this is what he chose to wear while traveling to a game? Here's to hoping Anna Wintour can make that happen ...
Anyway, Kelce shared his fit on Instagram, captioning his picture, "Took the art right off the wall." Indeed. The professional athlete's art deco-inspired suit featured an abstract geometric pattern in white, black, olive green, and navy blue shades. Beneath the tailored jacket and slim-fit trousers, Kelce donned a black fitted turtleneck, and he looked suave as hell.
The tight end added black leather boots to the ensemble, and he accessorized with small hoop earrings, a diamond-encrusted ring, and a silver watch. Kelce also donned a black Louis Vuitton duffel bag while rolling a matching carry-on-sized suitcase from the designer label. The man looks like he's starring in a brand campaign rather than heading to a football stadium. 
Mixing old world fashion with modern drip
How does one put a modern spin on a "Pirates of the Caribbean" look and absolutely ace the aesthetic, you ask? Behold: An October 2023 game day outfit by football star and fashion icon Travis Kelce. The Kansas City Chiefs player wore a billowing cream-colored silk button-up, which, yes, did feel somewhat reminiscent of Jerry's puffy shirt in "Seinfeld."
Kelce took the Old World flair a bit further with a pair of crushed velvet pants in a dimensional copper tone — they're quite the outlandish piece but in the best way. The relaxed-fit pants featured cargo pockets and buckle strap detailing, and they gave way to a white pair of high-top Nike sneakers with beige raffia detailing and green stitching. 
Kelce accessorized further with a retro pair of aviator-style sunglasses, which featured black lenses and a gold frame. Additionally, the athlete donned a gold chainlink bracelet, a gold medallion necklace, and another thin chain. He also carried a cream and taupe checkered print duffel bag with camel-colored leather detailing. Between the long-sleeve and the pants, it's seriously giving modern-day Will Turner.
Getting funky fresh
Travis Kelce doesn't cower in fear of a bold outfit, and his October 2022 look is excellent proof. It's also fantastic evidence to show the football star knows how to balance over-the-top pieces with more plain but still stylish garments that both add to the look and let the statement pieces shine. Kelce started with a loose-fitting black t-shirt and relaxed black straight-leg pants, and he wore a rectangular ring belt around his waist. From there, the tight end incorporated a bold garment with neon green details, translucent acrylic elements, and silver accessories.
Kelce donned a furry Louis Vuitton cardigan featuring stripes of black, neon green, pale blue, and red with black LV logos throughout the shaggy material. He coordinated the electric lime in the sweater with a pair of tennis ball-colored Nike sneakers, which balanced the pop of color in the top and bottom portions of his look. The NFL player had fun with his accessories, choosing a chunky acrylic chain buckled to two of his belt loops, as well as an oversized pair of acrylic eyeglasses. Kelce wore small hoop earrings and several silver chain necklaces, and he carried a silver studded briefcase and a silver backpack with beige leather detailing. It's out there, yes, but it's also undoubtedly stylish.
Channeling the Godfather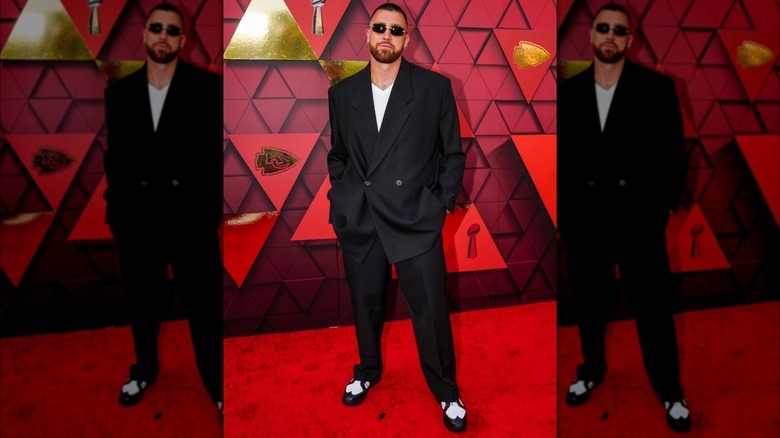 Jason Hanna/Getty Images
For the Kansas City Chiefs ring ceremony in June 2023, Travis Kelce went with a sleek and suave suit with plenty of swagger reminiscent of "The Godfather." In celebration of the NFL team's Super Bowl victory earlier in the year, the tight end donned an oversized black suit comprised of relaxed-fit trousers and jacket with structured shoulders. Despite its over-the-top size, the baggy silhouette didn't look ill-fitting; rather, it gave Kelce a confident, laid-back air that was enhanced by his accessories.
Beneath the suit jacket, the professional athlete wore a fitted white V-neck t-shirt, which contributed to the devil-may-care poshness of the overall look. Kelce chose a classic pair of black and white Oxfords for his footwear, which subtly balanced the pop of white peeking out from under his jacket. He finished the look with frameless black sunglasses, his signature hoop earrings, and a thin gold chain.
Donning denim on denim on denim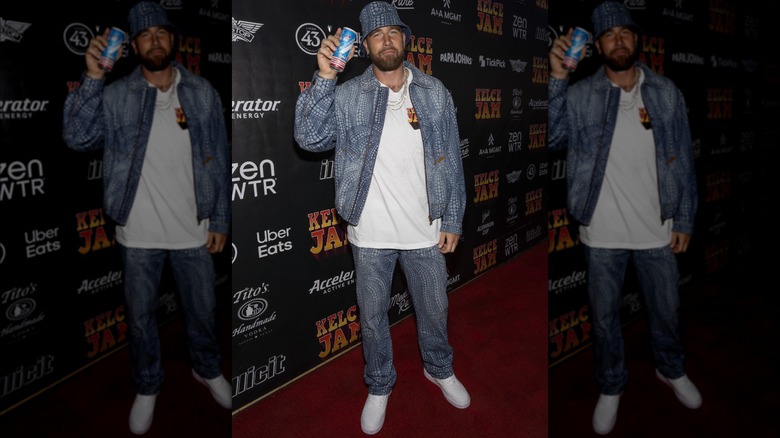 Barry Brecheisen/Getty Images
In April 2023, Travis Kelce hosted the inaugural Kelce Jam — a Kansas City music festival created by the Chiefs player himself. For the multi-artist concert, which included performances by Machine Gun Kelly, Rick Ross, and others, Kelce chose a '90s-style outfit that majorly showed up NSYNC-era Justin Timberlake's ability to rock denim on denim. The professional athlete wore a three-piece Louis Vuitton jean look that included straight-leg jeans, a jean jacket, and, yes, a denim bucket hat.
Each jean garment appeared to be acid-washed to create an elaborate pointillism-style pattern across the material. At the center of Kelce's bucket hat was a subtle LV logo embossed in the same light acid wash finish to blend in with the overall design. 
Beneath his jean jacket, the football player wore an oversized white t-shirt with a small Kelce Jam logo. Kelce finished the look with classic white Nike sneakers, three layered silver chains, and his go-to diamond hoop earrings.
Serving a bold pop of color
Travis Kelce asserted, once again, that he's a style savant in favor of vivid colors and bold prints with his green and black pre-game outfit in November 2022. The Kansas City Chiefs player deboarded an airplane with his teammates, debuting an outlandish look in typical Kelce fashion.
The NFL player donned relaxed-fit pants with a grungy black and white tie-dye-esque pattern splattered across the material. He paired a verdant green short-sleeved polo sweater with the edgy bottoms — his sleeves were extra long, reaching his elbows, and pearlescent blue buttons lined the top third of the unique polo. 
For his accessories, the Nike-sponsored athlete opted for a pair of — you guessed it – Nikes in bright green. Kelce incorporated one last pop of green via his cat-eye sunglasses. He carried his trusty accessory, a black woven leather duffel bag, and finished the look with a silver chain bracelet, a silver watch, and hoop earrings.