Why Matthew Perry's Father Is Famous
We may receive a commission on purchases made from links.
The announcement of Matthew Perry's death at age 54 was shocking to many. The man who brought Chandler Bing to our television screens in the iconic '90s sitcom "Friends" was found unresponsive on October 28, 2023, at his Los Angeles home by his assistant, according to TMZ. The cause of death was under investigation at that time, though The Los Angeles Times reported the actor had been found in a hot tub.
Perry's death comes after an emotional and reflective year for the actor, as he released his book "Friends, Lovers, and the Big Terrible Thing: A Memoir" in November 2022 and looked back at his life and career on a book tour. "The Whole Nine Yards" star was born in 1969 to actor John Bennett Perry and Suzanne Langford Perry, a former press secretary of Canadian Prime Minister Pierre Trudeau. After his parents separated just a few months after his birth, he traveled back and forth between their homes in Los Angeles and Montreal throughout his youth.
It's definitely possible that Matthew caught the acting bug from his L.A.-based father, who started racking up onscreen credits shortly after Matthew's birth. John landed multi-episode arcs on shows like "Police Story," "240-Robert," and "Falcon Crest," and became the face of the brand Old Spice as a sailor in commercials during the 1970s and 1980s. Once Matthew hit it big with "Friends," he and his dad even had the chance to showcase their acting skills together.
Matthew Perry and his dad appeared in sitcoms and a movie together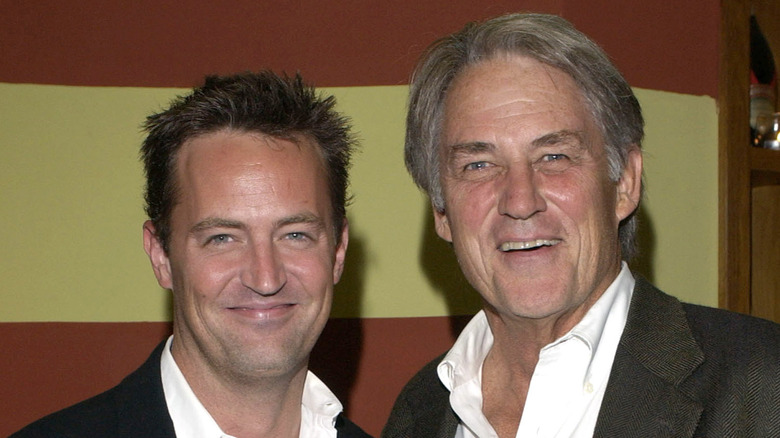 L. Cohen/Getty Images
Since both Matthew Perry and his father John Bennett Perry became actors, it's not surprising that the two have appeared onscreen together several times, especially in comedic fare. In 1998, John appeared on his son's hit sitcom "Friends." He didn't play Chandler's dad, but he did play a parent. In a Season 4 episode called "The One with Rachel's New Dress", the elder Perry portrayed the father of a man who was dating Rachel Green, Jennifer Aniston's character.
The two kept the quality family time going on the big screen in the 1997 film "Fools Rush In," where this time, they did play a father and son. Even when they weren't acting together, John took on the role of paternal characters in movies like 1997's "George of the Jungle" and 2002's "The Sweetest Thing."
Then, on the sitcom "Scrubs," John again portrayed a fatherly figure to Matthew's character in a 2004 episode called "My Unicorn." Their characters started out estranged at the beginning of the episode, but thanks to some misguided but well-meaning meddling by "Scrubs" main character John "J.D." Dorian, they reconciled by the end.
The Perrys also appeared to be close in recent times, as Matthew posted a sweet Instagram photo of himself with his arm around his father on October 15, 2023. "Here is me, and my father John, both holding a beverage," Matthew wrote in the caption, displaying the kind of dry, sarcastic wit for which he will always be well-known.