Matthew Perry's Haunting Reason He Could Never Watch Friends
Frederick M. Brown/Getty Images
Matthew Perry, best known for his role as Chandler Bing on the hit sitcom "Friends," passed away on October 28, 2023, at his Los Angeles home from an apparent drowning, TMZ reports. Sources at the scene indicated no foul play is suspected and no drugs were found. Just last November, the actor released "Friends, Lovers, and the Big Terrible Thing: A Memoir," which chronicled his struggles with addiction and how it impacted all facets of his life, including his work. 
In the book, Perry talks about his complicated relationship with the long-running, beloved sitcom that aired from 1994-2004. It was during his time on "Friends" that Perry first became addicted to Vicodin after a jet ski accident in 1997. That addiction led to other addictions, including alcohol, cocaine, and Oxycontin, as well as multiple stints in rehab. Perry has been candid about his drug and alcohol misuse while filming "Friends" — though has said he never used while on set or came to set intoxicated — and his appearance throughout the series changed depending on what substances he was currently misusing. Seeing those substance-related appearance changes is the reason Perry could never watch the show.
Matthew Perry could tell which substances he was using by how he looked on Friends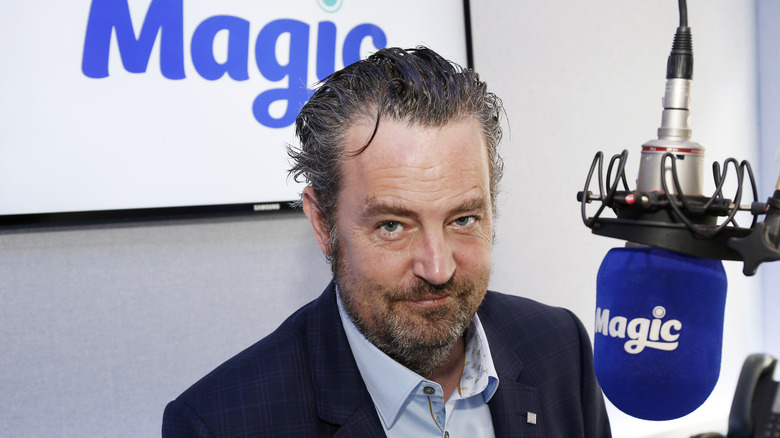 Alex B. Huckle/Getty Images
In a 2022 interview promoting his book, Matthew Perry spoke with Tom Power for Canada's CBC. He revealed that, while he doesn't think anyone else could tell what substances he was abusing just by watching episodes of "Friends," he would certainly be able to, and he couldn't bring himself to do it. 
"I didn't watch the show and haven't watched the show because I could go 'drinking, opiates, drinking, cocaine,'" Perry said during the interview, while mock-pointing at himself in various episodes. "Like I could tell season-by-season by how I looked."
Though Perry stated it's all he would be able to notice if he watched the show, he went on to say that his feelings about watching it were starting to shift. "But I think I'm gonna start to watch it because ... first of all it was an incredible ride, but it's been an incredible thing to watch it touch the hearts of different generations," he said. "It's become this important significant thing and you know, I would, I think I would watch that again. It was really funny and all the people were nice and I've been too worried about this. I want to watch 'Friends' too."
If you or anyone you know needs help with addiction issues, help is available. Visit the Substance Abuse and Mental Health Services Administration website or contact SAMHSA's National Helpline at 1-800-662-HELP (4357).