Matthew Perry's Last Instagram Post Takes On A Whole New Meaning After His Death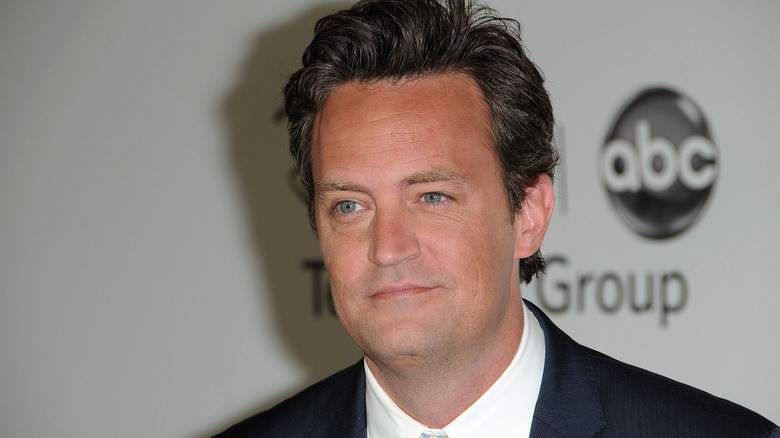 s_bukley/Shutterstock
The death of "Friends" star Matthew Perry, 54, on October 28 left a gaping hole in the hearts of many fans. Perry, best known for playing the sardonic Chandler Bing for all 10 seasons of the hit NBC sitcom amassed millions of followers across his various social media platforms, including Twitter, Instagram, and Facebook. In the wake of Perry's untimely death, his last Instagram post has already engendered a particular response among his followers, one that some might classify as haunting.
Five days before the actor was found dead due to a possible accidental drowning in a jacuzzi at his Los Angeles residence, per TMZ, Perry posted a picture of himself seated in the corner of that self-same place, wearing what appear to be white headphones and looking off into the distance. Perry, surrounded by steam emanating from the water in the oddly ethereal photo, accompanied the post with the following caption: "Oh, so warm water swirling around makes you feel good? I'm Mattman."
Nearly a week before his death hit the media circuit, one fan responded to Perry's post with a simple question: "Is everything ok at home Mattman?" Following the news of his passing, others responded with outrage. "We failed! We failed him! All this time he's been asking us for help and we did not get that," as one commenter put it. 
Matthew Perry and his mental health struggles
In the wake of "Friends" star Matthew Perry's death, it's possible that some fans might view his last Instagram post as a haunting harbinger. But in reality, Perry's life was a complicated one; as he chronicled in his 2022 memoir "Friends, Lovers, and the Big Terrible Thing," the actor dealt with decades-long substance use disorder due to drugs and alcohol, in addition to issues with his mental health. 
Per Perry's own account, he found himself drinking constantly after Season 2 of "Friends" — almost a decade after trying alcohol for the first time in his mid-adolescence — and started taking Vicodin after he was prescribed opioids for pain management following a 1997 jet ski accident in Las Vegas. According to the actor, his addiction worsened to the point that he took up to 55 pills a day. He ultimately checked into rehab 15 times and underwent detox 65 times during his lifetime.
"[By] the time I was 34, I was really entrenched in a lot of trouble," Perry said in a 2022 interview with People magazine. But there were bright points, too: He claimed that he was sober for the entire Season 9 of "Friends," and was an avid supporter of others who wanted to get and remain sober.
Matthew Perry used his platform for activism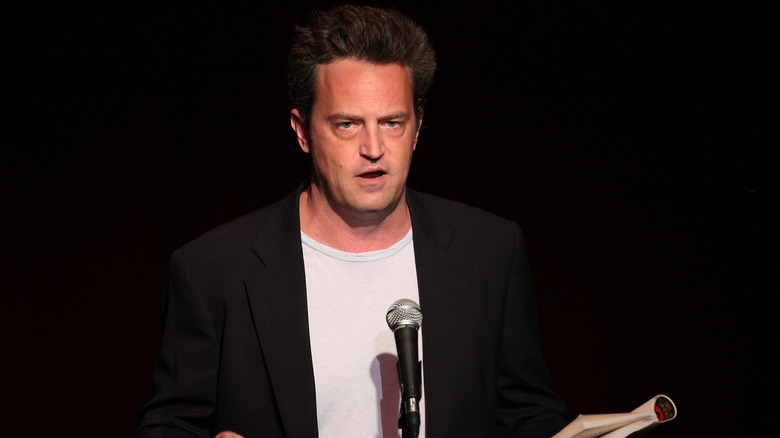 Jesse Grant/Getty Images
Mathew Perry's honesty about his past was a touchstone for his fans — for evidence, look no further than his last Instagram post. As one follower wrote, "None can even imagine the pain n pangs he was caged in but still refused to give up." 
In 2013, during a period of sobriety, Perry opened up a clinic in Malibu for people others who sought the same, but the facility was not able to stay afloat financially. At one point in time, Perry was also an advocate for specialist drug courts, defined as "a special court given responsibility to handle cases involving substance-abusing offenders through comprehensive supervision, drug testing, treatment services and immediate sanctions and incentives" (via Cliffside Malibu).
Essentially, it seems that Perry wanted to get rid of the stigmatization attached to substance use disorder, mental health, and twinning act of self-medication when other resources aren't accessible. By all appearances, Perry was keen on putting out there right up until the end of his life. It could be said that this was exemplified by one of his last Twitter posts: "Let's make stigmas a stigma."
If you or anyone you know needs help with addiction issues, help is available. Visit the Substance Abuse and Mental Health Services Administration website or contact SAMHSA's National Helpline at 1-800-662-HELP (4357).