Courteney Cox Once Said Matthew Perry Changed Her Entire Personality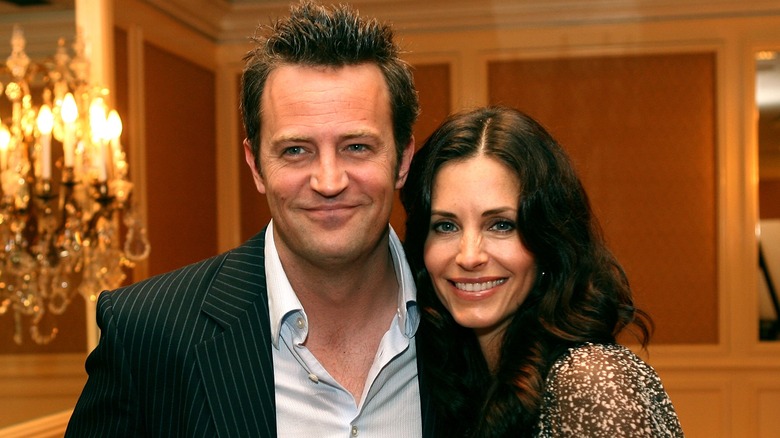 Kevin Winter/Getty Images
Following the death of "Friends" star Matthew Perry, many are looking back on the actor's incredible Hollywood career and the laughter and joy he brought fans over the years, especially on the hit NBC sitcom. His role as the sardonic and sarcastic Chandler Bing is one of the most memorable in TV history and continues to amuse viewers to this day, despite the show ending back in 2004. In fact, as recently as 2021, Chandler was voted the best character on the show by Ranker.
While all six main cast members on "Friends" were close throughout the hit sitcom's 10-season run, Matthew Perry and Courteney Cox had a particularly unique bond. As married couple Chandler and Monica Gellar, the pair had a large number of scenes together and spent even more time in one another's company. As a result, Cox remembers feeling as though much of her identity was very much informed by her co-star for a long time. 
Courteney Cox loved working with Matthew Perry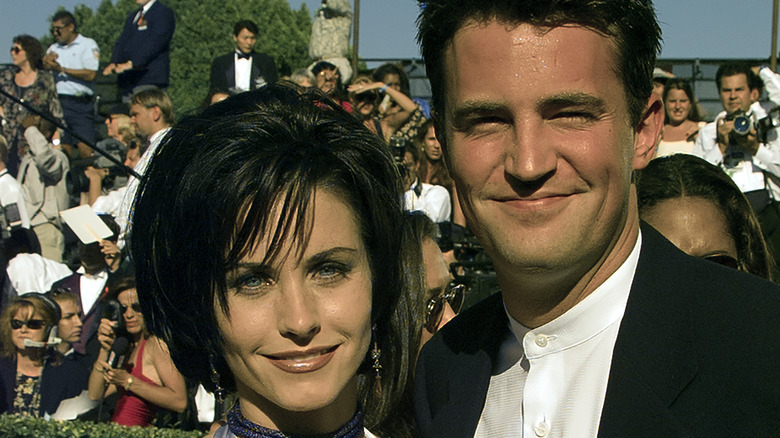 Bob Riha Jr/Getty Images
The long hours spent together on set created a special connection between Courteney Cox and Matthew Perry, whose off-screen relationship was nearly as strong as their characters' on-screen. 
In a January 2014 appearance on "CONAN," Cox recalled how much she enjoyed having Perry as a teammate on "Friends." "It was so great to work with him. He's so sweet," she gushed, per Us Weekly. Of course, there were some downsides to having such a close working relationship with Perry. Cox went on to say that being together constantly changed who she was as a person, admitting, "When I worked with him on Friends, he literally gave me my personality for 10 years."
That being said, the actors' relationship always remained platonic, with none of the "Friends" cast ever becoming romantically involved. "There was a rule that we had, it was really important to the six of us, that we kept a friendship; that we were friends. And if we were hooking up or if there was any strangeness going on, that might mess with things," Perry told "Access" in 2021. The plan seems to have worked, as the stars have maintained a friendship ever since.