Matthew Perry's Final Role Was Completely Unexpected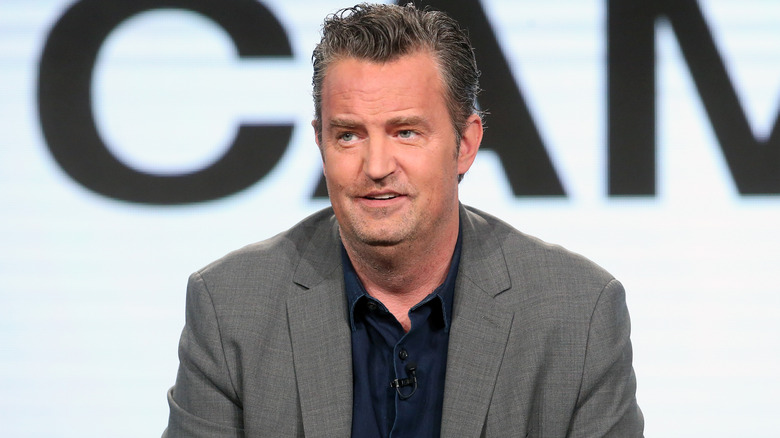 Frederick M. Brown/Getty Images
We may receive a commission on purchases made from links.
It's undeniable that the late Matthew Perry made his name primarily in the comedic realm. However, the actor — best known for his role as Chandler Bing on the '90s sitcom "Friends" — did take on more dramatic roles from time to time, and his last role is an unexpected testament to his acting range. 
In the years before his death on October 28, 2023, Matthew Perry had stepped away from acting to concentrate on his work as a memoirist.  "Friends, Lovers, and the Big Terrible Thing: A Memoir" hit shelves in November 2022 and contained Perry's reflections and thoughts on his childhood, career, and personal struggles. Therefore, Perry's last big role was in 2017. The actor portrayed the real-life politician Ted Kennedy in the miniseries "The Kennedys After Camelot," which traced the lives of the Kennedy family in the decades after President John F. Kennedy's assassination. It was based on J. Randy Taraborrelli's bestseller "After Camelot."
The role would be undeniably challenging for any actor, as the tragedies in Ted Kennedy's life and the Kennedy dynasty as a whole are well known. Also, as Perry would be playing a real person, comparisons would inevitably be made. However, that's exactly what attracted Perry to the role. "I took this job because it scared me," Perry told the Star Tribune. "There was a lot of emotion and tragedy."
Matthew Perry portrayed Ted Kennedy's actions during Chappaquiddick incident
What became known as the Chappaquiddick incident was certainly one of the most heart-rending moments that Matthew Perry had to tackle in his portrayal of Ted Kennedy in "The Kennedys After Camelot," as it resulted in the death of campaign worker Mary Jo Kopechne. On July 18, 1969, Kennedy was driving with Kopechne when their car went off a bridge on Chappaquiddick Island and landed upside down in a tidal pond. Kennedy survived and claimed he tried to reach Kopechne, but the young woman died. The tragic incident became a bigger scandal as Kennedy did not report the incident to police until the next morning.
"It's such a dramatic piece and such a tragic story that the set was unbelievably serious," Perry said during a 2017 interview with BUILD series that he did alongside Katie Holmes, who played Jackie Kennedy. The two admitted acting in the piece became a bit surreal because Holmes confessed she was always hungry due to trying to stay fit to portray Jackie accurately. "I just constantly was trying to act over the sound of Katie's stomach," Perry quipped.
Another challenge Perry faced? Nailing the accent. "Ted Kennedy had a very specific accent. It wasn't just a Boston accent; it was an upper-crust accent," the actor told Jimmy Kimmel during a 2017 appearance on "Jimmy Kimmel Live." Unfortunately, the dialect coach he hired taught him the wrong accent, Perry said, leading to him overacting when he tried it on set. "Luckily, we figured it out. It ended up working out." He did note, however, that the dialect coach never apologized for the screw-up.