What Happened To Milli Vanilli After Their Lip-Syncing Controversy?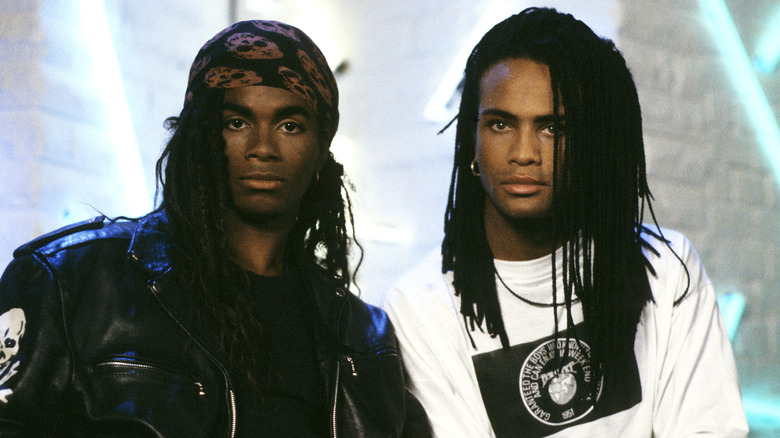 Bernd Mueller/Getty Images
The following article includes discussion of attempted suicide.
The music industry has been plagued with scandals, but few have sparked the same intrigue as the Milli Vanilli lip-syncing controversy. The fascinating tale began in the late 1980s when record producer and songwriter Frank Farian made dancers Fab Morvan and Rob Pilatus the stars of his musical concept, Milli Vanilli. The only issue was that Morvan and Pilatus did not sing the music they performed. Instead, Farian employed vocalists to record Milli Vanilli's songs while the pair would lip-sync along with the pre-recorded tracks on stage. The actual singers were Charles Shaw, Brad Howell, and John Davis, who would eventually die from COVID-19 complications. The ruse seemed to be going smoothly and even earned Morvan and Pilatus a Grammy Award for Best New Artist in February 1990 after popular singles "Girl You Know It's True" and "Blame It on the Rain" became international hits. However, just months before winning their trophy, suspicions began to arise.
During a live MTV performance on July 21, 1989, the track they were lip-syncing began malfunctioning. Panicked and knowing they were not the voices being heard on the song, the men fled the stage. In December of that year, Shaw came forward and exposed the group. However, he was paid $150,000 to recant his story. Finally, in November 1990, Farian came clean and told the Los Angeles Times that the duo had not actually sung their tunes. After the revelation, the music industry took swift action to punish the men, whose careers never recovered.
Pilatus and Morvan were stripped of their Grammy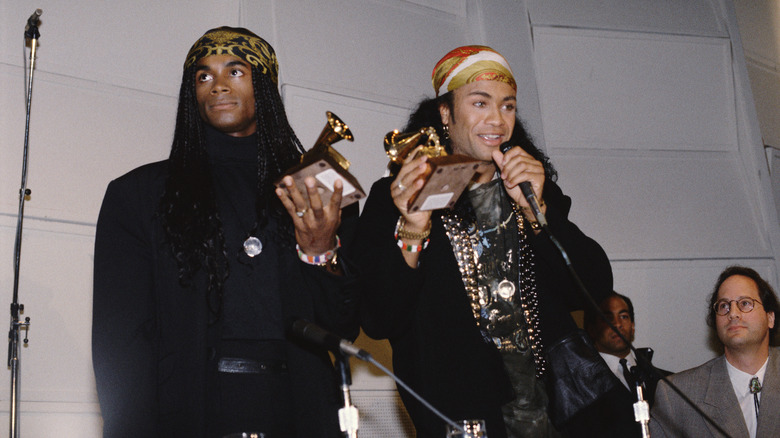 William Nation/Getty Images
Despite manager Frank Farian pushing Fab Morvan and Rob Pilatus to continue lip-syncing, the men, who were known for their good looks and dance moves, were ready to showcase their voices. However, Farian refused, which led to the group contemplating confessing themselves.  Knowing the potential impact, Farian chose to get in front of the scandal and tell the public that Milli Vanilli wasn't singers. At a press conference following Farian's admission, the pair pleaded their case, even singing and rapping using their vocals for reporters.  Sadly, this did not sway the Recording Academy, who decided to revoke the duo's Grammy.
With their biggest accolade being taken back, fans turned on Milli Vanilli. Several lawsuits were filed against the pair and Arista Records, the American label that signed them. Supporters accused Morvan and Pilatus of several crimes, including racketeering and fraud. In August 1991, Arista agreed to a $25 million refund settlement to consumers. After such massive backlash, Morvan and Pilatus fell out of the spotlight, with the controversy proving too much to bear for Pilatus.
Pilatus & Morvan went down very different paths after the scandal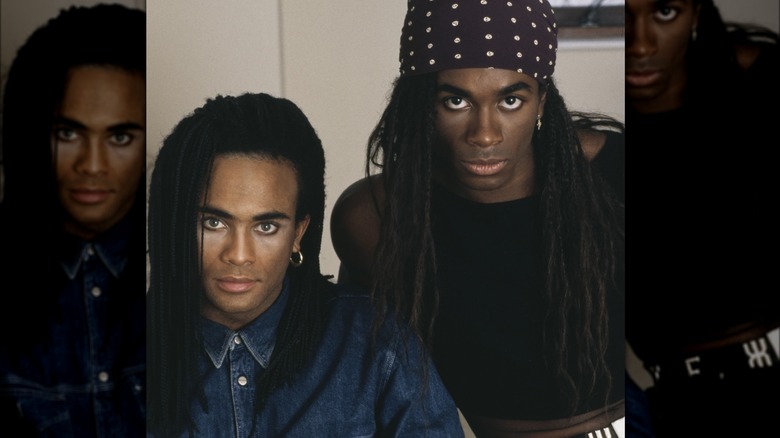 Michael Putland/Getty Images
The situation weighed heavily on Rob Pilatus, who tried to end his life in December 1991 by slashing his wrists, taking antidepressant pills, and attempting to leap from the ninth floor of a Los Angeles hotel. He was hospitalized, and in the following years, Pilatus was accused of committing several crimes, such as assault and burglary. He ended up in a rehab center in California but left after a short stint. He was then housed in another treatment center in his home country of Germany, but could not kick his addiction, dying from an accidental overdose in April 1998.
Morvan continued pursuing music. In 1993, even in the midst of Pilatus' troubles, they released a project, "Rob & Fab," which didn't perform well. At the time of Pilatus' death, the duo had reconciled with ex-manager Frank Farian and were readying another album, "Back and in Attack." However, once Pilatus died, it was shelved. Morvan unveiled a solo album, "Love Revolution," in 2003. Additionally, he has kept busy as a songwriter and a spokesperson for a KFC campaign in the Netherlands, where he moved following the scandal. Now father of four with his partner, Tessa van der Steen, Morvan is the star of a Paramount+ documentary highlighting the group's demise. While his career may have taken an unexpected turn, Morvan told People in October 2023, "Without this music and this journey, I wouldn't be who I am today."
If you or someone you know is struggling or in crisis, help is available. Call or text 988 or chat 988lifeline.org