Inside Kate Middleton's Relationship With The British Media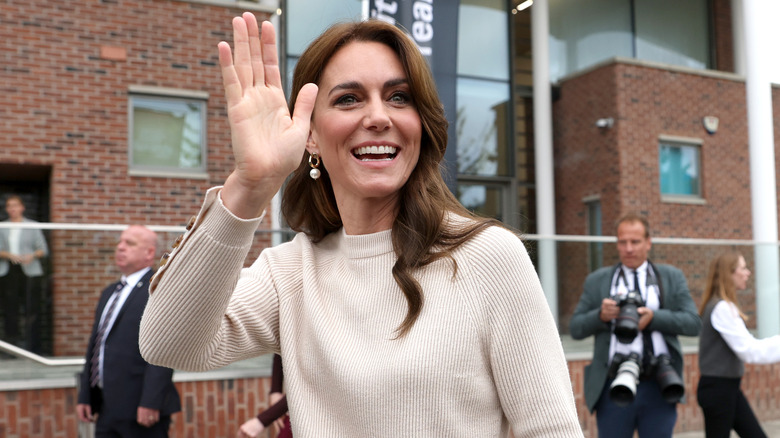 Cameron Smith/Getty Images
The first time Princess Catherine appeared in the British tabloids was in April 2004 after hitting the slopes with Prince William and some friends in Klosters, Switzerland. Even though Prince William and King Charles III (yes, he was there too) posed for photographers ahead of their day in the snow, a paparazzo decided to follow the royals as they went about their day, snapping away as William and Catherine were enjoying each other's company on the slopes. This little excursion resulted in front-page news and an additional four-page spread in The Sun the following day with the headline, "Finally... Wills gets a girl" (via The Guardian).
There was plenty of upset from Buckingham Palace's side when the photographs were published. Even though it hadn't been The Sun's official photographer who took the pictures, they still opted to publish the images the paparazzo took, which violated the tabloid's agreement with the palace. The palace threatened to exclude The Sun from future photocalls after the incident in an attempt to warn other outlets to respect their privacy.
Regardless, Catherine was officially in the public eye from that moment, and there was no turning back from that. The Sun's spread quickly spawned articles from other tabloids, most notably the Daily Mail, which published an article titled "The middleclass girl who shares William's life (but NOT his bedroom)." The piece speculated that the prince might not be that serious about Catherine and that the relationship was unlikely to last. Boy, were they wrong!
The press had no mercy for Catherine once her relationship with Prince William became public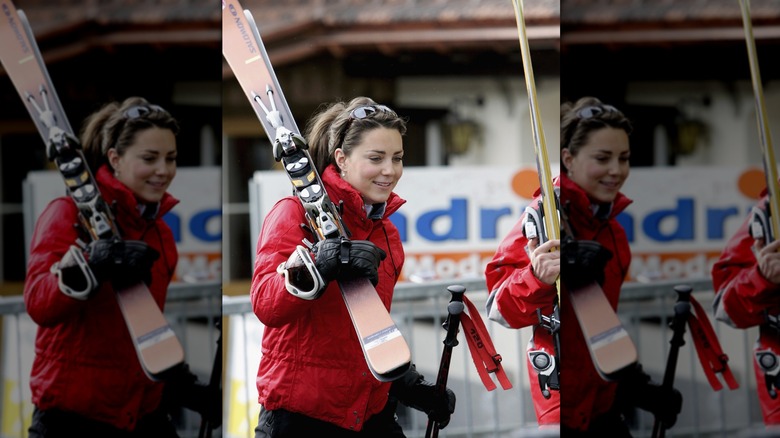 Tim Graham/Getty Images
Dating the future king of England comes with some serious media attention, and Princess Catherine found out just how intense the British press can be once her relationship with Prince William became public. While the press wasn't allowed to hound William while he was still a student, they likely counted the days until the prince finished his studies in 2005. Catherine graduated with him, and while William went off to military training, Catherine moved back to London. All bets were off, and suddenly, Catherine had to ward off photographers wherever she went. Not exactly a great way to start your adult life.
Catherine, much like Princess Diana, simply couldn't escape the cameras — no matter where she went or what she did, the paparazzi were always nearby, ready to take a picture. As if that wasn't bad enough already, photographers didn't seem to like Catherine's calm, stoic demeanor whenever they harassed her in public, so they would resort to verbal harassment to get some kind of reaction out of her. She was called a "B**ch," "W**re," and "Sl*g" by some paparazzi, but somehow, miraculously, Catherine managed to keep her cool.
That doesn't mean she wasn't affected by the onslaught. In one video a user posted to X (formerly Twitter), Catherine can be seen surrounded by photographers, standing with her hands in front of her face, and asking, "Please leave me. Stop it," to no avail.
Her family was criticized by the media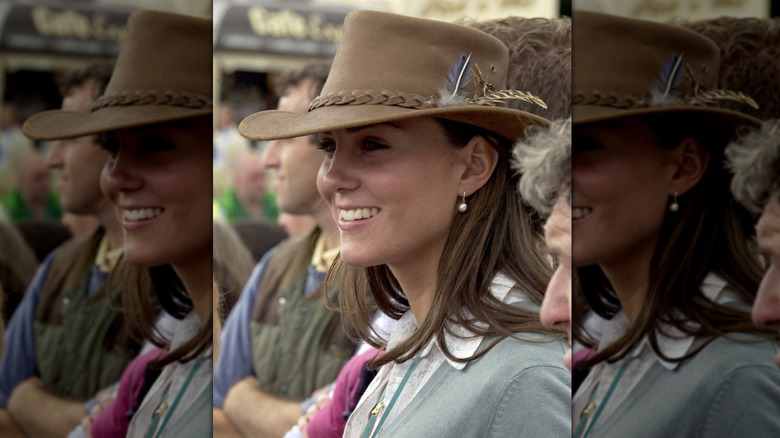 Anwar Hussein/Getty Images
Tabloids thrive by creating stories, and this is exactly what they did once Prince William's relationship with Princess Catherine became public knowledge. Much like with Meghan Markle, they dug into Catherine's private life, trying to find but the tiniest speck of dirt, and they landed on her uncle — an alleged drug dealer — and printed plenty of stories about her upbringing and her parents' social status, painting her as a woman who was unfit to marry the likes of Prince William.
"Kate, the coal miner's girl," one of the Daily Mail's 2006 headlines blared. "Revealed for the first time, the extraordinary, dirt-poor family past of the girl who would be Queen," the introduction read. Catherine's father wasn't a coal miner, as the headline suggests, but his ancestors were, and the lengthy article focused on his lineage. 
The press also dragged Catherine's mother through the mud — while attending a royal event, Carole Middleton was spotted chewing gum, and the press took several pictures of her that were smeared across the tabloids the next day. The Telegraph reported that royal watchers and friends of the family alike had their doubts about Mrs. Middleton's manners, dubbing her "too common" to contend with the royal family. Some of William's friends also reportedly joked about Mrs. Middleton's former job as a flight attendant. The news about Catherine's uncle dealing drugs, however, was one of the more memorable scandals that Catherine had to deal with during this time.
The media dubbed her 'Waity Katie' because William took so long to propose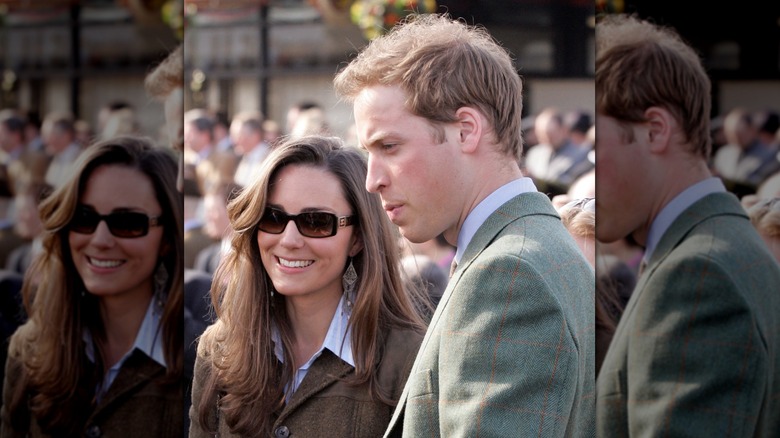 Max Mumby/indigo/Getty Images
Prince William and Princess Catherine dated longer than most before William finally proposed — the couple were together eight years before they got married. During this period, they also broke up a couple of times but always found their way back to one another — an impressive feat, given the fact that being with William meant that Catherine had to brave the onslaught of the British press.
As the years dragged on and William failed to ask for Catherine's hand in marriage, the press began to speculate as to why he was taking so long to pop the question, and the term "Waity Katie" was born. It appeared that Catherine was ready to settle down but that William was hesitant, and it gave the tabloids plenty to work with. The Daily Mail reported that some of Catherine's classmates called her the "Princess in Waiting," and The Times ran an article that referred to Catherine by the same moniker.
As it turns out, Catherine had to deal with these headlines while knowing full well why William was waiting. During an interview with Tom Bradby for ITV News, after announcing their engagement to the public, William revealed that "Kate wasn't in the dark over it all," adding, "We've been planning it for at least a year if not longer, it was just finding the right time. As most people say with couples, it's all about timing."
Every single wardrobe malfunction Catherine ever had made headlines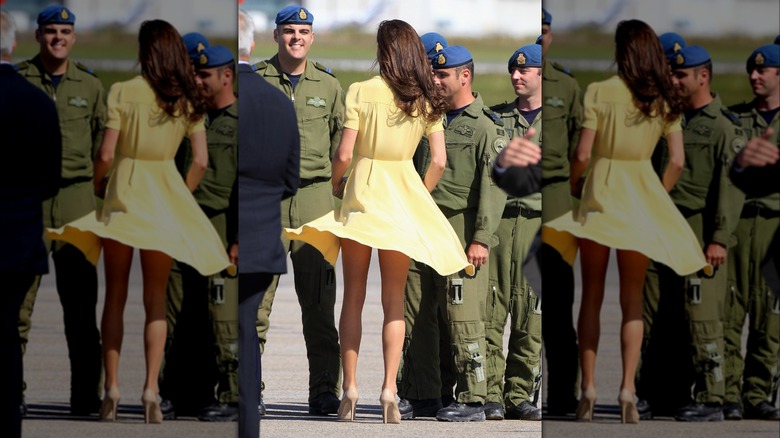 Chris Jackson/Getty Images
It's bad enough having a fashion mishap in public when no one you know is around, but it has to be downright mortifying to have that mishap published on the front page of every tabloid the next day. Such was the life of Princess Catherine when she first stepped into the spotlight as Prince William's girlfriend (and the press continues to capture her wardrobe malfunctions to this day).
While going on a rare public date in 2008, photographers swarmed Catherine and William, and unfortunately for the future princess, she accidentally gave photographers a glimpse of her underwear as she got into a taxi, and they snapped away as if their lives depended on it. Catherine simply couldn't catch a break.
Even after she married William, photographers continued to enjoy capturing all of Catherine's fashion mishaps. "Please learn to keep covered up, Kate!" a 2014 Daily Mail headline screeched in response to yet another wardrobe malfunction, which occurred while Catherine and William were on their royal Australian and New Zealand tour. While walking hand-in-hand to board a waiting helicopter, the wind lifted Catherine's dress to unfortunate heights, making a passing paparazzo instantly rich. The tabloid criticized Catherine for wearing a thong and failing to sew small weights into the hems of her dresses as Queen Elizabeth II did to prevent such mishaps. "Put simply, Kate, we do not expect our future Queen to moon," the Daily Mail's Amanda Platell wrote.
The press criticized her looks from time to time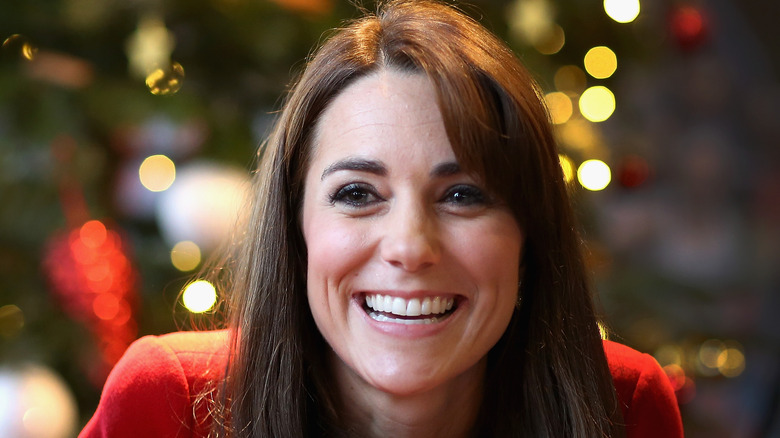 Chris Jackson/Getty Images
It seems that, whenever the British press ran out of things to write about Princess Catherine, they turned their attention to her physical flaws to fill their royal columns. One article published by the Daily Mail in 2012 pointed out that Catherine was due for a haircut. "Forgive me your Royal Hairness but it's time for the chop!" the headline read. The writer, Amanda Platell, recounted one of Catherine's latest official royal engagements and wrote that her hair was a constant nuisance. "At one point she looked like Cousin It from the Addams Family — all hair, no person. It was so distracting."
As if the tabloids pointing out that her hair is too long wasn't annoying enough, Catherine also came under fire for letting her gray hair grow out while she was pregnant in 2015. Renowned British hairstylist Nicky Clarke criticized this decision, telling the Daily Mail that the few grey hairs on Catherine's head were a "disaster." Sheesh! "Unfortunately it's the case for women — all women — that until you're really old, you can't be seen to have any grey hairs," he said, adding that only men could pull off the look. We beg to differ, sir.
Another article the Daily Mail published in December 2015 criticized Catherine for looking tired, saying she "looked absolutely shattered." In the meantime, she was trying to raise her kids and attend several royal engagements — we think she looked great, all things considered.
Her decisions as a mother were questioned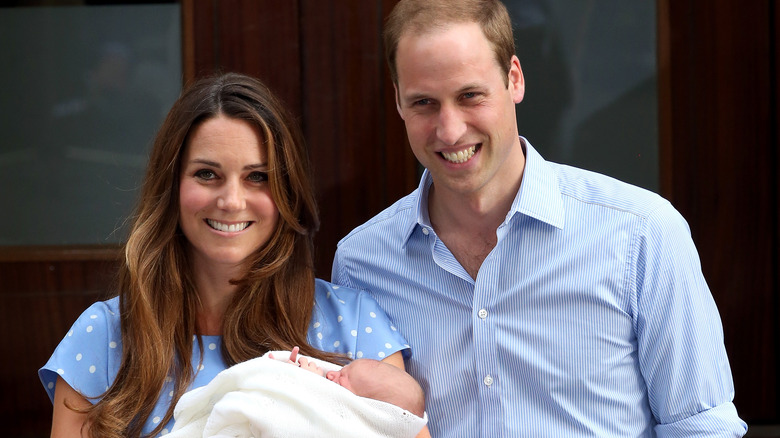 Chris Jackson/Getty Images
Being a new mom is hard enough without the press trying to weigh in with their opinions, but that's what Princess Catherine had to endure shortly after she gave birth to Prince George. 
Second honeymoons are a thing, and Catherine and Prince William decided to go on theirs after becoming first-time parents. The couple made plans to jet off to the Maldives for a week of bliss while Catherine's parents, Michael and Carole Middleton, were set to look after their new grandson. The Daily Mail published an article filled with angry comments from mothers on social media who thought that Catherine and William's decision to go on vacation without their son was selfish and irresponsible. The outlet pointed out that the couple had recently been on holiday in Mustique and that another trip seemed a little excessive. It also revealed that trips to the Maldives were pretty pricey. "Can't imagine choosing to be so far from my baby for so long," one user wrote on Mumsnet. "Seriously? Think this might turn public opinion against them ... seems [it's] just one long holiday for the D and D of Cambridge," another said.
Catherine also received criticism when Prince George was spotted playing with a toy gun, knife, and handcuffs at a polo match. The Mirror reported that critics were furious that the princess allowed her child to play with these toys amid the country's frightening uptick in violence.
Catherine was painted as an excessive spender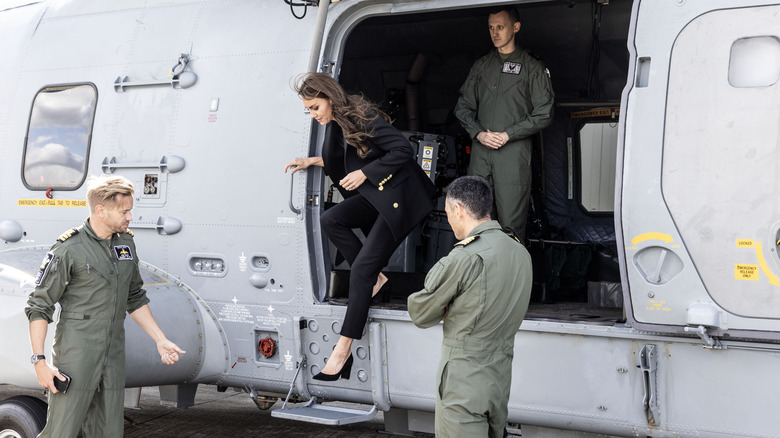 Wpa Pool/Getty Images
Princess Catherine came under fire in 2016 when she chose to travel to a royal engagement via helicopter. The scrutiny appears to have stemmed from the fact that, the day after, Queen Elizabeth II made a trip of the same distance by train. The Daily Mail pointed out that Her Majesty's trip had only cost taxpayers £54.90, whereas Catherine's helicopter trip amounted to a whopping £3,000. This raised plenty of eyebrows and sparked some criticism.
Barely a month later, the Daily Mail published another article informing the public that Catherine and Prince William had traveled to the five-star Courchevel ski resort in the French Alps via private plane. They reportedly borrowed it from a rich friend and didn't pay for the flight, and a royal source told the outlet that taxpayers weren't footing the bill for the couple's holiday. This was never confirmed or denied.
Something that did infuriate some taxpayers, however, was an article published by Express, which gave insight into the money Catherine and William spent on their Windsor home. The outlet reported that the Windsor upgrades cost taxpayers a whopping £4.5 million in 2014, and in 2019, an additional £1 million was spent on constructing a driveway on the property (that must be one heck of an impressive driveway). The outlet ran a poll, asking its readers whether they think taxpayer money should fund the couple's home renovations, to which 60% of respondents replied no.
She was dubbed a lazy royal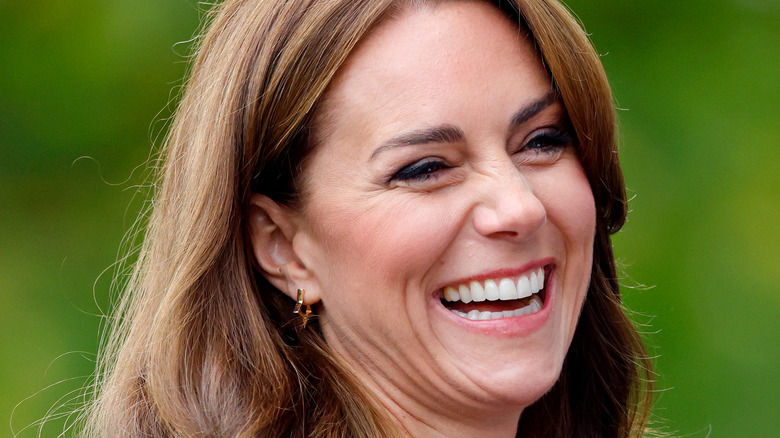 Max Mumby/indigo/Getty Images
In a somewhat scathing 2016 article The Sun published about Prince William and Princess Catherine, it pointed out that the two of them combined weren't working as hard as King Charles III did when he was their age.
The outlet took an in-depth look at all the royal engagements members of the family had attended over the years, and the couple came up short, with Catherine coming in last. The outlet pointed out that Charles attended 404 royal engagements in 1985 while Diana attended 299 that same year. In comparison, William had shown up at 188 engagements in 2016, while Catherine had only attended 140. "The Cambridges are the reluctant royals," a palace insider reportedly told the outlet. "They would much rather be at home with the children but so would most British parents. Unfortunately, ordinary people don't get the choice."
The Sun also published the number of royal engagements Charles and Queen Consort Camilla had attended in 2016 — 530 and 221, respectively. This made Catherine's numbers look even worse. To add insult to injury, Queen Elizabeth's numbers were also published, along with Prince Philip's. The former attended 332 royal engagements while the latter attended 219. In 2017, the Daily Mail still referred to Catherine and William as "Prince Workshy and Duchess Do Little." "I have long thought that William and Kate are not doing enough," royal author Phil Dampier told The Sun, adding that they should get to work.
The press eventually warmed to Catherine as the future queen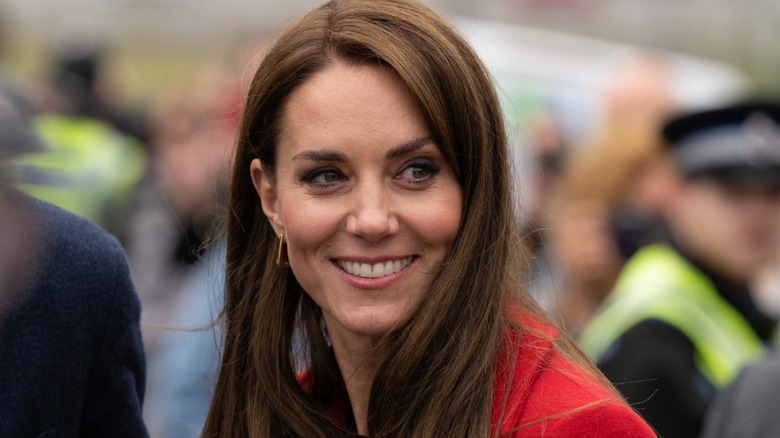 Chris Brunt/Shutterstock
Despite the press dressing her down in her early years as a royal, Princess Catherine eventually managed to win them over with her effortless charm and grace. The Sun, known for its scathing articles about the royals, ran a piece about Catherine, calling her "down-to-earth" and "Britain's new queen of hearts." This was quite the leap from previous pieces it published that painted her as a lazy royal.
In this specific article, the outlet portrayed Catherine as a relatable royal figure — someone who was trying to raise her kids while also holding down a full-time job. It also dove into her very human struggles, and suddenly, many saw another side of the princess. While it appears that The Sun's approach to Catherine changed, one can also argue that she's the one who managed the fine art of making the press fall in love with her. She did this by showing the media her more vulnerable side, telling The Sun that she felt very lonely as a new mother after giving birth to Prince George. Prince William started working as a pilot in Anglesey, and Catherine suddenly found herself far away from her family.
The outlet praised Catherine's ability to connect with children and her knack for keeping things uncomplicated amid so many royal scandals. "Kate is their trump card, and like her late, much-missed mum-in-law, could one day be our Queen of Hearts," The Sun columnist Lorraine Kelly wrote.
The press has portrayed Catherine as a peacemaker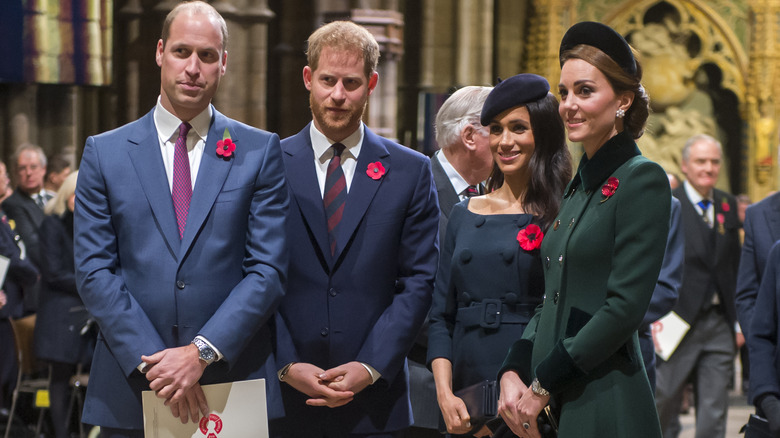 Wpa Pool/Getty Images
It's no secret that there's been plenty of conflict within the royal family over the past couple of years, especially since Prince Harry and Meghan Markle's controversial royal exit. While the endless media scrutiny was one of the reasons the couple left, Princess Catherine has managed to keep her relationship with the press amicable throughout the whole ordeal.
Amid the ongoing conflict, the Mirror reported that Catherine was the perfect person to end the feud between Harry and Prince William. The outlet spoke to Princess Diana's former butler, Paul Burrell, who said Catherine is the only person who can broker some peace between the brothers. Express reported that Catherine had allegedly given Harry a call in an attempt to mend the relationship between him and his family. The outlet also referred back to Prince Philip's funeral, at which Catherine pulled an impressive maneuver that ended in Harry and William actually talking to each other for a bit. She also spoke to the prince for a while, which the outlet claimed proved that she was trying to reconcile the feuding brothers. Speaking to Express, royal commentator Hilary Fordwich dubbed Catherine a "regal peacemaker" who wants to see the family whole again.
Catherine eventually managed to win the press over with her charm and relatability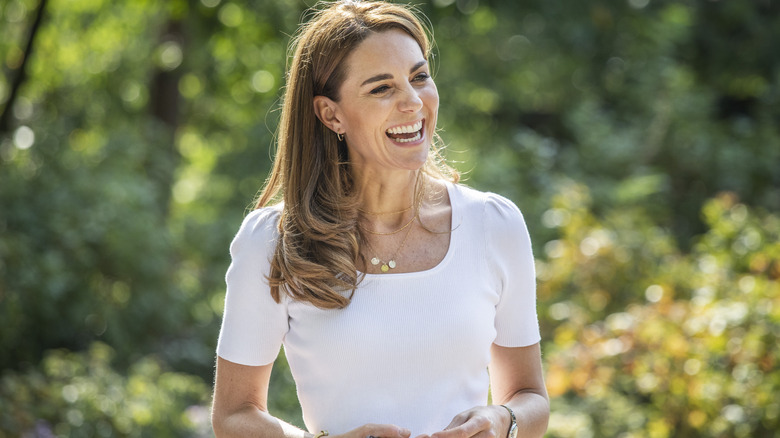 Wpa Pool/Getty Images
It might be safe to say that once the press starts to compare you to Princess Diana, you've officially made it, and Princess Catherine managed to accomplish this feat. In a 2019 article that The Sun ran about the royal, it dubbed her "Catherine the Great." The piece explored how she had grown in her royal role and went from a shy newcomer to a dynamic force within the monarchy. "She is no longer the 'commoner' who married into the family, but the future queen consort and mother of the future king," The Sun's Richard Price wrote. "The fact that even royal insiders are making complimentary comparisons to Diana speaks volumes about how far Kate has come."
The article quotes political author and vice-chancellor of the University of Buckingham, Sir Anthony Seldon, who is of the opinion that Catherine has the same gift Diana had — connecting with the people around her. "Kate has that rare ability, possessed by very few people, of being able to talk and relate to those of different ages, backgrounds and ethnicities," The Sun quotes him as saying. "It's a magical talent that is infinitely precious and you either have it in life or you don't. Most people don't, but Kate does," Seldon added. The article also pointed out that Queen Elizabeth II was very impressed with Catherine's ability to juggle her royal duties with motherhood.
Catherine learned how to keep photographers at bay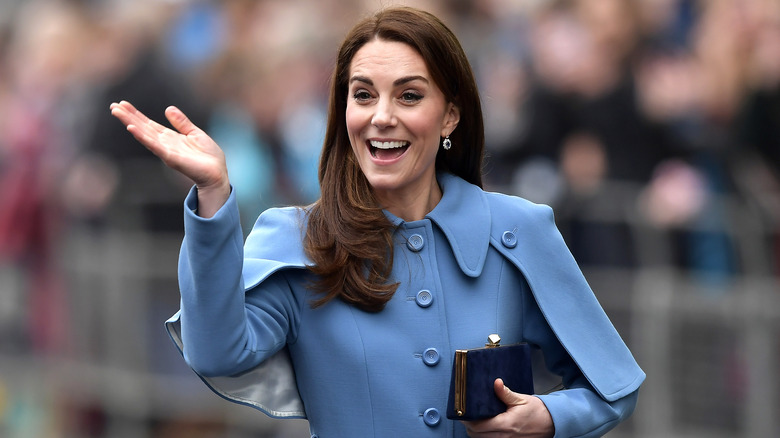 Charles Mcquillan/Getty Images
Being followed around by photographers every waking moment can't be fun, but unfortunately, it's one of the things members of the royal family have to deal with when they brave public spaces. Princess Catherine, however, tried a new tactic where, instead of hiding from the press, she gave them exactly what they wanted.
Speaking to Insider, former royal protection officer, Simon Morgan, explained that Catherine managed to keep the paparazzi out of her hair by negotiating a deal with the press where she regularly provides them with photographs they can use for articles. This way, photographers aren't desperate to get a new shot of the royal when she does make a public appearance. "It's a two-way scenario," Morgan explained.
Aside from providing the press with a steady stream of pictures, Catherine also posts some more personal snaps to her Instagram account, giving the press and royal watchers an inside look at her family life every now and then. Again, this keeps them from poking around. "There's a great saying: 'If you're going to play the game, know the rules," Morgan told the outlet, and it's clear that Catherine has mastered them. By posting these Instagram snaps, she's managed to control the narrative when it comes to her family. In fact, in an article royal expert Camilla Tominey wrote for The Telegraph, she went as far as to say that Catherine basically "killed, stone dead, the market for paparazzi shots."
Catherine has learned to make certain sacrifices when it comes to the press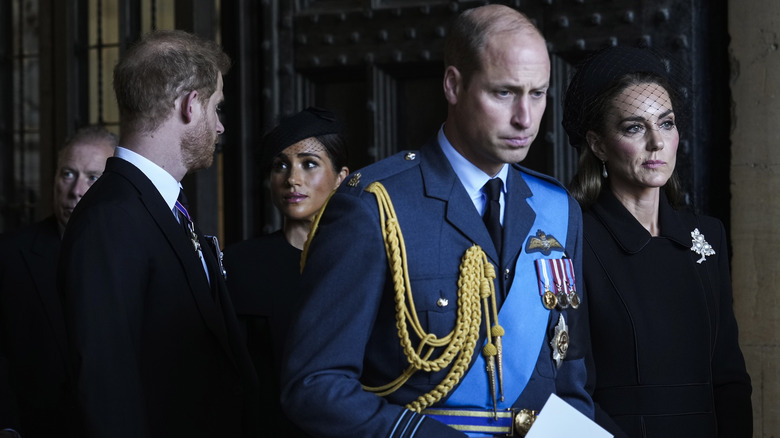 Wpa Pool/Getty Images
Tabloids and royal watchers alike have been keeping close tabs on the royals and how they interact with each other in recent years, especially when it comes to Princess Catherine and Prince William's interactions with Prince Harry and Meghan Markle.
When Prince Philip died, Catherine played the press like an expert, The Standard reports. She made sure to allow for her picture to be taken to satisfy photographers while also subtly moving out of the way during the funeral procession to allow estranged Harry and William to walk together. Well played, Catherine, well played.
In royal commentator Robert Jobson's book, "Our King: Charles III: The Man and the Monarch Revealed," the author claims that Catherine made an even bigger sacrifice during Queen Elizabeth II's funeral. As royal watchers would know, the relationship between William and Harry was, at this point, incredibly strained, and the whole world was watching to see how he and Meghan would be received by the royal family at the funeral. Jobson claims that William wanted them to present a united front in the face of the queen's death, so he and Catherine joined Harry and Meghan for the Windsor walkabout that day. "Catherine later admitted to a senior royal that, such was the ill feeling between the two couples, the joint walkabout was one of the hardest things she'd ever had to do," Jobson claims in the book (via the Daily Mail).
Catherine complies with the Royal Rota system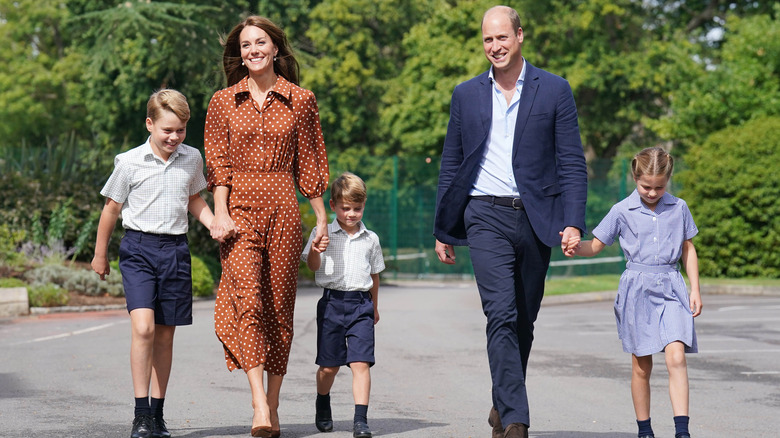 Pool/Getty Images
One of how Princess Catherine keeps her relationship with the press amicable is by complying with the Royal Rota system. If you're an avid royal watcher, you already know what this means, but for those who need a refresher, the Royal Rota system refers to a network of U.K. newspapers that receive information about the royal family directly from the palace. This means they get first dibs on exclusive events, news, and content regarding the family, and in turn, the palace gets to control the narrative — sort of.
Prince Harry painted the system as a farce in his and Meghan's Netflix docuseries. "If you're part of the Royal Rota, you have priority over the story, over everybody else," he said. "All royal news goes through the filter of all the newspapers within the Royal Rota most of which, apart from The Telegraph, happen to be tabloids. It all comes down to control. It's like, 'This family is ours to exploit. Their trauma is our story and our narrative to control.'"
The prince added that the system has survived for three decades. While he and Meghan opted out of the rota when they stepped down as working royals, the rest of the royal family still complies with it. Outlets that make up the Royal Rota include The Sun, The Times, The Daily Express, The Daily Mail, The Daily Mirror, The Evening Standard, and as Harry mentioned, The Telegraph.