Sarah Ferguson Lives An Incredibly Lavish Life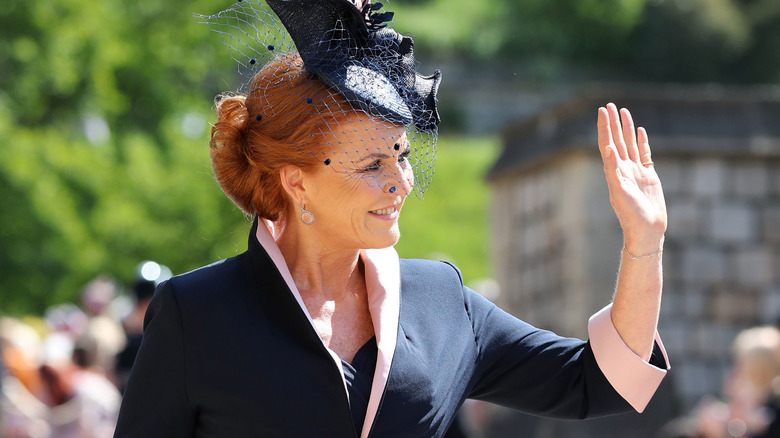 Wpa Pool/Getty Images
The British royal family is packed full of interesting figures, from Princess Catherine and Prince William to King Charles III and Camilla, Queen Consort. Each prominent member of the House of Windsor has made headlines for various reasons in the past, but one of the most colorful characters to ever walk the hallowed halls of Buckingham Palace is Sarah, Duchess of York. The duchess was previously married to Prince Andrew, with whom she shares two children, Princess Beatrice and Princess Eugenie. Though she and Andrew divorced many years ago, Sarah was able to keep hold of her charmed life. She may have been open about money woes since she became a royal ex, but the author and podcast host still leads an incredibly lavish existence. 
From the estate she lives on to the cars she drives and the jewelry she wears, you wouldn't think Sarah ever officially left the royal family. In a unique twist, the duchess was able to keep many of the perks her former family afforded her, but have more freedom. As such, she's released books, gives constant interviews, and isn't afraid to make a (very public) blunder or two. 
Some may think it's rather odd that Sarah gets to have the best of both worlds, moving in high social circles and buying impressive homes while being so open about her life with the Windsors, but one thing is for sure — if it ain't broke (and she certainly isn't) then don't fix it.
Her home is worth millions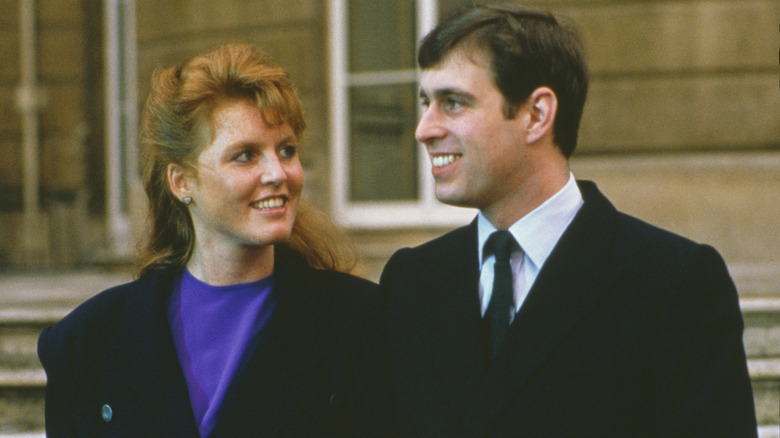 Tim Graham/Getty Images
The royals can't simply pop into the estate agents and rent an apartment or buy a home in a "normal" neighborhood. Their high-profile position means that most of them live in houses owned by the Crown. When Sarah, Duchess of York, married Prince Andrew, they ended up moving into one of the grandest properties on the Windsor estate: Royal Lodge. Queen Elizabeth, the Queen Mother, previously lived in the impressive mansion. It's natural to assume that once the couple went their separate ways Sarah would move out and find her own residence, but that wasn't the case. Sarah and Prince Andrew continue to share Royal Lodge, presumably making the most out of the 30 rooms it has to offer. 
Needless to say, Royal Lodge isn't just the epitome of luxury, but it's one of the largest in the royal portfolio. So much so that there were reports that Prince William was keen on moving into the abode himself, alongside Princess Catherine and their three children. Thankfully for Sarah, it looks as though that isn't going to happen any time soon, meaning she can enjoy the homestead and its vast 98 acres of land in peace — for free. Not a bad rent price for a property that's reportedly worth £30 million.
As for what lies behind its well-kept exterior, Royal Lodge has seven bedrooms, a conservatory, and plenty of room for entertaining guests. Why would the duchess ever want to leave, even if it means living with her famous ex? 
Sarah Ferguson owns over £660k in jewelry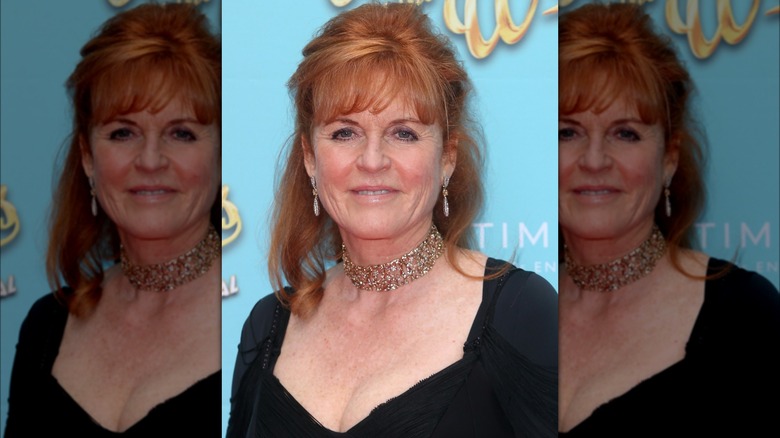 Danny Martindale/Getty Images
If there's one thing that every member of the royal family knows, it's that jewelry is the ultimate status symbol. The House of Windsor looks after a vast collection of jewels, from diamonds to emeralds. These precious (and highly valuable) items are often passed down to different Windsors as the years tick by, including those that marry into the family. As a result, it's hardly surprising that Sarah, Duchess of York, has been able to stash away more than a few sparklers in her time. It's reported that her jewelry collection is worth around £660,000. 
Among her most treasured pieces is Sarah's engagement ring from Prince Andrew. The eye-popping accessory features a Burmese ruby, and according to expert Grant Mobley, it's worth a sizable fortune (via Express): "The red center stone was chosen to complement her red hair and today would be worth upwards of $100,000 USD because of the color and quality of a ruby of this size." The duchess also has the famous York Diamond Demi-Parure in her possession, which is worth over £350,000. 
These two princely pieces of jewelry alone have an astronomical value, and that's without taking into account the other items Sarah owns. She may not wear tiaras anymore, but the mom-of-two still knows how to dazzle when she goes to an event by wearing just enough bling to pay homage to her royal roots. 
She drives the finest cars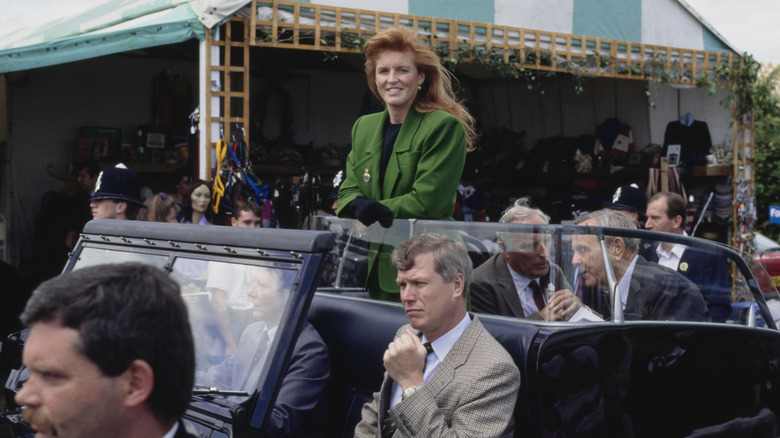 Tim Graham/Getty Images
When it comes to getting from A to B, Sarah, Duchess of York, can't simply hop on the London Underground and mingle with the common folk. She needs to be transported in style, something she became quite used to during her time as a working royal. Even after she and Prince Andrew split, Sarah continued to appear in luxury cars. In fact, she was even gifted a top-of-the-line Bentley Continental Flying Spur by Norwegian businessman Geir Frantzen. The duchess kept the lavish vehicle for some time before she listed it for sale in 2016 for one heck of a loss. According to The Sun (via Daily Mail) the car's original value was around £150,000, but Sarah sold it for a mere £33,995. Still, as it was a gift, it could be argued it was ultimately a profit.
Just because Sarah gave up one beautiful car doesn't mean that she's suddenly slumming it, though. She continues to be spotted in classy rides, including in 2023 when she was seen sitting shotgun alongside Prince Andrew in his Range Rover, complete with a white leather interior. 
Traveling around England's capital city is notoriously annoying by car, so who can blame Sarah for preferring to be comfortable when she bounces between social and work engagements? We can't say that we wouldn't do the same if we were given half the chance.
The Duchess of York has an impressive wardrobe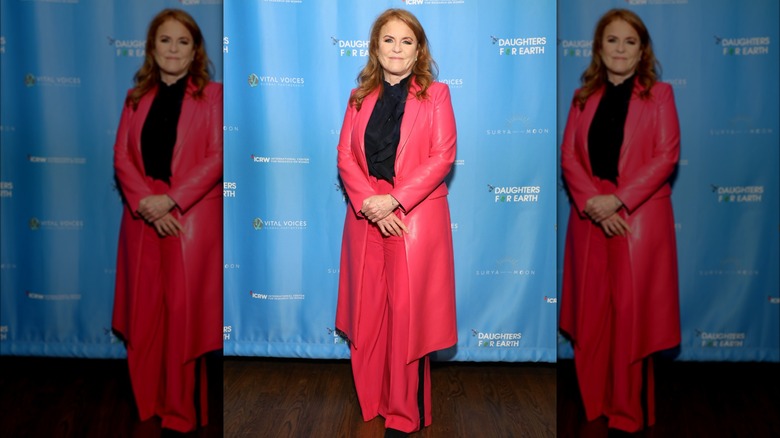 Jp Yim/Getty Images
When she was a member of the royal family, Sarah, Duchess of York, was often spotted alongside her husband, Prince Andrew, at royal obligations. Not much has changed in the years since the split, with Sarah continuing to pop up at various events. Of course, one must always look their best when there's a camera nearby. No matter where she's headed, Sarah always looks the part thanks to her extensive designer wardrobe. This eye-catching pink suit is actually made out of vegan leather and was worn by the duchess to the 2023 Daughters for Earth event in New York. The ensemble was designed by alice + olivia. It doesn't currently appear to be available on the brand's website, but a similar vegan black leather longline blazer is currently retailing for £800. 
Sarah's no stranger to dabbling in designer duds. Earlier this year, the duchess was spotted on a night out with her daughter Princess Beatrice and her son-in-law Eduardo Mapelli Mozzi in London's swanky Mayfair. Sarah wore a green tweed dress by Dolce and Gabbana for the family get together, which wouldn't have been cheap. 
These are just two examples from Sarah's extensive closet, so who knows exactly how valuable her wardrobe really is. It's not a stretch to say that Sarah won't need to look to her daughters for hand-me-downs any time soon.
She enjoys lavish vacations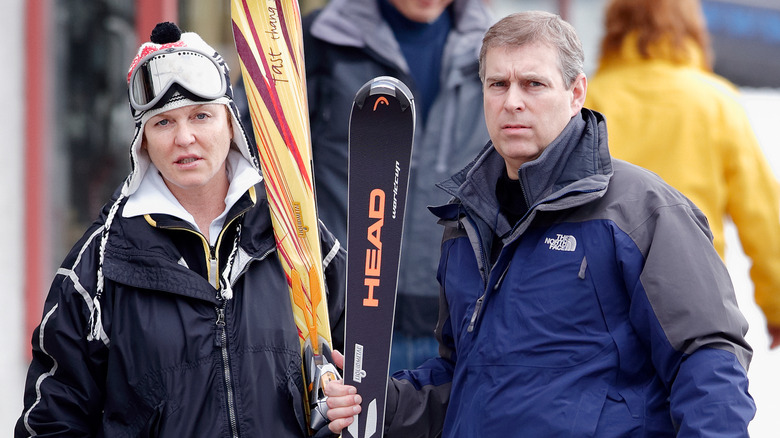 Max Mumby/indigo/Getty Images
Getting to travel is one of the biggest perks of aristocratic life, and it's no different for Sarah, Duchess of York. Sarah got to visit multiple countries when she was married to Prince Andrew, embarking on several tours including to Brisbane. While those days are long behind her, Sarah still enjoys luxe vacations. Many years after their split, the royal exes were spotted hitting the slopes in Verbier, Switzerland, but their favorite vacation destination is somewhere much warmer. A couple of years ago, the Express reported that Sarah and Andrew took a private jet to Sotogrande, a swanky area in sunny Spain. Allegedly, it's one of their favorite places to visit. 
It's not hard to see why Sarah would favor the Andalusian spot as it has a very upmarket history, holding the title of being the largest residential development in the area. Of course, the duchess has been on some truly fabulous vacations in the past, including a 2016 jaunt to Greece where she rubbed shoulders with the likes of Kate Moss and her then-boyfriend, Count Nikolai von Bismarck. 
Sarah also shared a photo of some beautiful pink exotic flowers on her Instagram profile In July 2023. Though she didn't tell her followers where she had been, she implored others to take time to "walk among the flowers" amid the hustle and bustle of everyday life. 
Sarah Ferguson shops in England's swankiest supermarket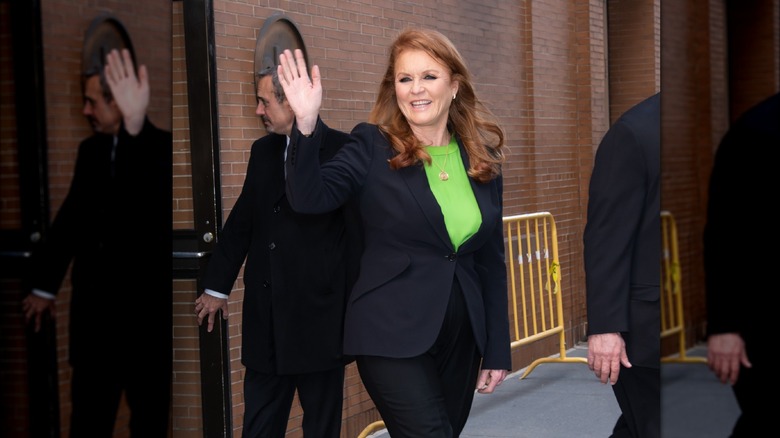 Mega/Getty Images
The cost of living crisis hit Britain hard in 2021, causing the price of everyday necessities like utilities and food to exponentially increase. As a result, lots of people turned to cheaper supermarkets to do their grocery shopping, but something tells us Sarah, Duchess of York, doesn't have that problem. Just before the prices skyrocketed, Sarah posted some snaps to her Instagram profile (via Daily Mail) of herself picking up a few essentials at Britain's most expensive supermarket, Waitrose. The swanky store provides everything you might need and more, but for an average 23.5% higher than the lowest-priced supermarket in the country, Aldi, according to a 2023 study recounted by LBC. 
On her trip, Sarah picked up some cherries, and strawberries, and opted for a little treat in the form of two packs of biscuits and a packet of chips (or crisps if you're British) as she took her time browsing the aisles. However, despite seeming to enjoy her trip to the store, Sarah admitted that it's not a chore she cares to repeat regularly. 
In a 2021 interview with the Financial Times, the duchess was asked whether she's able to go to the supermarket. She quickly explained that while she could, she simply doesn't have to: "I'm very lucky to be a guest at Royal Lodge so I don't have to. I don't cook, shan't cook, won't cook. I hate cooking."
She throws luxurious parties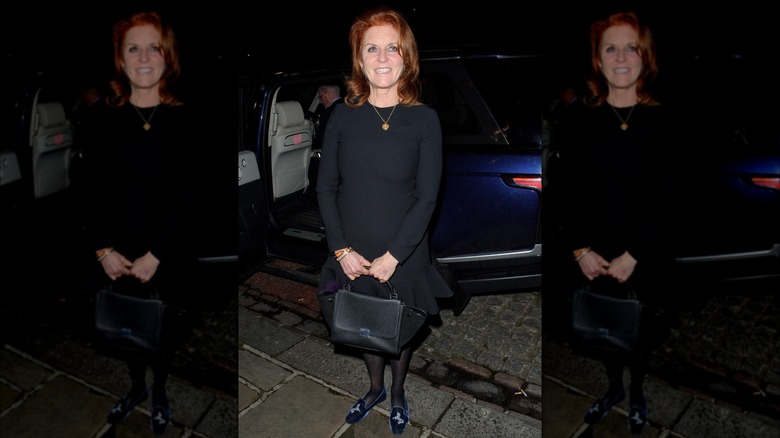 Gor/Getty Images
When you have a 30-room mega mansion at your disposal, royal connections, and a sizable fortune, it's only natural that you may want to throw a little soiree every once in a while. Sarah, Duchess of York, loves to impress her guests, whether it's at home or away. On an August 2023 episode of her podcast, "Tea Talks with The Duchess and Sarah," she detailed a party she threw for daughter Princess Beatrice and granddaughter Sienna Mapelli Mozzi. She made the most of the grounds of Royal Lodge for the event. 
"I hid many different fairies in the garden, and I sent Sienna on a fairytale hunt to find the fairies, with wings on," Sarah explained. "She lasted with the wings on for quite a while before Beatrice and I put the wings on. "And then we had a fairy picnic once she'd found the fairies, and that was a magical day for Beatrice's birthday. I seriously was making Sienna understand there were fairies that are living in the oak tree in the garden so she had to go and find the little door to the fairy department store, which is the oak tree." 
For King Charles III's coronation in May 2023, Sarah hosted a posh tea party at a local care home in her area. She treated the residents to cake and sandwiches to celebrate her former brother-in-law's big day, sharing snaps to her Instagram page. 
Fergie has A-list friends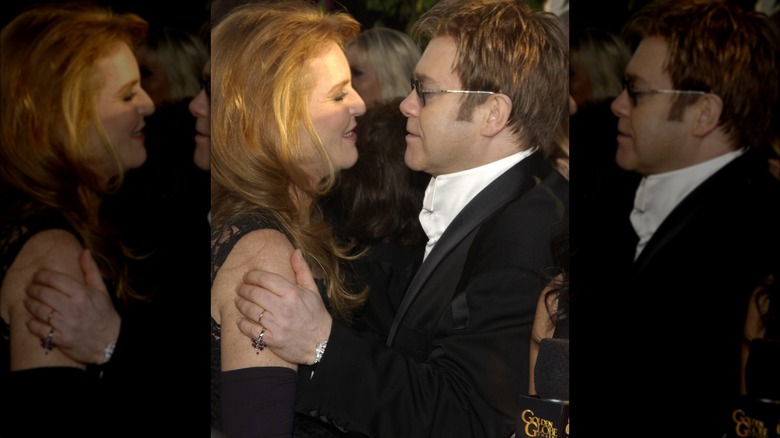 Featureflash Photo Agency/Shutterstock
Members of the royal family, both past and present, are known to have A-list friends. It just comes with the territory. Celebrities of all kinds, from actors to athletes, are often at the same charity events as royals, so it makes sense that relationships are formed. For her part, Sarah, Duchess of York, has an impressive address book. She's rubbed elbows with stars like Elton John, Demi Moore, Victoria and David Beckham, Kate Moss, and even the late, great Lisa Marie Presley. Her connection to the latter particularly surprised fans, as the duchess was close enough to Elvis Presley's daughter to be invited to the stage at her memorial. 
A source told the Daily Mail, "[Sarah] was part of a group of friends including Bob Geldof and his wife; and (guitarist) Jeff Beck, who sadly died recently, and his wife Sandra, through whom she met Lisa Marie." According to the same report, the pair remained close for over 15 years. In her tribute at Presley's memorial, Sarah paid homage to her fallen friend, referring to her throughout as "Sissy." "My late mother-in-law used to say that nothing ... can begin to take away the anguish and the pain of these moments, because grief is the price we pay for love," she said. "And how right she was."
It seems as though Prince Andrew's ex has connections all over the entertainment industry and beyond, making her social life a very interesting one indeed.
She also owns a £7 million home in London's Mayfair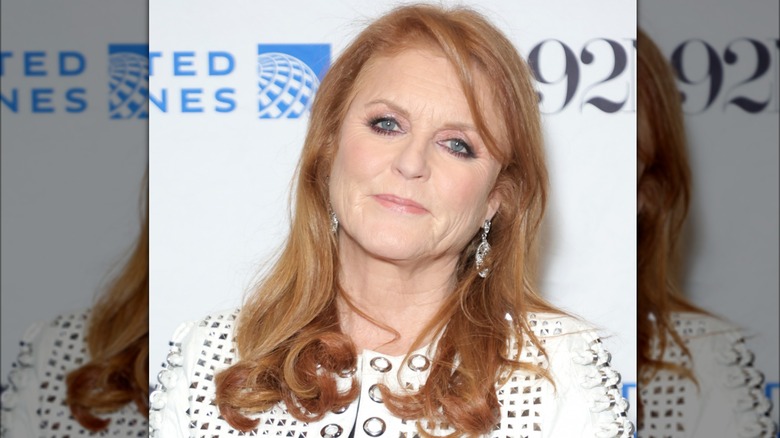 Michael Loccisano/Getty Images
Believe it or not, there was a time when Sarah, Duchess of York, struggled to make ends meet. After her divorce from Prince Andrew, Sarah tried to forge her own way in the world, but it didn't always go to plan. Per ABC News, her lifestyle brand, Hartmoor, went down the drain and forced her into over £600,000 worth of debt in the late 2000s. And as The Guardian reported at the time, she supposedly faced bankruptcy in 2010, but the duchess managed to avoid going down that route. Judging by her extravagant purchases in recent years, it looks like those days are firmly behind Sarah now. 
With several successful ventures under her belt, including books and a podcast, perhaps the duchess has a steady stream of revenue. It certainly seems so considering she bought a £7 million home in one of London's most exclusive areas, Mayfair, in 2022. Not only that, but she planned to fully renovate it, converting it from flats into one large abode fit for royalty. It's a turn-up for the books for Sarah's bottom line — but it doesn't end there, either. 
Sarah is also pouring some money into her shared home, Royal Lodge. According to Express, Sarah is set to fork out £2 million of her own money in a bid to help her ex pay for repairs on the sprawling property, as ordered by King Charles III. Without said repairs, Andrew could face moving into a much smaller home at his brother's request. 
Fergie knows a thing or two about fine dining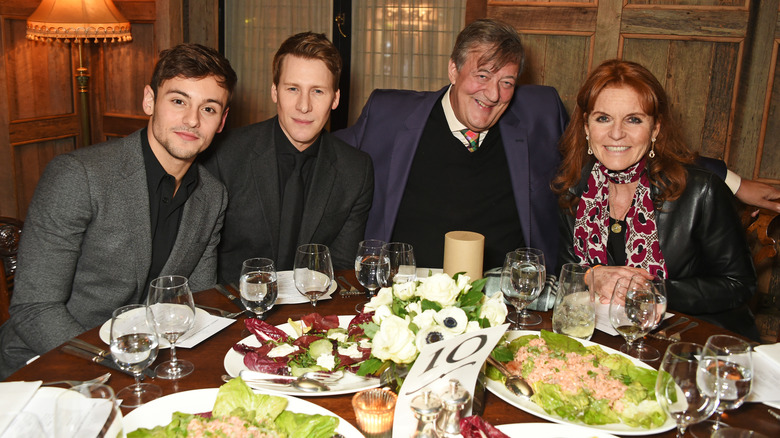 David M. Benett/Getty Images
As we've previously mentioned, Sarah, Duchess of York, isn't a big fan of cooking. If she isn't being catered to at home, Sarah can be found enjoying some of the best restaurants the world has to offer, in multiple cities. In February 2023, she was spotted leaving Scott's, a famous Mayfair eatery, which also attracts the likes of "Bedazzled" actor Elizabeth Hurley. Scott's offers up all sorts of delicacies, including caviar which ranges in price from £70 to £995. The wine list is extensive, with bottles of Puligny-Montrachet, En La Richarde, Leroy Domaine d'Auvenay priced at an incredible £14,000. While we don't know what Sarah's order was, we can be certain it wasn't a cheap night out. 
While this may have been one of her most recent adventures, Sarah has frequented many celebrity haunts over the years, including London's Cipriani, China Tang, and many more. As well as eating out at the best places, Sarah sleeps at the best places too, having stayed at Bulgari, The Connaught Hotel, and the Claridges Hotel to name but a few. 
When it comes to living her life to the maximum and making the most of her situation, no one does it quite like Fergie — and that's why we love her.