Who Was Travis Reed On Grey's Anatomy?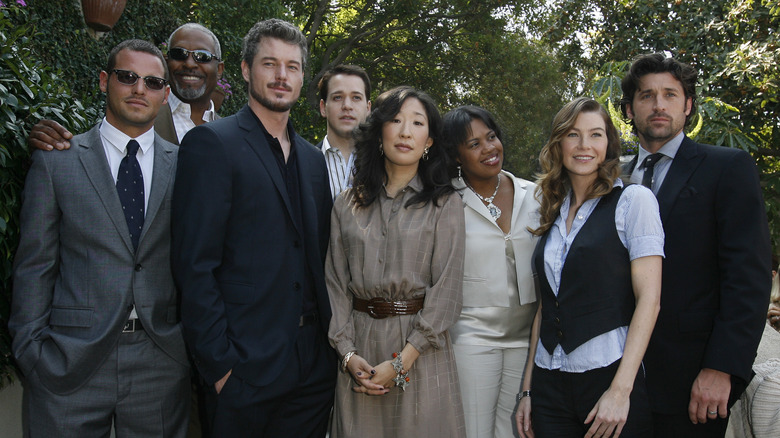 Donato Sardella/Getty Images
In "Grey's Anatomy," it's not uncommon to have an episode in which a character shows up for a few scenes before vanishing from the series altogether. The long-running hit medical drama takes place in multiple hospitals and that means you never know which patient or even doctor will be seen again. As fans know, it's just the nature of the show. The characters have been through every type of situation you can think of, yet there's always a dramatic twist or heartbreaking moment waiting in each new episode.
One of the characters who left a lasting impression on viewers was Travis Reed (Jason Dechert), a celebrity snowboarder who showed up in Season 10, Episode 9 of "Grey's Anatomy." With his charming smile, long dark locks, and adorable friendship with fan-favorite doctor Cristina Yang (Sandra Oh), it's no wonder we were all invested in seeing where his story was going to take us. Since Travis Reed has yet to reappear in "Grey's," fans are left with a rather dreary end for the storyline of his character. 
Travis Reed's role in 'Grey's Anatomy'
Travis Reed appeared in the episode "Sorry Seems to Be The Hardest Word," which proved to be one of the season's most dramatic. You might remember Reed as the bright-eyed sports star whose story went from miraculous to disastrous as the episode went on. Viewers were introduced to Reed in a flashback in which he met one of the main characters on the show, Dr. Cristina Yang. At the time, Yang was still in residency. Her meeting with Reed would present the budding doctor with one of her biggest challenges yet – a valve replacement. As the pro snowboarder went through the surgery and the subsequent process of recovery, he and Yang became close friends. 
Later on, after Reed developed arthritis, Yang passed the athlete's care over to Dr. Callie Torres (Sara Ramirez), and it was here where things went south. There were a few complications during Reed's surgery — including a sponge left in his body — which led to the loss of both of his legs, transforming the snowboarder into a double amputee overnight. He blamed Torres, and this led to the climactic trial that had Torres with everything on the line. While a judge eventually ruled in Calile's favor, it was a traumatizing case that took a lot out of both sides. 
Dechert has appeared in other popular TV shows
If you are as in love with the dramatic nature of "Grey's Anatomy" as we are and want to see more of Jason Dechert's acting, you'll be happy to know this wasn't the only drama series he's appeared in over the years. Along with having a prominent appearance as Travis Reed in his episode of "Grey's Anatomy," he's shown up in several other TV series from the 2010s. He's made an appearance in the likes of "Private Practice," "Medium," and "Prime Suspect."
Dechert must have really enjoyed his stint on "Grey's Anatomy," because he went on to in another show written by the talented Shonda Rhimes — the ever-popular "Scandal." The hit ABC drama follows "problem-fixer" Olivia Pope as she navigates her career as the lead of a consulting firm all while hiding her love affair with the President of the United States. Dechert is credited on IMDb as playing Matt Turner in Season 2, Episode 2 of the series.