Whatever Happened To Nickelodeon Child Star Alexa Nikolas?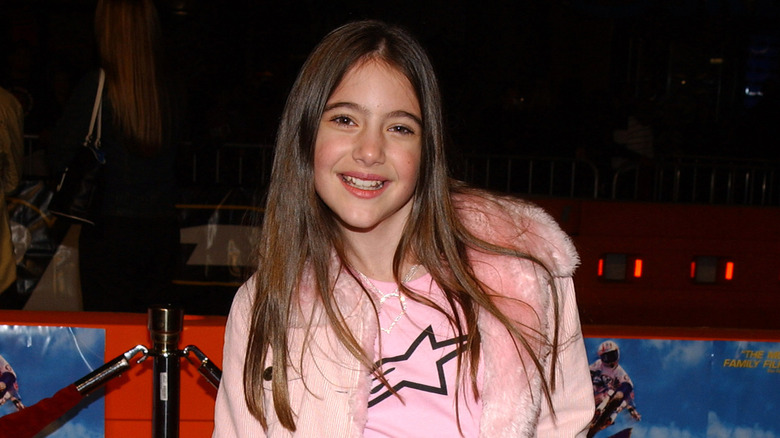 Jean-paul Aussenard/Getty Images
Trigger Warning: This article contains mentions of sexual abuse.
Actor Alexa Nikolas was once a staple on Nickelodeon's "Zoey 101" series, playing high schooler Nicole Bristowe, the boarding school roommate of the main character, Zoey, who was portrayed by Jamie Lynn Spears. Nikolas remained on the series for two seasons before making her exit. Unfortunately, after an explosive confrontation with Britney Spears over Nikolas supposedly bullying Jamie Lynn, the former child star had a meltdown on set. 
She was forced to film a final scene after crying and even vomiting, which ultimately was her last time working on the show. Even after Britney apologized both publicly and privately years later, the incident had a lasting effect on Nikolas, who claimed her co-stars constantly taunted her on set but were never reprimanded. 
After exiting "Zoey 101," Nikolas appeared in several productions, including Disney's "The Suite Life of Zack & Cody." Other notable gigs included "Criminal Minds," "Supernatural," and a role in the 2009 rendition of "Children of the Corn." These days, though, Nikolas spends much of her time enjoying her family life and working to ensure other young entertainers don't fall victim to the predatory side of show business.
Alexa Nikolas is a mother of two
Alexa Nikolas walked down the aisle with her first husband, Mike Milosh, in 2012. However, she claims their relationship began under nefarious circumstances, with Nikolas later accusing him of grooming her when she was underage, years before they wed. In her 2021 lawsuit against Milosh, Nikolas claimed that he reached out to her when she was 16 and he was 33. Milosh allegedly began asking Nikolas for naked photographs and flirted with her despite knowing her age. Milosh denied her accusations and in 2022, Nikolas dropped the suit, though she claimed she would be refiling it. It's unclear if she has done so yet. 
After that disaster ended, Nikolas found love with her current spouse, Michael Gray. Gray and Nikolas welcomed their daughter, Nova, in November 2020. Just months later, in July 2021, the couple walked down the aisle in a ceremony at Crystal Lake in Angeles National Forest in Southern California. The parents welcomed their son, Truth, in January 2023. Nikolas dotes over her children online, even introducing Nova to content creation. She played alongside Nova in a September 2023 endorsement video for children's snack company Little Spoon. Though a cute moment, given what Nikolas underwent as a young actor, it's unlikely that she will push her children into performing.
Nikolas now raises awareness for sexual abuse in the entertainment industry
Alexa Nikolas's current passion is raising awareness about her ordeal with predatory practices in Hollywood. In addition to bullying from her "Zoey 101" cast members, Nikolas has accused the show's creator, Dan Schneider, of watching her change during wardrobe fittings. He was ultimately booted from Nickelodeon over a series of accusations, including having a short temper on sets and unrealistic production schedules. When the sequel film, "Zoey 102," debuted in July 2023, Nikolas, now unrecognizably gorgeous and just as talented, did not reprise her role as Nicole. Instead, Nikolas boycotted the film and urged her fellow co-stars to do the same. The same month that the reboot was released, Nikolas called out actor Jonah Hill for forcefully kissing her in 2008. Nikolas says the incident occurred during a party at the home of actor Justin Long. Nikolas was 16 and Hill was 25. The "You People" star has denied the allegations against him. 
Past instances such as these prompted Nikolas to launch her organization, Eat The Predators. The group conducts protests about sexual harassment in the entertainment industry and also the Church of Scientology. She has long defended her activist work, telling Variety, "There's always going to be a predator. But if they don't have a safe haven, then they can't really perpetuate that abuse." Nikolas is doing great work to protect the actors who came after her, even while coping with her own experiences.