How Britney Spears' Son Jayden Federline Felt About Her Controversial Conservatorship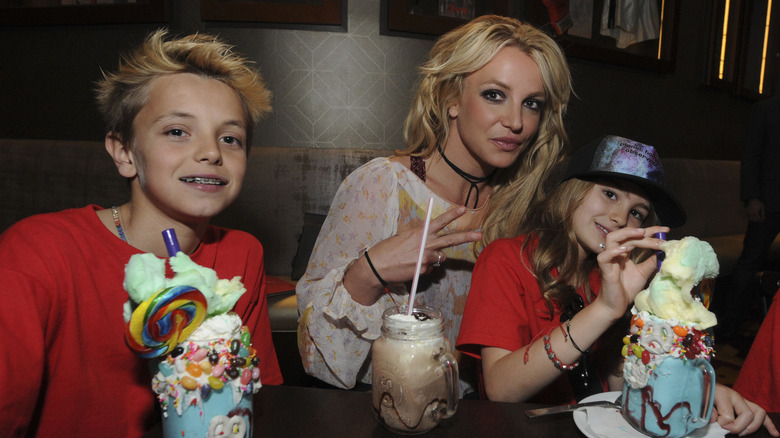 Gerardo Mora/Getty Images
In 2004, Britney Spears and Kevin Federline's relationship began in earnest when their eyes met at a club, and the two instantly fell in love. Just three months later, they tied the knot. Things only got more serious from there as the couple welcomed their first son, Sean Preston, in 2005 and their second, Jayden James, in 2006. Unfortunately, a few months after Jayden's birth, Spears filed for divorce. In 2008, Federline admitted to People that having kids so quickly during their already whirlwind courtship altered their relationship dynamics, explaining, "It's hard enough to be in a marriage, and then have a kid, then kids, it changes everything."
He continued, "For me, I'd become more concerned with my children. Not that I ignored Britney, but my kids are always most important." Initially, they agreed to joint custody, but Federline was granted full custody in 2008 after Spears had a mental breakdown and refused to return the boys to him. Following the incident, she was taken to hospital and held under a 5150 psychiatric hold as professionals assessed her mental state. 
Later that same month, she wound up under the same hold again, and after that, the pop star was placed under the temporary conservatorship of her father, Jamie Spears. However, it ended up lasting over 13 years and only culminated after a grueling legal battle in 2021. Since then, many Britney fans haven't taken a kind view towards Jamie, but the singer's youngest son believes his grandfather had only the best intentions.
Jayden Federline doesn't think Jamie Spears deserves the hate
In 2022, Jayden Federline claimed during an interview with ITV News that his grandfather, Jamie Spears, only agreed to his mother, Britney Spears', conservatorship because he wanted to protect her and help her career. However, Jayden acknowledged that the strict agreement lasted far longer than it should have and his mother was dangerously overworked. While Jayden empathized with her frustration, he also wished that Britney could understand the depths of her father's love and the true intentions behind his actions. 
Ever since Britney's conservatorship ended, she has been painfully real about the abuse she suffered at the hands of her parents in social media posts, but Jayden doesn't view the Spears family in the same light because he shares a close bond with them. Discussing how he feels about his grandmother, Lynne Spears, Jayden noted, "Whenever I see her, she cares about me. They are not bad people!" (via the Daily Mail). 
Britney's son continued, "They want our future to be what we want it to be. They just want to watch over us. Memow and Uncle Bryan are a good part of our lives. They have taught me how to deal with things." Sadly, Jayden doesn't share the same relationship with his mom, partly because of Britney's social media content post-conservatorship. In her memoir, "The Woman In Me," Britney explained that she posted silly videos of herself dancing around barely clothed to celebrate her freedom, but Jayden doesn't see it that way. 
He has a strained relationship with Britney Spears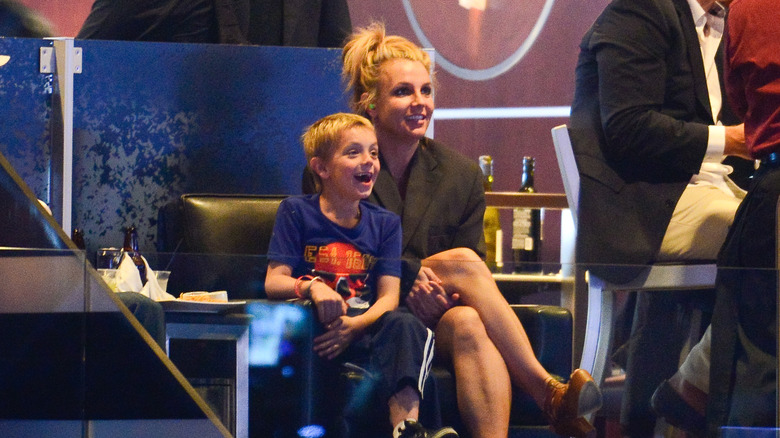 Noel Vasquez/Getty Images
In the ITV News interview, Jayden Federline revealed that he had asked his mother, Britney Spears, to stop posting racy photos of herself online because, like most young boys, it embarrassed him. However, Britney ignored her son's pleas, and their relationship was gravely affected. Jayden noted, "Social media helps her ... So if that's what she wants to do, that's what she wants to do, I'm not going to hate her for that. At the same time, she should come to the realization of whatever it is that stops her loving her family." He added, "It's almost like she has to post something on Instagram to get some attention." 
While Jayden sadly hadn't seen his mother in months at the time, he didn't rule out a potential reconciliation. But Britney wasn't too happy about the interview, and she took to Instagram to respond. The "Gimme More" singer pointed out that Jayden seemed to be echoing the age-old Spears family sentiment of praying for Britney's sanity when in reality, she was already perfectly sane (via X, formerly Twitter). Britney also shared that when she hung out with her sons, they were mostly off doing their own thing.
The legendary pop star always tried to do her best for her children but she felt like it was never enough. Shockingly, Britney even asserted that Jayden's hatred stemmed from the fact that she wouldn't have to pay the Federlines $40,000 a month for child support anymore since her sons would be 18 soon.