The 14 Worst-Dressed Stars At The 2023 CMA Awards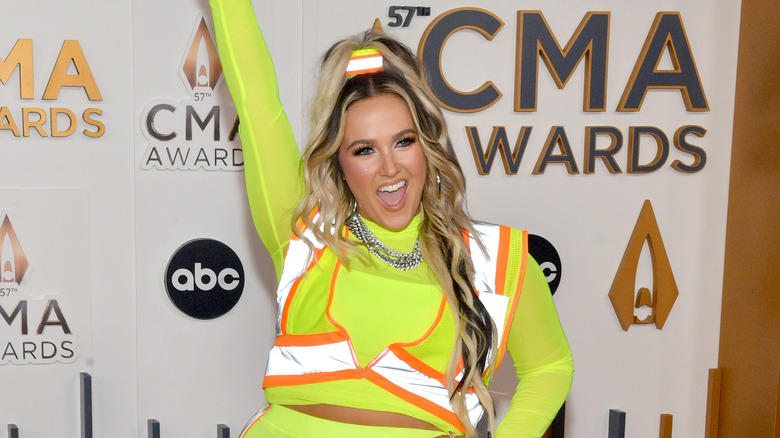 Jason Davis/Getty Images
The 2023 CMA Awards have arrived, and of course, that means that country music's biggest stars hit the red carpet. If you know anything about the world of country music, then you probably know that the genre's stars seldom shy away from expressing themselves through what they wear. Bold choices, major fashion statements, and of course, plenty of cowboy hats grace the red carpet for every country music event. Each year, the CMA Awards are an event full of memorable fashion risks. While plenty of risks pay off, others stick around in our memories for less flattering reasons.
This year's CMAs were no exception to the trend of wild, over-the-top, and unexpected fashion choices. And, it seems that more stars than ever managed to leave us truly shocked at their wild ensembles. Plenty of folks went in hoping to be named one of the best country artists of the year. Still, some managed to take home another special prize: the worst dressed at the 2023 CMA Awards. 
Hailey Whitters' Pretty Woman recreation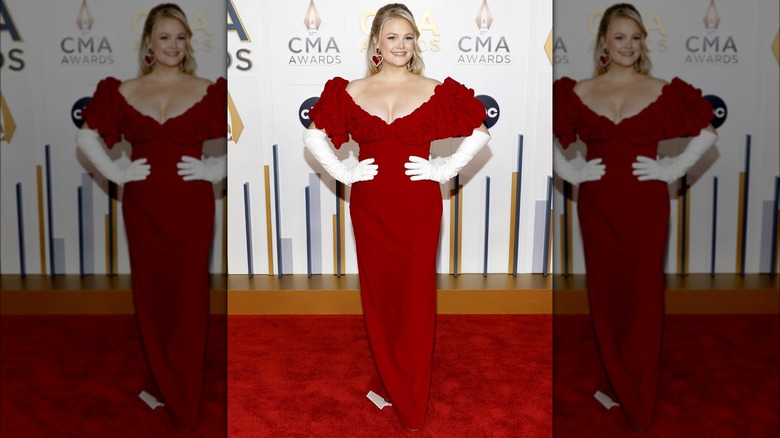 Jason Kempin/Getty Images
Hailey Whitters got close to experiencing red carpet success in her bold, red gown. The color and off-the-shoulder look made this "New Artist of the Year" nominee look like the up and coming star she truly is. Unfortunately, some details took the ensemble's potential and turned it into something that was way too over-the-top. The elbow-length gloves are too much with the drama of the texture at the dress' neckline, and the earrings and hair are oddly casual choices for the rest of the outfit. Overall, this re-imagination of Julia Roberts' "Pretty Woman" dress doesn't work. 
Reyna Roberts giddied all the way up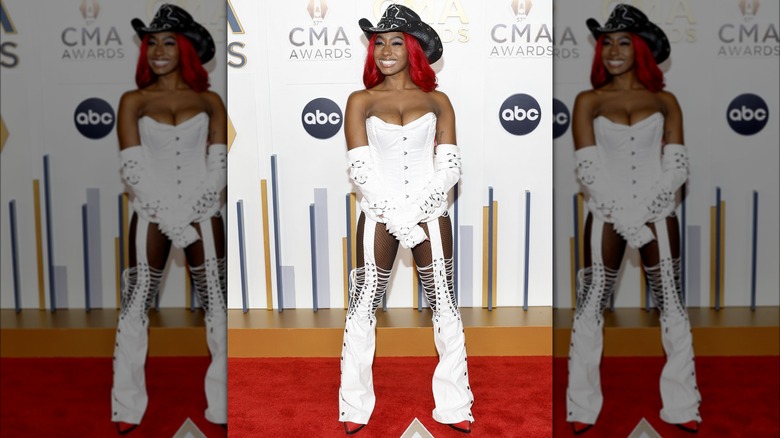 Jason Kempin/Getty Images
One thing's for sure when it comes to Reyna Roberts' 2023 CMA ensemble: she knew that this was a country music event. Beyond that, we have no idea what possessed her to choose this 'fit. 
The bright white corset with intricate gloves and cutout pants layered over black tights are a bizarre combo. With her bold red hair and detailed black and white cowboy hat, we simply don't know where to look. Without the gloves and paired with solid white pants, it may have had potential, but as it stands, this outfit had about 1,000 too many details. 
Chris Stapleton wore his staple outfit (shocker!)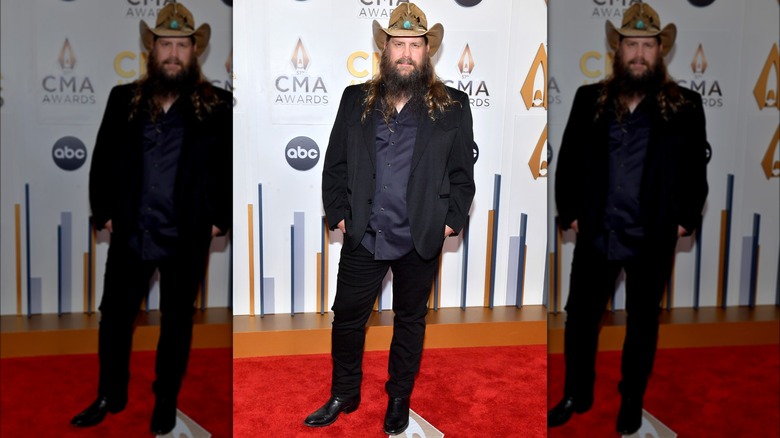 Jason Davis/Getty Images
Chris Stapleton may have hit the 2023 CMAs red carpet in a version of his signature look, but we found ourselves wishing that he dared to switch things up just a little bit. Sure –– you may know Stapleton for that cowboy aesthetic, but his vibe on this red carpet just looked sloppy and boring. With his messy hair, clashing cowboy hat, and unkempt, untucked shirt under his plain black suit, we just wanted to see something a bit sleeker from one of the evening's performers. 
Mickey Guyton gave sorority row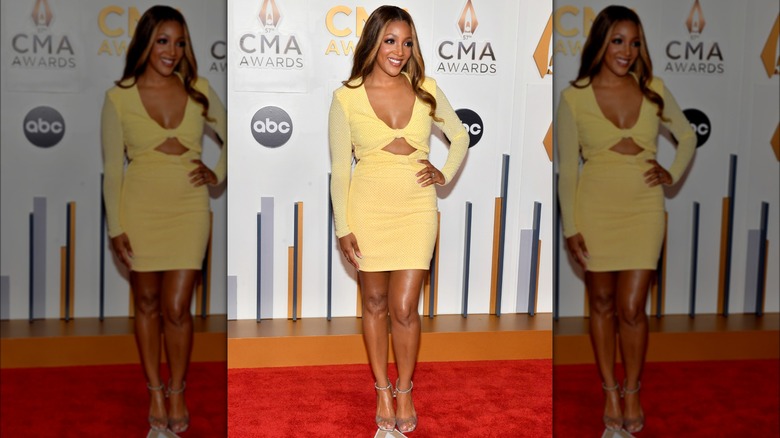 Jason Davis/Getty Images
Mickey Guyton hit it out of the park in the hair and makeup department. We just wish she was able to follow that through to the rest of her look! 
When it came to her outfit, she looked more like she was ready to attend a frat party. The dress is more reminiscent of club-wear than red carpet attire. Furthermore, it doesn't fit her perfectly, and the color just doesn't do her justice. She would have looked better in something with a different cut that was tailored to fit her and in a deeper, bolder shade of yellow. 
Meghan Patrick's Party City chic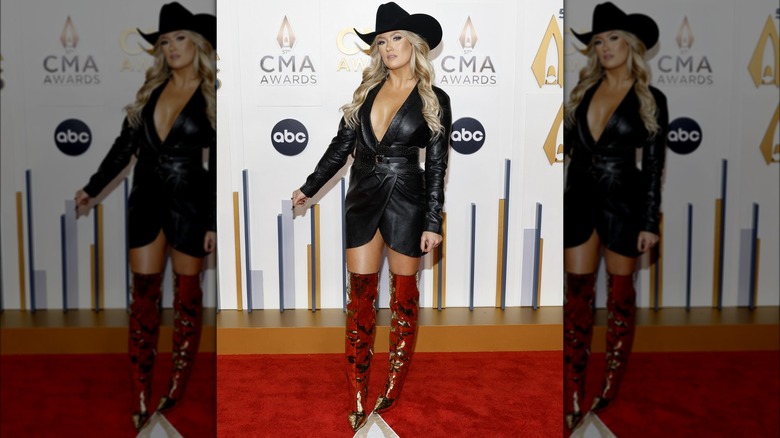 Jason Kempin/Getty Images
Meghan Patrick chose three main pieces for her CMAs look, and each one of them was wrong in its own way. The black leather minidress gave a strange silhouette with its low-cut neckline, long sleeves, and tulip hem, and combining it with metallic over-the-knee boots just made it look dated and overdone. The addition of the plain black cowboy hat may have felt like a way to make the 'fit more on-brand for the CMAs, but instead, it left the ensemble looking even tackier and more costume-y.
Angie K's look felt off the rack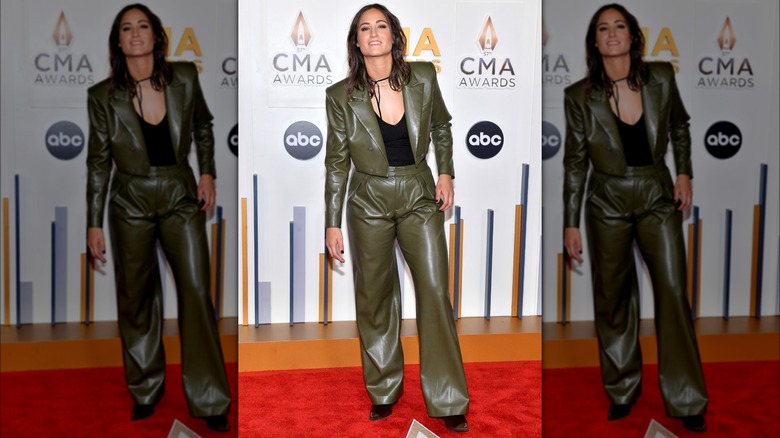 Jason Davis/Getty Images
Angie K went with an ensemble that could have, in theory, been sleek and cool. Instead, though, it looks clunky and uninteresting. This olive green leather suit could have worked with its cropped jacket if the pants were properly fitted. However, they were too long and baggy, and when paired with her tank top, choker, and scraggly-looking hair, it just looked too casual. We would have loved to see this jacket with fitted pants, a crop top, and a high ponytail. 
Parker McCollum's jeans gave us the blues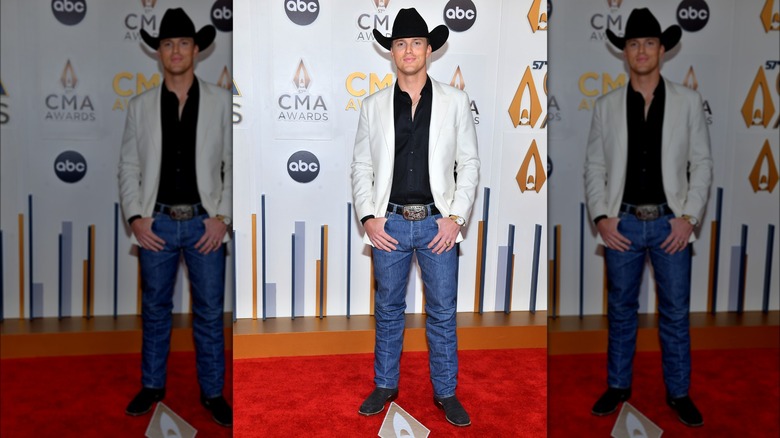 Jason Davis/Getty Images
Parker McCollum was nominated for "Best New Artist of the Year" thanks, in part, to his hit song, "Burn it Down." We just wish he would have channeled that song title when he saw this outfit. The look actually worked from the waist up, and had he paired his black shirt, cowboy hat, and white suit jacket with some simple black pants, he would have looked the part of nominee for the night. Instead, he opted for some oddly-fitting jeans and a garishly large belt buckle. 
Cody Johnson continued the worst trend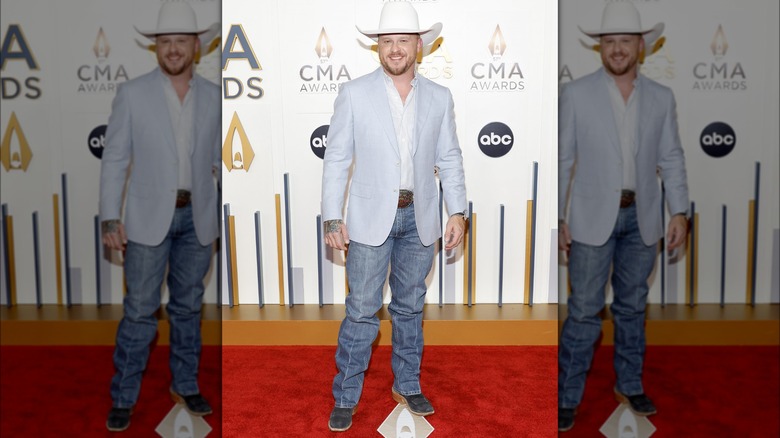 Jason Kempin/Getty Images
Wait a second –– do Parker McCollum and Cody Johnson have the same stylist? And, if so, why on Earth do they!? In a "who wore it better" contest, we'd definitely give the award to Johnson, since his ensemble has less contrast than McCollum's and, therefore, it feels less over-the-top. Still, we'd once again recommend swapping out the jeans, belt, and casual shoes for black pants. And, we can't condone medium wash jeans with a glaring ironed-in seam in the front under any circumstances –– especially not the red carpet. 
Caution: Priscilla Block shtick ahead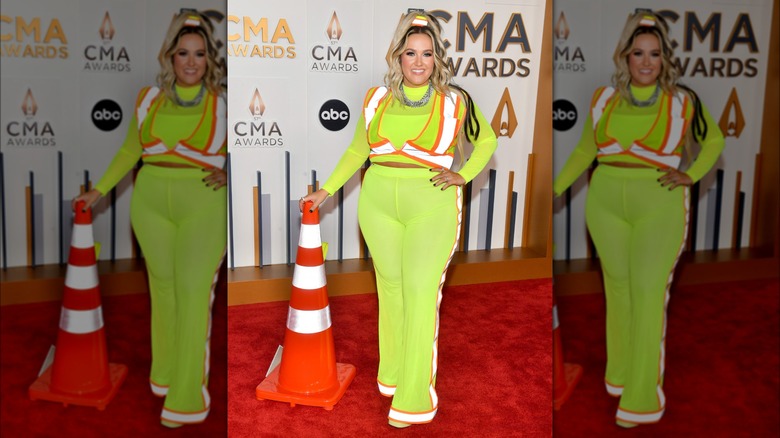 Jason Davis/Getty Images
Priscilla Block certainly has a sense of humor, and sporting a safety vest is basically her signature look. Even so, this was far too weird for the red carpet. And, for folks watching at home who didn't know about her affinity for a cautiously reflective ensemble, it was even weirder. A look that's inspired by an inside joke is fun, but we would have liked to see her look more elevated for a special occasion like the CMAs. A highlighter yellow dress with orange accents, perhaps? Either way, we recommend leaving the traffic cone at home next time. 
Post Malone's cowboy cosplay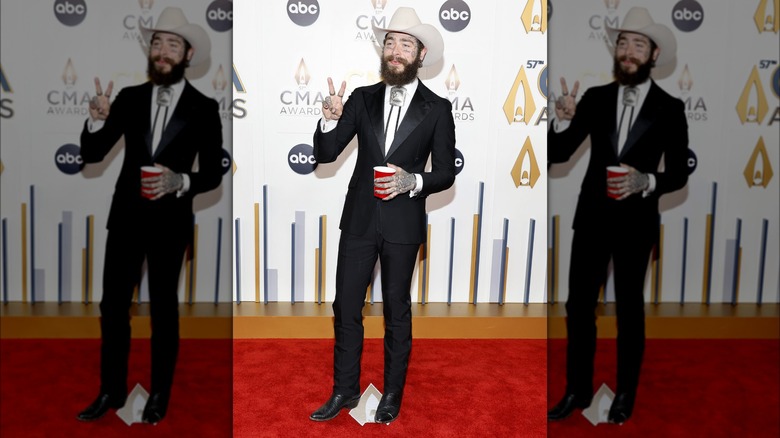 Jason Kempin/Getty Images
Think a traffic cone is a bad accessory for a red carpet? Wait until you see the solo cup Post Malone paired with his look. 
The rapper and singer-songwriter actually looked super sharp in his suit and could have even managed to grace a "best dressed" list had he not gone so overboard with wacky accessories. Between the awkward cup and massive bolo tie that he paired with his simple cowboy hat and dapper suit, he looked like he tossed on some pieces of his cowboy Halloween costume with his otherwise sleek CMAs look.  
Lainey Wilson's bell bottom nightmare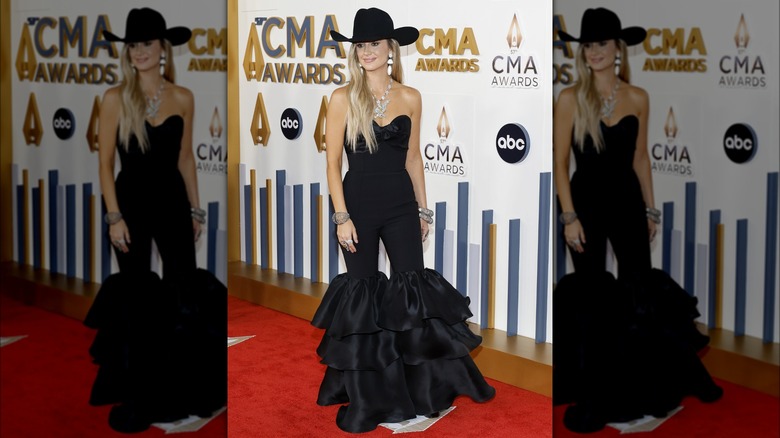 Jason Kempin/Getty Images
Lainey Wilson loves a flared pant, and we love someone who commits to their fave style. Even so, this jumpsuit just isn't doing it for us. The outfit, itself, would have looked better as a gown than a jumpsuit. And, while we love a simple black look in a dramatic silhouette, the accessories made the whole outfit feel messy and confusing. The jewelry is too intense and fancy for the outfit, and the plain cowboy hat is too simple and casual. Paired with the plain, undone hair, it's all disjointed and unfocused. 
Kimberly Schlapman's little big gloves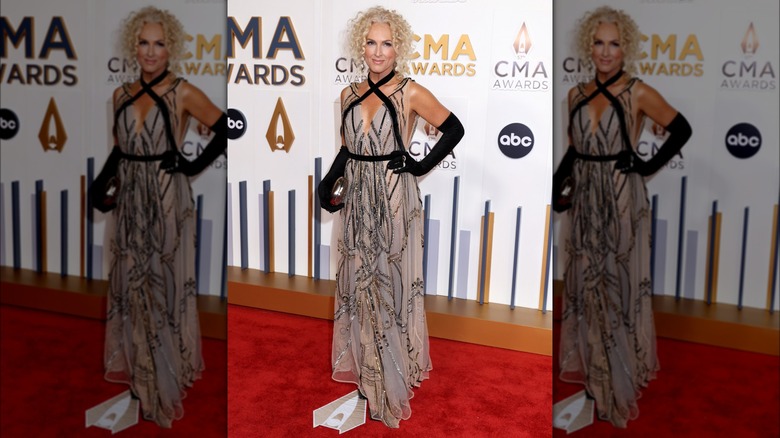 Leah Puttkammer/Getty Images
Kimberly Schlapman is a huge part of her band, Little Big Town, but the big vibes in this look were way too much for her. This dress has a lot going on between its glitzy lines, flowy-fabric, and harness-like detailing. The beige hue paired with her coloring washes her out, and the contrast with the black makes it even worse. And, the addition of long black gloves added even more distracting drama to an already overwhelming and over-the-top ensemble. 
Grunge doesn't suit Nicole Kidman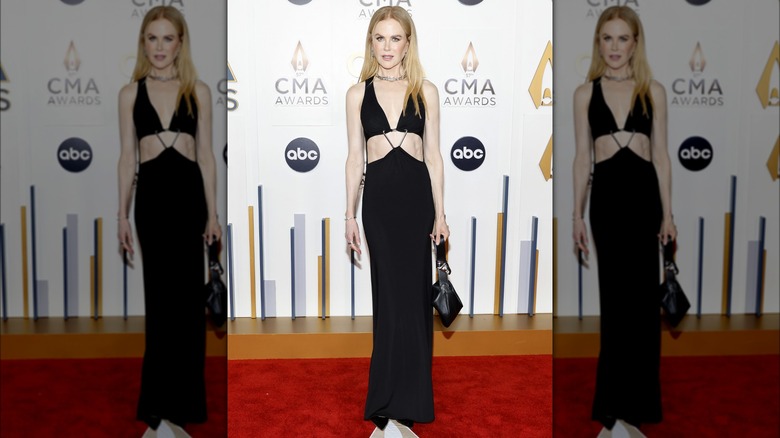 Jason Kempin/Getty Images
Nicole Kidman is one of Hollywood's most iconic beauties. If you thought that she could do no wrong when it came to styling herself, though, then you have yet to see her 2023 CMA Awards look. Kidman sported a black gown with some unusual geometric cutouts. The combination of Kidman's makeup and stark black dress make her look washed out and makes her fade into the background. Furthermore, the fit of the dress and its slinky silhouette paired with flat, symmetrical hair makes her look droopy and drags her down. 
Luke Bryan ain't no Johnny Cash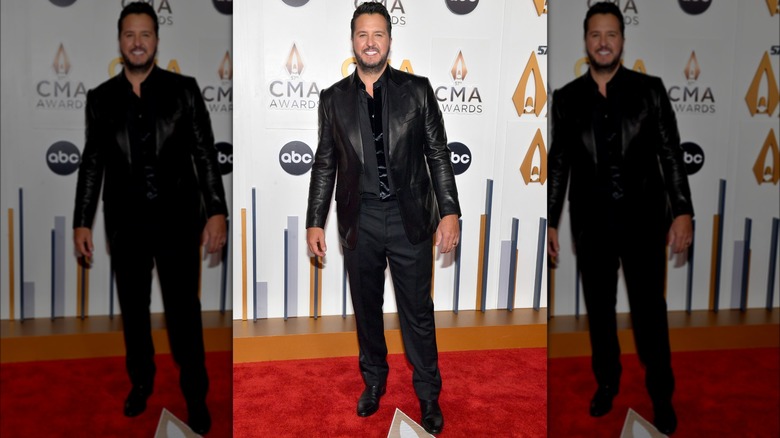 Jason Davis/Getty Images
As host of the show, Luke Bryan had some extra pressure to look his best at this year's CMA Awards. And, in his defense, he was on the right track: an all-black look is sleek and sophisticated for the occasion. Yet, while he may be the most underrated country singer, his all-black look was over-the-top. There are too many finishes going on between the shiny seam on his shirt and the extra shiny leather blazer. Despite the monochromatic look, the overall ensemble just seems to clash, and he doesn't look too comfortable in it either.