Who Is Matthew Perry's Ex, Kayti Edwards?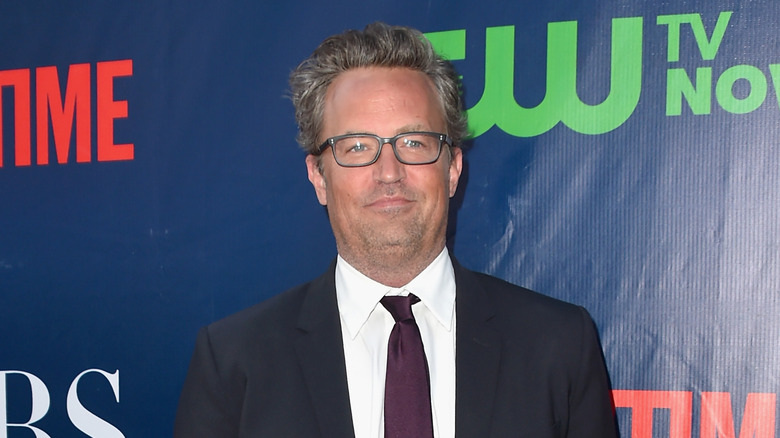 Alberto E. Rodriguez/Getty Images
The following article mentions addiction.
The heartbreaking death of "Friends" alum Matthew Perry has rocked the entertainment world to the core. Perry, who was best known for his role as Chandler Bing on the hit NBC sitcom, died at the age of 54 while in the hot tub of his Los Angeles home. Despite reports that say there were no drugs or foul play involved, per Page Six, Perry's ex, Kayti Edwards, thinks something is amiss. She told the UK Sun in an interview that even though she wasn't present at the time of his death, there are tell-tale clues that suggest something might have been going on. In his last Instagram post, Perry called himself "Mattman," but Edwards said that the "Mattman thing was not something he did when he was sober. Mattman would come out when he was not sober and he felt kind of invincible."
Edwards also shared some interesting insight as to why she believes Perry might have been under the influence during the time of his death. For someone who has a lot of insight into one of the most private people in Hollywood, a lot of people can't help but wonder who Edwards is and how she managed to get so close to Perry in the first place.
Kayti Edwards has several Hollywood connections other than ex-boyfriend Matthew Perry
Kayti Edwards is quite connected to Hollywood. She is the granddaughter of legendary actor Julie Andrews, per Us Weekly. Matthew Perry reportedly met Edwards well after his successful run on "Friends" ended. According to Page Six, the two first met in 2006 at an Alcoholics Anonymous meeting and dated for a short while. Edwards is also a mother of four who admits she and Perry were both using during her pregnancy that same year, as detailed by the Daily Mail. They met through her grandfather, Hollywood director Blake Edwards. 
Edwards began working for Perry back in 2011 as a personal assistant and stayed in touch with him enough to supposedly know what the actor might or might not have been doing behind closed doors. Edwards also said that Perry liked to be by himself whenever he was using drugs, but didn't specify whether or not they were in contact during the final days of the actor's life. However, another source close to Perry suggests that he was "100 percent sober" before he died. But Perry isn't the only person that Edwards has made tabloid and gossip headlines with.
Kayti Edwards also has a few more interesting celebrity connections. Actor Dax Shepard had to go on the record to deny that he cheated on his wife Kristen Bell with Edwards back in 2018, per InTouch Weekly. She was also linked to chart-topper Kid Rock and even Jack Osbourne.
Matthew Perry reportedly liked to be around water when he was under the influence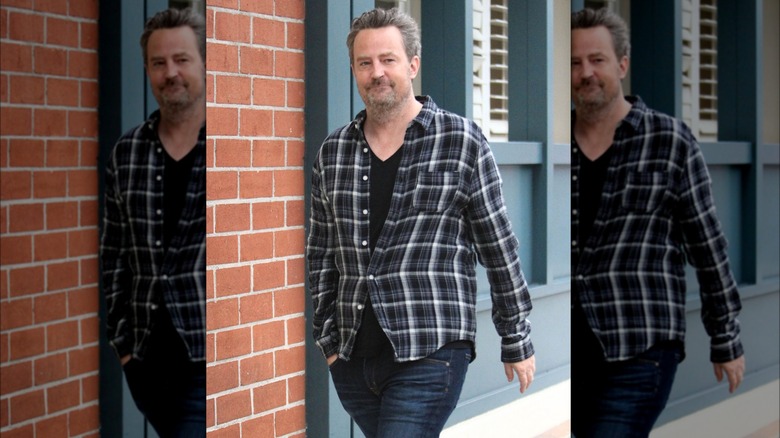 Joker/star Max
In an interview with the UK Sun, Kayti Edwards said that the late Matthew Perry liked to be in or around water whenever he was under the influence of alcohol and other substances. She later added that this is why she wasn't surprised the actor was found dead in his jacuzzi. She even recalled a time when he was "naked and high" while swimming in his neighbor's pool. Edwards said, "I had to go over there and get him out of his neighbor's pool. He had a thing with water when he was doing drugs." 
Now, whether or not Edwards was truly close with Perry right before his death, no one knows, as the actor was not photographed or seen with her in recent years, but that hasn't stopped Edwards from sharing her opinion about the death of one of the most famous "Friends" to have ever lived in Hollywood.
If you or anyone you know is struggling with addiction issues, help is available. Visit the Substance Abuse and Mental Health Services Administration website or contact SAMHSA's National Helpline at 1-800-662-HELP (4357).