Alabama Barker Absolutely Roasted Her Dad Travis For His Baby Name Choice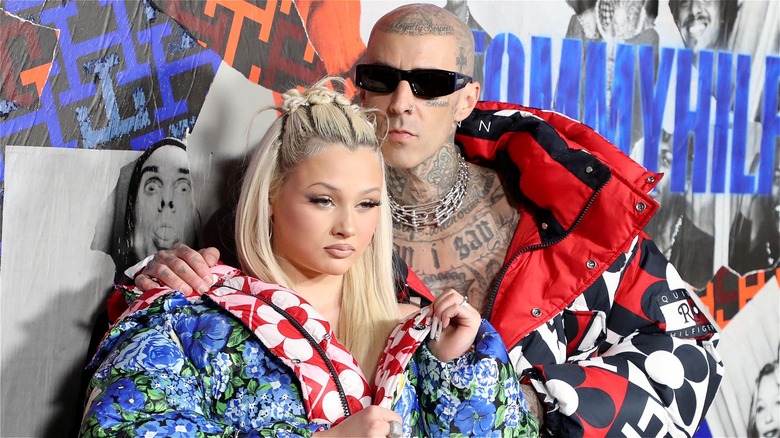 Rob Kim/Getty Images
Teenagers will be teenagers even when they have super famous parents and Alabama Barker is no exception. She didn't shy away from expressing her opinion on her new half-brother's name, absolutely tearing apart her celebrity dad, Travis Barker — the iconic drummer of "Blink-182" — for the choice. Alabama is Travis' daughter from his marriage to Shanna Moakler, a former model and reality star. Following their on-and-off relationship, Travis and Moakler called it quits for good in 2008 after being together since 2002. 
Both of their children, including Alabama's older brother, Landon Barker, have maintained a close relationship with their rockstar father. Allegedly, this hasn't been easy for Moakler, especially with Travis now in a relationship with Kourtney Kardashian. A source revealed to Hollywood Life: "Shanna is devastated that her kids are spending so much time with the Kardashians, but she knows there's not much she can do." They added, "These are Hollywood kids enamored by the Kardashian family, and [Moakler] feels they're being teenagers."
In May 2022, Travis and the eldest Kardashian sister tied the knot in a widely publicized ceremony, marking their third wedding overall. The happy couple welcomed a baby boy in November 2023, and when the name was no longer a secret, Alabama didn't hold back about her thoughts on it.
Barker and Kardashian had their baby name picked out for a while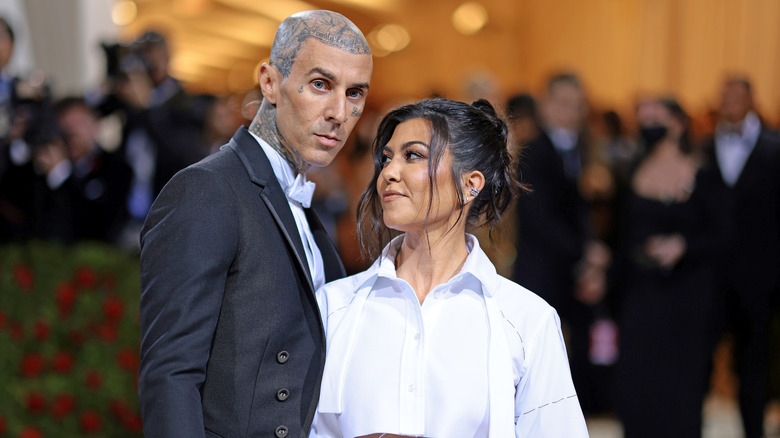 Dimitrios Kambouris/Getty Images
There was tons of speculation surrounding the name of Kourtney Kardashian and Travis Barker's baby ever since the high-profile couple announced the pregnancy. In a candid interview on Complex's "GOAT Talk" in July 2023, Travis shared his baby name ideas with his eldest daughter, Alabama Barker. When Travis mentioned "Rocky Thirteen" as a potential name, Alabama bluntly reacted, "That's so bad!" Travis admitted he simply liked the combination, citing inspiration from Suicidal Tendencies guitarist Rocky George and the movie "Rocky," in addition to his belief that "13 is just the greatest number of all time," but Alabama remained thoroughly unimpressed. 
"Even he knows it's bad," she quipped. Although Alabama initially had reservations about the name Rocky, she eventually embraced it, clarifying in a subsequent interview with E! News, "It's a cool name. I love Rocky; I do." Fast forward to Kardashian's baby shower in October 2023, when fans went wild as they noticed the star referring to the baby as "Rocky" in a heartfelt note captured on camera, as reported by Page Six. 
Khloé Kardashian seemingly confirmed the numerical element by posting a TikTok from the event with the caption: "Lucky number 13." Further validation came during a conversation on the "One Life One Chance" podcast, when Travis, discussing potential scheduling conflicts, noted, "It's the week that Rocky's due." Travis then reiterated the name, "Rocky Thirteen Barker," and playfully joked that the baby would be born resilient.
The rest of the couple's kids have relatively fun names
While other members of the Kardashian family opted for more modern baby names, such as Dream, True, and Aire, Kourtney Kardashian went with simpler ones for her older children. She welcomed all three of them — Mason, Penelope, and Reign Disick — with her ex-partner, Scott Disick. According to MTV, Kourtney told Life & Style magazine that she loved the name Mason early on, especially after discovering that it means "stone worker" in English, coincidentally mirroring the meaning of Kardashian in Armenian. 
The reality star remarked, "When I heard that, I thought, 'Oh my god, it's meant to be.'" Their second child, a girl, was named Penelope simply because Kourtney and Scott both liked it, as reported by E! News. Additionally, Kourtney loved the name Reign throughout her first two pregnancies, which is how it ultimately became the choice for her third child, according to People.
Travis Barker, too, has chosen relatively normal names for his two children. Alabama Barker was named after the main character in the film "True Romance," Alabama Whitman, which is Travis' favorite movie according to his appearance on the "Young Hollywood" YouTube show. Likewise, Landon, Travis' middle name, inspired the name for his other child with Shanna Moakler.