Jolie-Pitt Twins Knox And Vivienne Are Already Following In Brangelina's Footsteps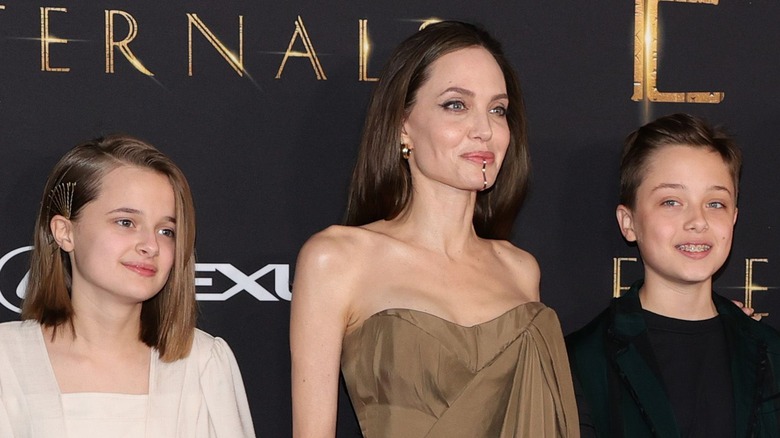 Rich Fury/Getty Images
When Brad Pitt and Angelina Jolie are your parents, you've got plenty of connections in the entertainment business. Of course, not everyone wants to go into show business, regardless of who their famous family is. For twins Knox and Vivienne Jolie-Pitt, though, it seems that Hollywood is in their blood. 
Exes Brad and Angelina have six children together and, as their brood grows up, they're seemingly becoming more and more interested in the family business. Their oldest son, Maddox Jolie-Pitt, has already racked up some credits working on his films as his mom has taken him under her wing to teach him the ropes of working behind the scenes on film sets. And, as for the youngest members of the Jolie-Pitt clan, they're dipping their toes into the family business, as well. 
The twins, who were born in 2008, are already working toward their career goals. Brangelina's twins have got more than enough time to figure out what they want to do with their lives, but they've already managed to get some very impressive credits under their belts. 
Brangelina's twins already have an acting portfolio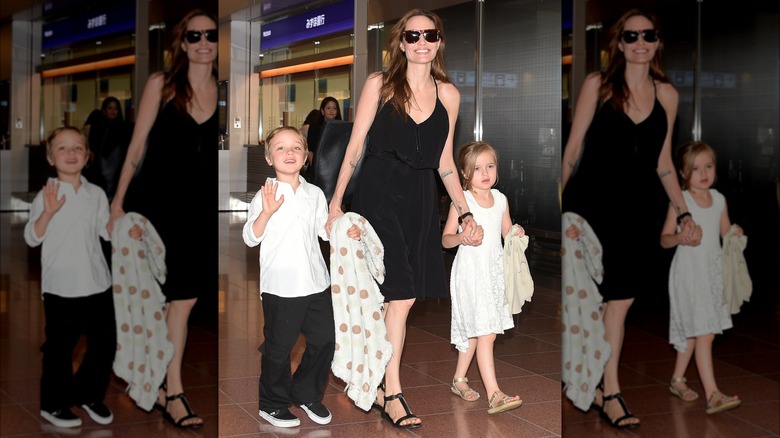 Jun Sato/Getty Images
Vivienne Jolie-Pitt was just 4 years old when she appeared in her first film. She played the younger version of Elle Fanning's Aurora in the 2014 film, "Maleficent," in which her mom played the titular role. In a 2014 interview with Entertainment Weekly, Angelina explained that this adorable casting choice wasn't all about getting Vivienne on the big screen; it also had a bit to do with how scary that Maleficent costume was. Jolie explained: "[The] other 3- and 4-year-old [actors] really wouldn't come near me. ... it had to be a child that really liked me and wasn't afraid of my horns and my eyes and my claws. So it had to be Viv."
In 2016, two years after Vivienne's role in "Maleficent," Knox Jolie-Pitt made his own film debut as a voice actor. He played Ku Ku in "Kung Fu Panda 3" alongside Angelina, who plays Tigress in the franchise. It may come as a surprise that Jolie and Pitt have encouraged their children to appear in movies, considering their desire to keep the kids out of the public eye. Yet, for Brangelina, these casting choices have been more about enjoying a bring-your-kids-to-work day than launching lifelong careers. "We think it's fun for our kids to have cameos and join us on set, but not to be actors," Angelina explained, adding, "That's not our goal, for Brad and I, at all. I think we would both prefer that they didn't become actors."
Vivienne may have her sights set on Broadway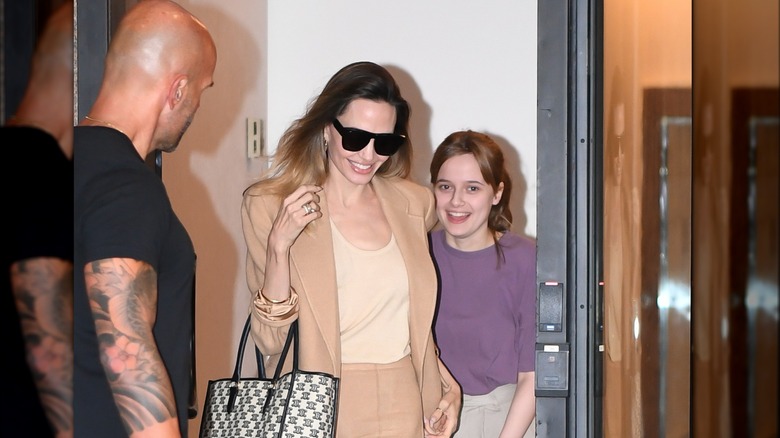 Robert Kamau/Getty Images
Brad Pitt and Angelina Jolie are bonafide movie stars, so it's no surprise that Knox and Vivienne Jolie-Pitt got their show business start working on films. It seems, though, that Vivienne may have something different in mind for where her career is headed. By the looks of it, she may want to trade in Hollywood for the Great White Way. Neither Vivienne nor Knox have appeared in any movies since their respective debuts. In August 2023, though, it was confirmed that Vivienne was acting as Jolie's volunteer assistant as she produces the musical adaptation of the S.E. Hinton novel and Francis Ford Coppola film, "The Outsiders," on Broadway. 
According to Jolie, it was thanks in large part to Vivienne that she chose to take on the role of lead producer on the project in the first place. In a statement to People, Jolie explained, "Viv reminds me of my mother in that she isn't focused on being the center of attention but in being a support to other creatives." She added that Vivienne has a passion for Broadway, saying, "She's very thoughtful and serious about theatre and working hard to best understand how to contribute." Vivienne and her brother, Knox, are still very young to be starting out in a career, but it's clear that if they've got a dream, their parents are eager to help them make it come true.