Anna Nicole Smith's Daughter Dannielynn Has Grown Up To Be Her Twin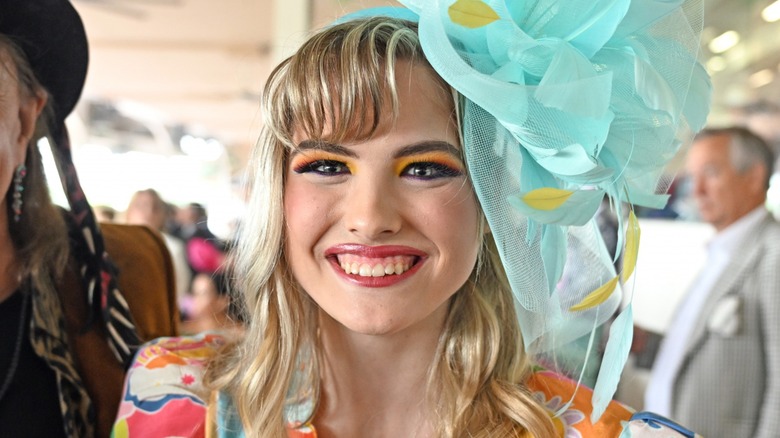 Stephen J. Cohen/Getty Images
Anna Nicole Smith's passing in 2007 left the world wondering what would happen to her then-infant daughter, Dannielynn Birkhead. Tragically, just days after Dannielynn's birth in 2006, Anna Nicole's firstborn, 20-year-old Daniel Smith, succumbed to a fatal drug overdose. Overwhelmed by grief, Anna Nicole herself met a similar fate a few months later, shocking the world of entertainment.
Left in the care of her father, photographer Larry Birkhead — with whom Anna Nicole had a tumultuous relationship — Dannielynn has mostly kept a low profile in rural Kentucky. Larry has made every effort to keep his daughter away from unnecessary media scrutiny, which is more often than not entwined with the controversial lifestyle choices of her late mother.
However, now a teenager, Dannielynn has grown up to remarkably look like Anna Nicole, capturing attention with their striking resemblance during her annual tradition of attending the Kentucky Derby. The 2023 event saw Dannielynn don wavy blonde hair and eye makeup reminiscent of her mother's distinctive style, making her a spitting image of the iconic model. As she continues to grow up, Dannielynn will undoubtedly continue to embody her mother's essence and famed looks.
Dannielynn honored her late mother at the 2023 Kentucky Derby Gala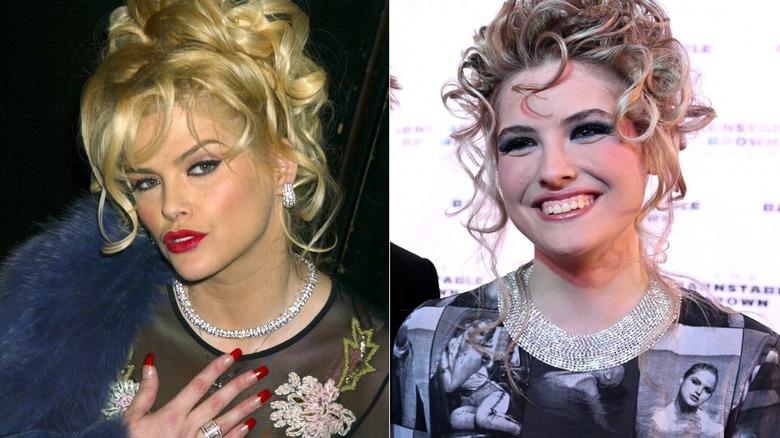 Gregory Pace/Getty & Stephen J. Cohen/Getty Images
Larry Birkhead allows Dannielynn Birkhead to make a single public appearance only once a year, and so far, it has been at the Kentucky Derby. During the 2022 occasion, Larry took charge of their red carpet conversation with the Courier Journal, revealing that his teenage daughter has a passion for playing the guitar and the iconic Richie Sambora offered to give her lessons after they met at a pre-Derby party.
When asked about his excitement for the outing, Larry expressed that he is most thrilled about spending time with Dannielynn and emphasized that he prefers to shield her from unnecessary attention. "[The derby is] what I let her do. There's a lot of people that are interested because of her mother, and I don't like to let her fall into that," he said.
While Larry seems to be the typical overprotective dad, he can't stop people from noticing the striking resemblance between Dannielynn and her late mother. At the 2023 Kentucky Derby Brownstable Brown Gala, a gathering held a couple of days before the derby itself, Dannielynn wore a black tulle skirt paired with a blouse adorned with photos from Anna Nicole Smith's early '90s Guess campaign. As another nod to her mother, Dannielynn chose to recreate Smith's signature wispy updo and dark eye makeup. "She's showing off her fashion sense [while] at the same time paying tribute to her mom," Larry explained to People Magazine.
Dannielynn shares her mother's peculiar food palate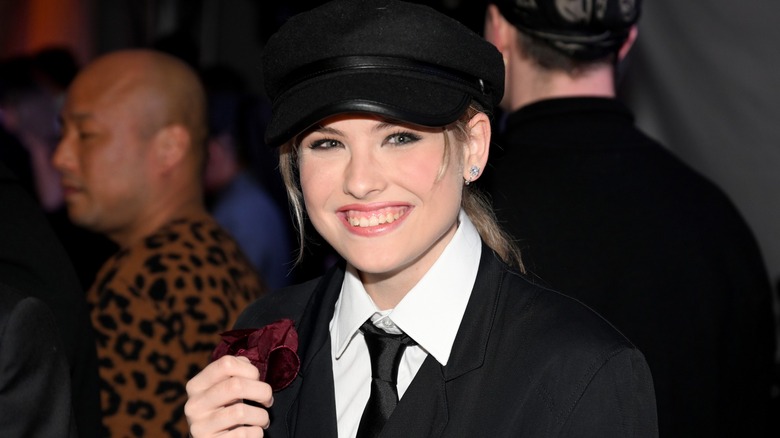 Stephen J. Cohen/Getty Images
During a 2023 interview with People, Larry Birkhead shared that Dannielynn Birkhead is beginning to explore her famous mother's legacy, although she isn't necessarily eager to incorporate all aspects of it into her own life. The family has preserved many of Anna Nicole Smith's iconic fashions, and while Dannielynn has worn some of them, others aren't quite up her fashion alley. Nevertheless, they keep them. "Everything that [Dannielynn] has of her mom's is all cataloged in storage with pictures of every event that she wore it to. So if she appreciates it one day, she can," Larry explained.
While not sharing her mother's style inclinations, Dannielynn possesses other characteristics reminiscent of Smith. According to Larry, Dannielynn has inherited her mom's generosity and shares her love for condiments. "She's a picky eater like her mom," he said. "She does not eat meat at all, but she's not a gigantic vegetable fan, either."
On Dannielynn's 17th birthday, Larry paid a touching tribute to his daughter through an Instagram reel, noting in the caption, "Your Mom would be so proud of you; I sure am." The reel featured photos capturing moments of joy between Smith and baby Dannielynn, offering a glimpse into their lesser-known happiness before the model's tragic passing. Despite Smith not being present to witness her daughter grow up, Dannielynn appears to be a living reflection of her.