The Complex Relationship Between Robbie Williams And Guy Chambers, Explained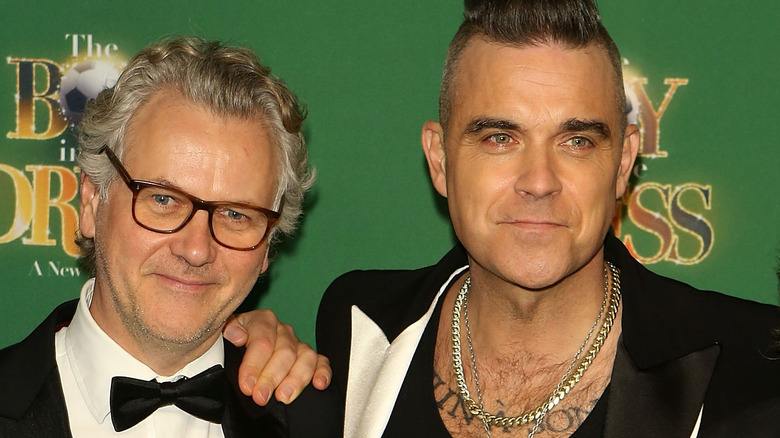 Dave Benett/Getty Images
Few pop duos have worked quite as well together as producer Guy Chambers and singer Robbie Williams. The pair collaborated on five of Williams' albums and together they crafted some of his biggest hits, including "Rock DJ" and "Angels." But in 2002, the duo announced they would no longer be working together. At the time, Chambers released a statement explaining that he didn't want to be tied down and simply sought to explore opportunities with other artists. But we didn't get the producer's unfiltered perspective until he spoke to The Times in 2023. 
Chambers started by recalling that he was about to quit music before meeting Williams, admitting, "I was desperate in 1997." He continued, "I was 34 — quite old in pop. I had a leaking roof and was struggling to pay the mortgage. I was very close to a regular job as a teacher. But then I met [Williams] — and he saved me, basically." Back then, Williams was in a similarly precarious position as he had left Take That two years prior and was trying to make it big as a solo artist. Eventually, they started talking, and Williams asked Chambers if he could write "dirty pop." 
The producer jumped at the opportunity, and the two began working together to create a mega-hit that would propel Williams to super-stardom on his own merits. They struck gold on their second session, which resulted in "Angels." Although it seemed like a match made in heaven, things were tough behind the scenes because Williams was struggling with drinking too much and a serious drug addiction. 
A song was responsible for the downfall of their relationship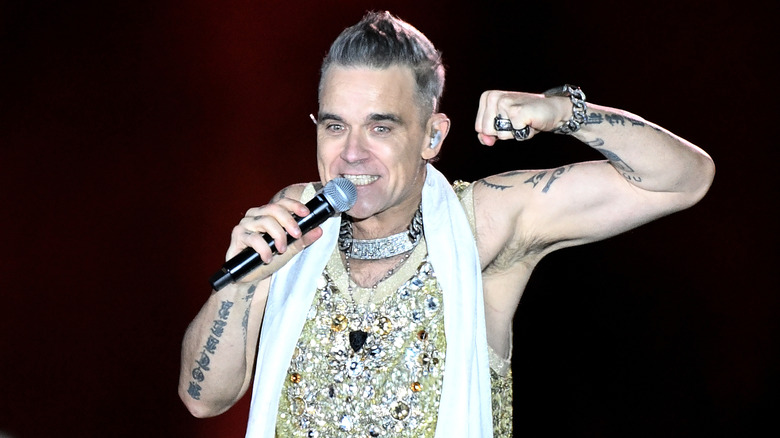 Gus Stewart/Getty Images
In The Times interview, Guy Chambers acknowledged that Robbie Williams was the first true addict he had ever worked with, so the producer was understandably ill-equipped to handle the strains of their professional relationship. Chambers shared that the singer was often a no-show at recordings, and they frequently had to send people to find him at local bars. Sometimes, Williams even showed up to the studio inebriated. Nonetheless, the duo persevered through it all, but things took a turn for the worse when Williams moved to Los Angeles in 2002, and Chambers didn't follow him to stay close to his family. 
Then, Williams wrote "Come Undone," a track that he believed was a masterpiece. But Chambers wasn't a fan of the song and suggested some changes, which didn't go down well with the pop star. Chambers explained that his dislike of the track exacerbated Williams' trust issues, which ultimately broke down their strong foundation. When the fallout happened, media outlets reported that Williams wanted Chambers to exclusively sign with him, amid rumors he was working with the singer's Take That rival, Gary Barlow, but the producer refused. 
Chambers hinted at the truthfulness of these reports, noting, "He quite rightly thought I wasn't prioritizing him, and if you consider how massive he was, that was stupid of me — I regret that I did not just prioritize him." The producer also recalled, "I have had times when I wanted to walk out, but the music kept me. ... I really struggled." 
If you or anyone you know needs help with addiction issues, help is available. Visit the Substance Abuse and Mental Health Services Administration website or contact SAMHSA's National Helpline at 1-800-662-HELP (4357).
Robbie Williams wanted complete control over his music
In Robbie Williams' 2023 self-titled Netflix documentary, he claimed that Guy Chambers wanted more creative control than the singer was willing to give him, so "Come Undone" marked a major turning point in their relationship. Williams explained, "I'm sure Guy consciously thought, 'We are a band called Robbie Williams.'" He added, "I needed full control as much as possible. I was done with him," (via TIME). Williams pointed to Chambers' controlling tendencies when he refused to re-record "Come Undone" to accommodate the singer's requested changes to the lyrics. 
For Williams, the track was the final nail in the coffin of their already strained relationship, so he told Chambers they were done once the album was finished. For Chambers, "Come Undone" was only a part of the story. In "Robbie Williams," Chambers asserted someone on his team made the "Feel" singer believe that Williams had given Chambers free rein over his album. In a 2023 GQ interview, the producer also argued that once the pop star began working with other people, he started to suspect that Chambers only cared about creating hit singles. 
However, thankfully it wasn't enough to permanently end their relationship because the duo briefly reunited in 2008 to write together again. Sadly, it didn't work out, so they walked away with love and respect, stayed in touch, and later joined forces for more projects.