Inside Brie Larson's Friendship With Samuel L. Jackson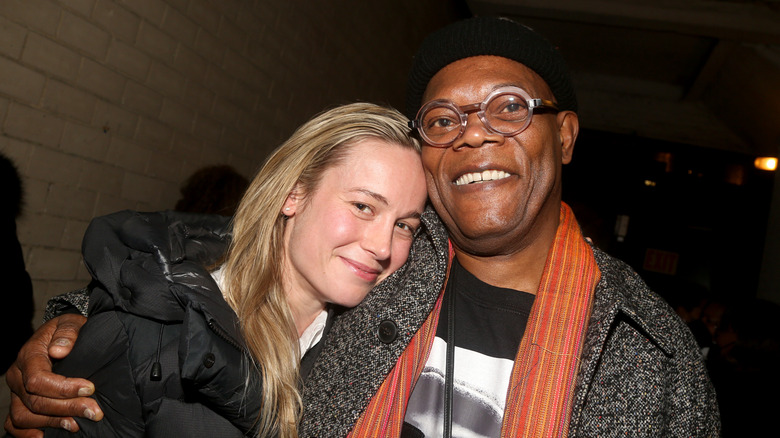 Bruce Glikas/Getty Images
Brie Larson and Samuel L. Jackson's sweet friendship is living proof that the best things often come from the worst experiences. The duo joined forces for "Kong: Skull Island," a movie that was shot on location across six months in Australia, Vietnam, and Hawaii. Although that sounds like a dream, the reality proved far more challenging because the actors had to deal with harsh weather conditions and tons of bugs. 
Thankfully, there was a silver lining. As Jackson recalled to IndieWire, filming in remote locations often meant the cast and crew weren't as connected with the outside world, so they had no option but to talk to each other and bond while dealing with the demanding conditions, and that's how his friendship with Larson blossomed. Jackson also gushed about her to the outlet, noting, "We know each other very well."
The actor continued, "We do better back and forth, we do laugh easily between the two of us. There is a sly sort of looking at each other and testing each other [...] All those things work very well, and we work very well together." At the time, Larson was juggling several other projects, and Jackson missed her whenever she wasn't around. He often pleaded with her to miss out on awards shows or to come back as soon as possible. So, naturally, the "Pulp Fiction" star felt a little upset when Larson didn't ask him to join her directorial debut. 
Larson pushed for Jackson to be in Captain Marvel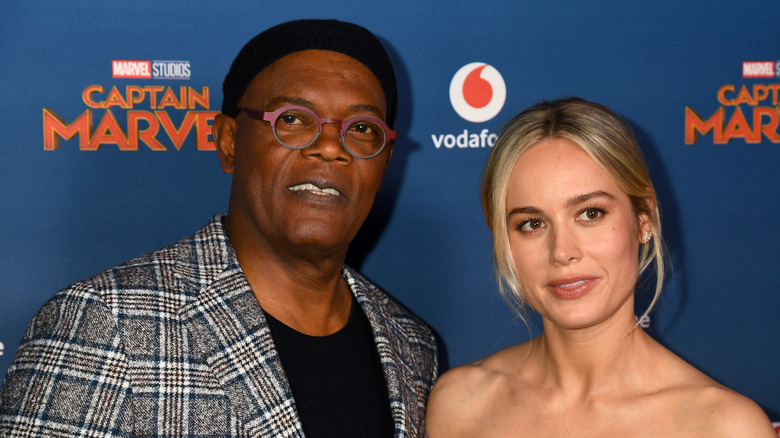 Dave J Hogan/Getty Images
In 2017, Brie Larson was all set to direct and star in "Unicorn Store," and she let her buddy, Samuel L. Jackson, know. In his IndieWire interview, Jackson revealed that he asked the "Room" star why she didn't immediately consider him to co-star in the film, and Larson argued that she was afraid of being shot down, so she never asked at all. As a result, a relieved Larson invited him to play the part, and Jackson happily obliged.
Larson has had a stunning transformation in the public eye and, when she joined the Marvel Cinematic Universe as Captain Marvel, the actor was happy to have a supportive friend guiding her through it all — especially when Jackson reprised his role as Nicky Fury. She told Entertainment Weekly how the conversation went: "Marvel was like, 'Is there anybody that you'd wanna do [the movie] with?' And I was like, 'Please. I need to be with my pal. Don't let me do it alone!'" 
Larson fully expected Jackson to give her some heartfelt advice about joining the world-conquering film franchise, but all he said was, "You're fine. Enjoy it." During a 2019 appearance on "The Tonight Show Starring Jimmy Fallon," Larson recalled that Jackson visited the "Avengers: Endgame" set on Star Wars Day because he knew she was a huge fan and wanted to gift her his lightsaber, which had been engraved with "bad motherf*****."
Jackson publicly defended Larson amidst backlash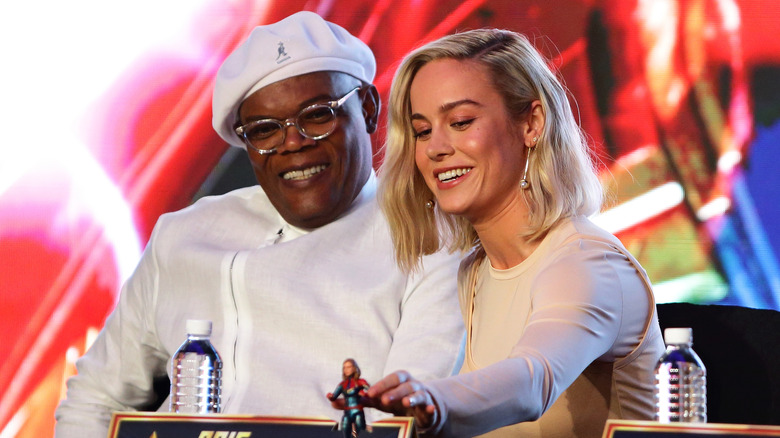 Suhaimi Abdullah/Getty Images
While speaking to Rolling Stone, Samuel L. Jackson revealed that he was on set with Brie Larson when the 2016 election results were announced. The pair bonded over their nervousness and, ultimately, disappointment as they watched Donald Trump become the President of the United States. He shared Larson's reaction to Trump's win, admitting, "She was broken, and I was like, 'Don't let 'em break you. You have to be strong now.'" Jackson continued by addressing the Larson controversy, which existed because of the backlash she received for her "Captain Marvel" performance and her staunchly feminist views. 
The actor asserted, "She's not going to let any of that stuff destroy her. These incel dudes who hate strong women, or the fact that she's a feminist who has an opinion and expressed it? [...] She is who she is, and she's genuinely that." The BFFs reunited on "The Marvels" in 2023 and, in a behind-the-scenes featurette for IGN, Larson gushed, "I'm so grateful that we have Sam back with us. He's my favorite scene partner." Her co-star enthusiastically echoed the same sentiment. 
In fact, in a 2023 interview on "The Tonight Show Starring Jimmy Fallon," Larson even called Jackson her "soulmate." The Oscar winner confirmed that the two stay in touch via regular texts, and he often sends her funny dad-approved videos of people falling over or adorable dogs being extra cute. But if she isn't quick enough to respond, Jackson checks up on her and demands to know Larson's thoughts on his funny clips.