Country Singer Sierra Ferrell Had A Legendary Rise To Fame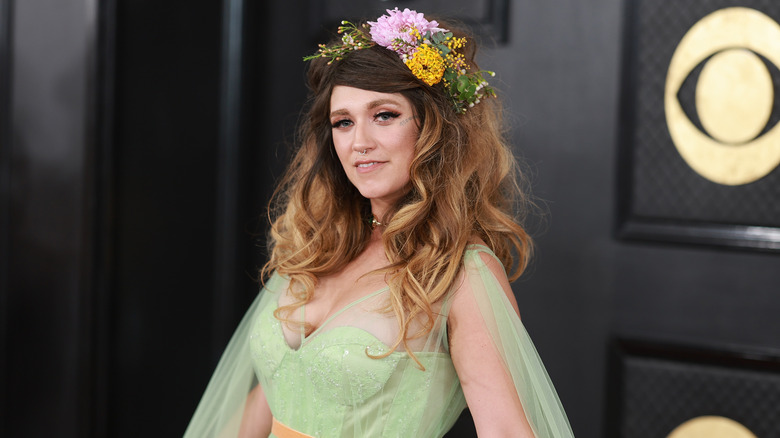 Matt Winkelmeyer/Getty Images
Sierra Ferrell is a rising country star whose career kicked off in 2021 after she released the album "Long Time Coming" with Rounder Records. Known for songs such as "Bells of Every Chapel" and "In Dreams," the musician has cultivated a unique, experimental country sound, incorporating jazz, folk, and Latin influences that set her apart from modern stars like Morgan Wallen and Gabby Barrett.
In addition to her compelling vocals and musical influences, Ferrell also has a unique story surrounding her rise to fame. The up-and-coming singer spent much of her 20s traveling and busking around the country, developing her unique sound before setting down roots in Nashville, Tennessee, and catching the eye of her current record label.
"I've been rambling all over the country for decades busking, hopping trains, and playing music," Ferrell told Glide Magazine. As she told Barricade Babes in May 2020, "It was a long process but then finally, at 32, I've kind of somehow made a career out of it."
Sierra Ferrell started traveling and busking at a young age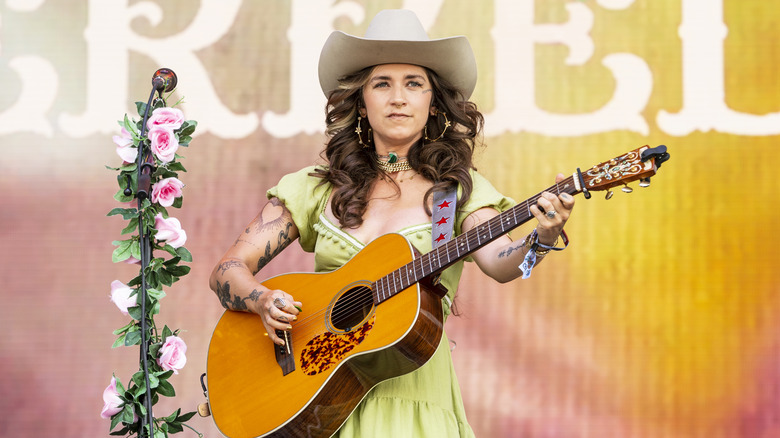 Erika Goldring/Getty Images
Sierra Ferrell's nomadic lifestyle has contributed a lot to her music, as the West Virginia native was exposed to many musical influences throughout her childhood and into her busking days. "I listened to a lot of radio stuff and my mom had cassette tapes of 10,000 Maniacs and Tracy Chapman," Ferrell told The San Diego Union-Tribune, naming Alicia Keys, Mariah Carey, and Celine Dion as some standout artists from her childhood.
When living in a trailer park as a young girl, Ferrell was inspired by a group of young, unhoused musicians, whose music influenced her future busking days. "I met all these homeless kids who were traveling all over the place and playing amazing old songs, and I wanted to be a part of that," the "Ready or Not" collaborator said. "The music they were making was so honest, so pure. It seemed important to bring that kind of music back, and it's been with me ever since" (per OPRY).
When she was older, Ferrell started traveling on her own, hitchhiking, caravanning, and train hopping across the country. Throughout her travels, she was exposed to more transient musicians and found herself enchanted by their old, folksy songs. In her early 20s, Ferrell took up busking herself, spending most of her time in New Orleans, Louisiana and Seattle, Washington.
When she relocated to Nashville, Tennessee, Sierra Ferrell's career took off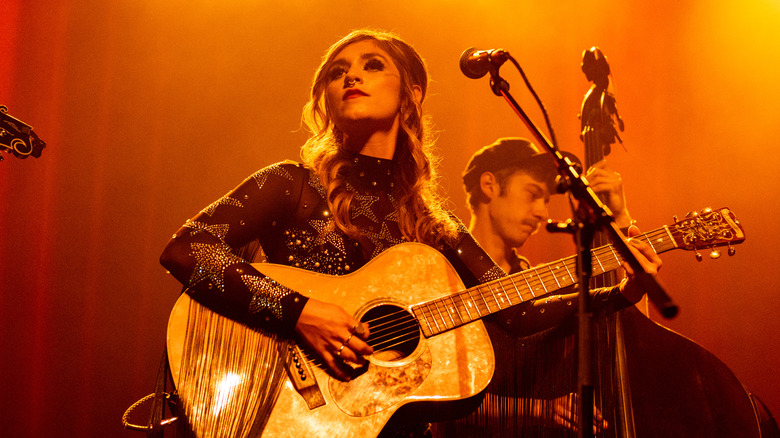 Timothy Norris/Getty Images
Sierra Ferrell's days of traveling and busking were imperative to the development of her musical sound and talent, but it wasn't until the singer relocated to Tennessee that her public career took off. She was discovered by audio engineers and music producers Stu Hibberd and Gary Paczosa while she was performing at the American Legion with a honky tonk cover band known as The Cowpokes.
By this time, Ferrell had already independently released her first two albums, titled "Pretty Magic Spell" and "Washington by the Sea," and had gained some traction on YouTube with her grassroots music videos. The country artist was signed to Rounder Records in 2019, with her album "Long Time Coming" being released in 2021. The collection of songs is a testament to her eclectic sound, incorporating bluegrass and jazz influences while setting her startling, old-timey vocals front and center.
The album was a veritable hit, reaching number 15 on the Americana/Folk Albums chart, landing a spot on Top Album Sales, and receiving positive reviews from critics. Most notably, it launched the long-practicing country artist into mainstream notoriety, leaving us to anticipate how Ferrell is going to follow up this legendary rise to fame.