Why Barron Trump Criticized Donald's Behavior During First 2020 Debate Against Biden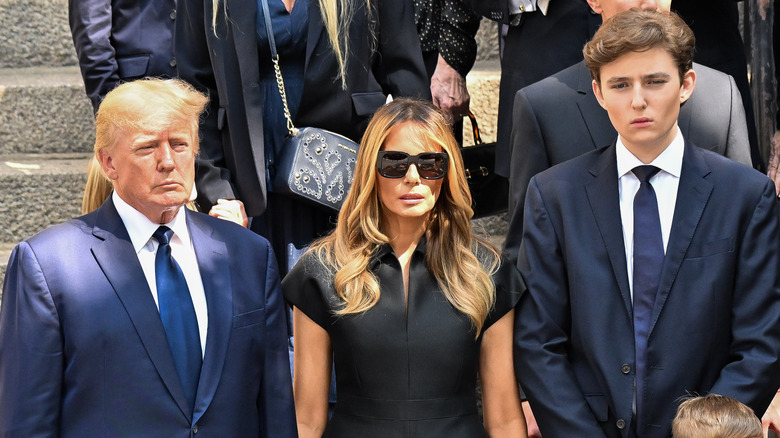 James Devaney/Getty Images
Anyone who watched the first presidential debate between Donald Trump and Joe Biden back in 2020 probably still remembers the level of drama that dominated the evening. While there had certainly been plenty of drama in the 2016 debates between Trump and Hillary Clinton, this particular event, which was moderated by Chris Wallace, left many viewers flabbergasted by Wallace's inability to keep Trump from speaking out of turn. 
Shortly after the debate, Slate reported that during the televised event, Donald Trump interrupted Joe Biden and Chris Wallace an estimated 128 separate times, and according to The Boston Globe, Trump interrupted Biden a whole 10 times as he tried to answer one single question. By contrast, Trump interrupted Hillary Clinton roughly 51 times the first time he debated her. These ceaseless interruptions left Wallace scrambling to get the debate back on track, repeatedly asking the then-President Trump to obey the rules, saying things like, "Please let the vice president talk."
And, while critics were quick to complain about Trump's behavior in the wake of this debate, another person also reportedly felt that Trump had gone overboard: his own young son, Barron Trump (via Daily Mail). 
Why Barron criticized his father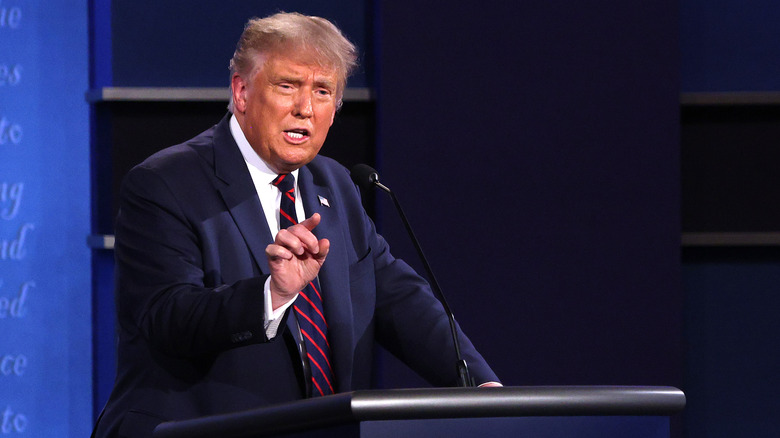 Scott Olson/Getty Images
In a section of a forthcoming book by The Federalist senior editor Mollie Hemingway, which was exclusively obtained by Daily Mail, Trump admitted that after his first presidential debate against Joe Biden, his own son Barron, who was 14 at the time, gave the then-President some harsh feedback. According to the new book, entitled, "Rigged: How the Media, Big Tech, and the Democrats Seized Our Elections," Trump admitted, "I will say my own son Barron said, 'Dad, you were too tough. You didn't have to keep interrupting him.'"
Trump also candidly spoke about the attitude in general of those who were critical of his debate behavior, saying, "People thought I was too belligerent." It is worth noting as well that Trump's unrelenting interruptions also altered Joe Biden's debate behavior, as he decided to speak in a way that the public had not previously witnessed at such a formal event. On a few occasions, after Trump interrupted him, Biden said things like, "Will you shut up man?' and "Come on, man." 
While Trump likely expected supporters of Biden to be highly critical of his debate behavior, hearing criticism from his own son might have been a bit of a surprise. So did Trump amend his behavior in the later debates in an effort to take Barron's advice? 
How Trump behaved at later debates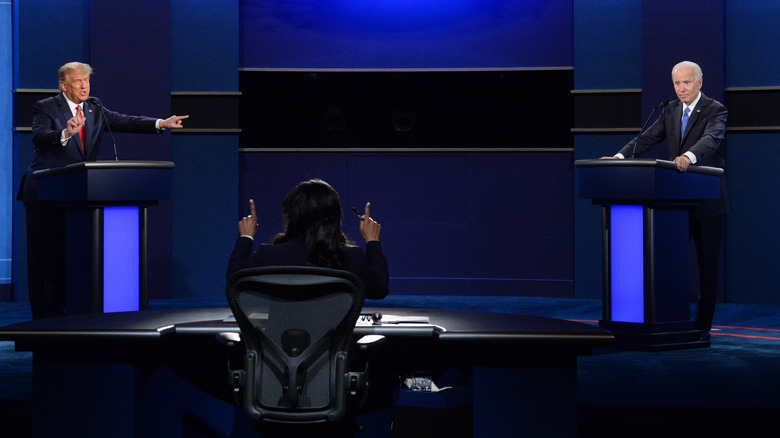 Bloomberg/Getty Images
The short answer is yes, Donald Trump's debate behavior did improve after his first and highly-controversial presidential debate against Joe Biden. But that was likely due more to the introduction of a mute button than to Barron's criticism of his father. 
In order to prevent the chaos of the first Trump/Biden debate from recurring, The Commission on Presidential Debates, which is a non-partisan commission aimed at ensuring the integrity and value of debates, introduced a mute button (via BBC). While it sounds childish, it was not applied only to Trump. To make it fair, and to ensure that each candidate would get their chance to answer each question given to them without interruption, a producer of the debate (not the moderator) was given permission to cut the audio from the opposing candidate's mic. 
So, in the final debate between Trump and Biden, each time Trump or Biden began to answer the question, the audio for the other candidate's mic was turned off until the question was answered or until the allotted time to answer the question had ended.