Who Is Al Pacino's Girlfriend, Noor Alfallah?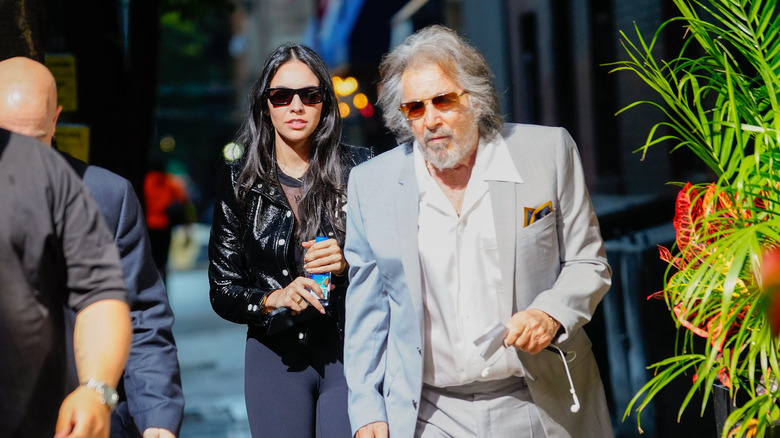 Gotham/Getty Images
Al Pacino has been a Hollywood mainstay since the '70s, when he wowed audiences around the world with his performances in "The Godfather," "Serpico," and "Dog Day Afternoon." Not only was he recognized for his immense talent, but he was also considered one of the era's dreamiest A-listers. Over the years, his legacy as a 20th-century heartthrob has lived on, with legions of fans sharing tributes to him on Twitter and TikTok to this day. Thus, it's only natural that his dating life should generate buzz. 
In April 2022, Pacino was spotted out on the town with a raven-haired beauty quite a few decades younger than him. His date was none other than Noor Alfallah, a Kuwaiti-American heiress who has been making moves in the entertainment industry herself. Their connection soon blossomed into true love: the two film buffs are still going strong.
Pacino has been dating Alfallah since the early days of the COVID-19 pandemic, although their 2022 date marked their first public appearance together. Over the past few years, they've experienced some major milestones. They worked on their first movie together (talk about a power couple). They also welcomed a son together — a baby boy named Roman.
Ready to learn more about the leading lady in Pacino's life? Without further ado, here's a primer on all things Noor Alfallah.
Who is Noor Alfallah?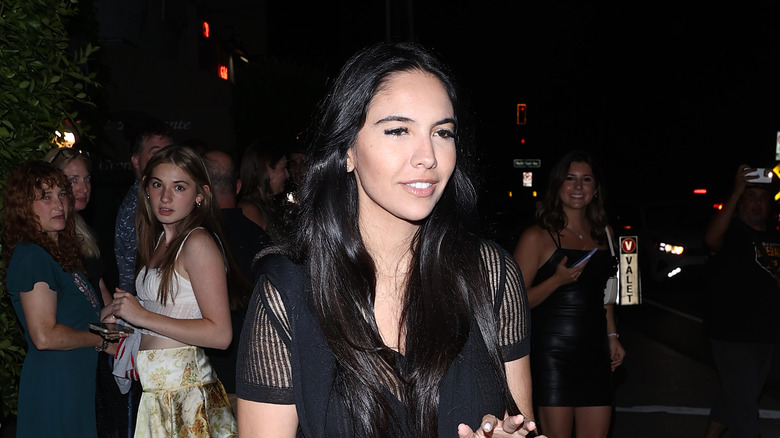 Mega/Getty Images
Noor Alfallah, born on December 2, 1993, has been a jet-setter as far back as she can remember. She and her siblings come from quite the distinguished family — they're descended from the line of Sabah Al-Ahmad Al-Jaber Al-Sabah, a Kuwaiti sheik. The sheik allegedly gives most of his family members a lifetime pension, putting them in an incredibly high wealth bracket — they're estimated to have a fortune in the high nine figures, meaning that she's probably even richer than her film star sweetheart.
Alfallah's father Falah (who works in finance) is Kuwaiti, while her mother Alana is American. She grew up living the lush life in Beverly Hills, and has remained a Cali girl throughout her 20s. She received an undergraduate degree from the University of Southern California School of Cinematic Arts. For her master's degree, she matriculated at University of California Los Angeles, where she studied film and TV producing.
Noor Alfallah is a film producer
As Noor Alfallah's educational background suggests, she has a strong passion for film. After getting her master's degree, she became busy with a bevy of creative projects. She produced a short film called "La Petite Mort," which proceeded to the festival circuit with appearances at the Beverly Hills Film Festival as well as the HollyShorts Film Festival. She also worked as an assistant to director Bennett Miller before taking on roles at Plan B Entertainment (Brad Pitt's production company) and ICM Partners (a talent and literary agency that has since been acquired by CAA).
Alfallah's next career move was major — she became the vice president of Lynda Obst Productions at Sony, where she has two features in development. Obst has produced a number of hits, including "Flashdance," "Sleepless in Seattle," "Contact," and "How to Lose a Guy in Ten Days."
Alfallah has quite a few projects coming up. She's signed on to co-produce a film called "Little Death" with Darren Aronofsky (of "Requiem for a Dream" and "Black Swan" fame). Given that "the little death" is the French-to-English translation of her previous short's title, and the film has the same director as the short (Jack Begert), it's safe to assume it's an adaptation. She's also executive producing a 2024 feature called "Billy Knight," which will star none other than Al Pacino alongside Patrick Schwarzenegger (Arnold's son) and Charlie Heaton (from "Stranger Things").
She's close with her siblings
Family is near and dear to Noor Alfallah's heart. She's the oldest of four siblings, with two sisters and a brother, and can often be seen spending quality time with the bunch.
Alfallah seems especially tight with her sister Remi, given that they're closest in age and share a love of film. As of a few years ago, they're co-workers as well as sibs — in September 2021, they jointly signed a deal with Imagine Entertainment chairman Brian Grazer. According to Deadline, per the agreement, they're committed to producing podcasts for the company with a special interest in finding "fresh voices." Remi Alfallah has quite the impressive resume herself — after graduating from the USC Marshall School of Business, she served as an assistant to Doug Wald at Anonymous Content, took on a role in Focus Features' acquisitions department, and even worked for Lorne Michaels at "Saturday Night Live."
Noor Alfallah often posts pics of her siblings to her Instagram account, where she has an audience of 82,000 followers. In 2021, she posted a photo of herself and Remi on Instagram, with the short, sweet caption, "Me and Rem," punctuated by a red heart emoji. In 2020, she posted a carousel of her baby sister Sophia on Instagram with a heartfelt birthday message: "Happy birthday Sophia! I love you so much! One of the greatest blessings in my life is having you as a little sister. You're the coolest and my bestie." 
Noor Alfallah is a connoisseur of fine art
Noor Alfallah isn't just a fan of cinema. A peek at her Instagram profile reveals that she also celebrates fine art, frequently attending openings, visiting galleries, and hanging out with artists and curators around the globe.
In 2019, Alfallah posted a video of herself at a 15-course dinner celebrating Larry Gagosian, the famed art dealer and owner of the Gagosian chain of galleries. More recently, in April 2023, she shared a photo of herself at one of Gagosian's New York locations alongside her beloved Al Pacino. Apparently, she was there to support a pal's work: "My friend Bennett Miller has an exhibition of new prints produced using a DALL*E image generator. Go check it out!" she wrote in her caption. 
Some of the other galleries she's posted from include the Whitney Museum of American Art (also in New York), the Museum of Contemporary Art in Los Angeles, and the Los Angeles County Museum of Art, also known as LACMA.
Noor Alfallah previously dated Mick Jagger
Al Pacino isn't Noor Alfallah's first "older man." Before him, she dated another cultural figurehead — none other than rock 'n' roll royal Mick Jagger. She crossed paths with the Rolling Stones frontman at a dinner party in 2017, when she was just 22 years old. He was 73 at the time. They kept their relationship relatively low-profile until they were spotted sharing an intimate evening at a restaurant in Paris together.
In a tell-all interview with Hello! Magazine, Alfallah was adamant that their romance, though short-lived, was fulfilling and sincere. "Our ages didn't matter to me," she said. "The heart doesn't know what it sees, it only knows what it feels. It was my first serious relationship, but it was a happy time for me." She asserted that she never let any disparaging comments about their relationship bother her and even opened up about Mick's physique: "[He's] much fitter than I am. I really respect that he is so disciplined," she said.
A snapshot of the former couple is still visible on Alfallah's Instagram page. In the picture, she's radiant in a green dress as Jagger wraps her in a bear hug. Both of them are absolutely beaming. Beside them, Stones guitarist Ronnie Wood and his wife Sally are in good spirits. What a rockin' double date.
She also dated billionaire Nicolas Berggruen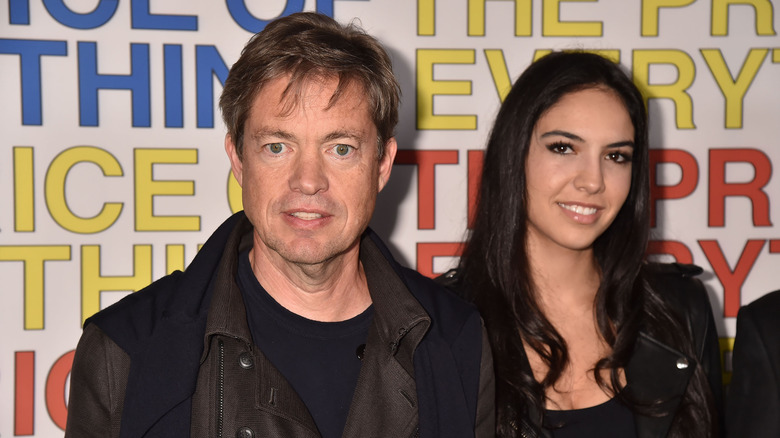 Jeff Kravitz/Getty Images
It seems that there's a trend in Noor Alfallah's dating history. After her dalliance with Mick Jagger, she moved on to another wealthy, successful older man: Nicolas Berggruen. Alfallah dated the German philanthropist for a brief time starting in 2018. Born in 1962, Berggruen is 31 years her senior.
A peek at Alfallah's Instagram account indicates that Berggruen and Alfallah were pals long before they became an item. They're pictured hanging out together as far back as 2015, when Alfallah was 22. They continued to spend time together even shortly after their breakup, as evidenced by Alfallah's 2019 birthday post for Berggruen. Alfallah shared a heartwarming pic of the two side by side, Berggruen's arm around her. "Happy birthday Nicolas! My bestie for life! Thank you for being such a wonderful, sweet, and loyal friend! Wishing you many more to come!" Alfallah wrote in the caption. She's since posted photos of the two striking silly poses and enjoying a dinner together.
Even to this day, Alfallah and Berggruen make sure to spend quality time with each other. In October 2023, the two were spotted attending a Sting concert at the Hollywood Bowl together. Besties for life, indeed.
Noor Alfallah was linked to Clint Eastwood but denied the rumors
In 2019, rumors started to swirl around Noor Alfallah and a certain famous octogenarian: none other than famed Western actor and director Clint Eastwood. After going out for dinner at Craig's, a popular restaurant in West Hollywood, the two were photographed in Eastwood's car. Eastwood took the wheel while Alfallah sat in the back seat. The two chatted as they cruised down the street.
Although some suspected that a romance was brewing between the two given Alfallah's dating history, she provided a statement to the Daily Mail insisting otherwise in very clear terms. "There is no relationship, we're not dating. There is no relationship. We're family friends, and my family was there and that's it," she said. "My parents were there, other friends were there. Trust me, there's no relationship." 
The evidence aligns with Alfallah's claims: Alfallah and her family were spotted dining with Eastwood at Malibu sushi spot Nobu on another occasion. Besides, Eastwood was already taken at the time — he had been dating former restaurant hostess Christina Sandera for several years. (As for Alfallah's relationship status, she simply told the Daily Mail, "No comment.")
She started dating Al Pacino in 2020
Noor Alfallah's much-discussed relationship with Al Pacino blossomed during the heart of the COVID-19 pandemic. Yet the lovers weren't spotted in public together until April 2022. The two wore classy all-black ensembles as they hopped into the same car outside Felix Trattoria, an Italian restaurant on ritzy Abbott Kinney Boulevard in Venice, California. 
Although the evening marked their first appearance as a couple, they weren't on a private dinner date. An Instagram post by actor Jason Momoa reveals that it was actually a group outing to celebrate an exhibition by artist Julian Schnabel. The pic shows Pacino, Alfallah, Momoa, and Schnabel cozying up in a booth along with several other friends. "amazing night @pacegallery Julian Schnabel's -for ESME' with Love and Squalor so thankful to enjoy dinner with legends. all my aloha j," Momoa captioned the snapshot.
The photos stirred up quite the ruckus due to Alfallah and Pacino's age difference — not to mention the fact that he hadn't been seen with a partner since 2020, when he was in a relationship with Israeli actress Meital Dohan. Funnily enough, they also went viral for a reason entirely unrelated to Alfallah: Pacino has a phone case plastered with images of beloved the DreamWorks character Shrek (from the 2000 animated film of the same name). Pacino later explained the amusing choice in an interview with the "Today" show: "My daughter gave me that," he said.
Noor Alfallah and Al Pacino welcomed a son in June 2023
In May 2023 — about a year after Noor Alfallah's first sighting with Al Pacino — some astonishing news about the couple broke. Alfallah was eight months pregnant with Pacino's baby. The child would be Pacino's fourth, given that he already had one daughter (Julie) with acting coach Jan Tarrant and twins (Anton and Olivia) with actress Beverly D'Angelo. 
In June, a rep for the couple confirmed the baby's birth. The bundle of joy turned out to be a boy they named Roman. At the time, Pacino's old friend and Heat co-star Robert De Niro shared his congratulations during an appearance on the "Today" show. When host Hoda Kotb asked him how fatherhood was going (given that he had also just welcomed a new child), he graciously turned the spotlight to Pacino before sharing his own experience: "Al Pacino just had a baby, I was told yesterday morning. He's a few years older than me. God bless him. Very happy for him."
In August 2023, Alfallah shared a first glimpse of the baby with the world via Instagram. The photo showed little Roman grasping her thumb with his hand. While his face wasn't fully visible, the sleeve of his onesie, covered in a fun animal pattern, could be seen. "My whole heart and the greatest blessing in my life," she wrote in her caption. Her sister Remi made sure to leave a comment: "best boy best mom."
Noor Alfallah recently gained full custody of her son with Al Pacino
In September 2023, a new development in Noor Alfallah and Al Pacino's relationship emerged. Alfallah was taking Pacino to court over custody of Roman, who was 3 months old at the time. According to legal documents obtained by Page Six, Alfallah had filed a petition to determine parental relationship with Pacino and was asking for full physical custody of the child. She stated that she would be willing to give Pacino "reasonable visitation" rights, allowing him to be an active presence in his son's life. She also requested to share legal custody with Pacino (which would allow him to take part in major decisions regarding Roman, such as medical care) and asked that Pacino cover her legal fees.
Naturally, the news stirred up speculation that Alfallah and Pacino were calling it quits. Yet the two were spotted on a date at Beverly Hills restaurant and wine bar AOC just a week later. The two seemed in good spirits as they walked arm in arm. Addressing the pics, Pacino's rep reached out to Page Six with a statement confirming that all was well: "Al and Noor have successfully worked together and have mutually reached agreements regarding their child, Roman. They are still together."
In November 2023, the court ruling was finally announced: Pacino would pay Alfallah over $30,000 a month in child support, plus a yearly $15,000 deposit for Roman's education.