The Untold Truth Of Kacey Musgraves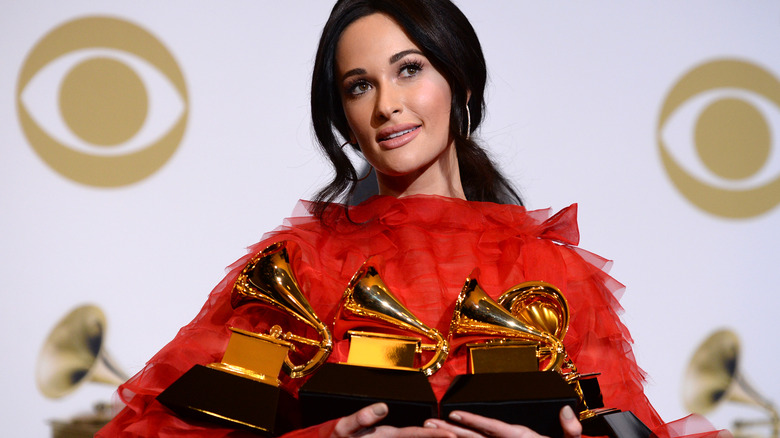 Getty Images
Since bursting onto the scene in 2013 with her first studio album, Same Trailer Different Park, Kacey Musgraves has been making waves in the country music industry with her impeccable songwriting ability and refusal to conform to mainstream country music norms. While being so unapologetically herself may have cost Musgraves a larger audience base and radio airplay, the "Slow Burn" songstress has stayed true to her values and beliefs throughout the entirety of her career — and by the looks of it, she has no plans of changing that anytime soon.
At the 61st Annual Grammy Awards, held on February 10, 2019, Musgraves took home four trophies — including the highly-desired Best Album award for her third studio release, Golden Hour. A departure from her previous releases, Golden Hour proved that Musgraves will forever be an artist who follows her own arrow — pun intended. If you aren't a Musgraves fan yet, it's time to hop aboard. Here's everything you need to know about the woman redefining an entire genre.
She started writing songs when she was eight years old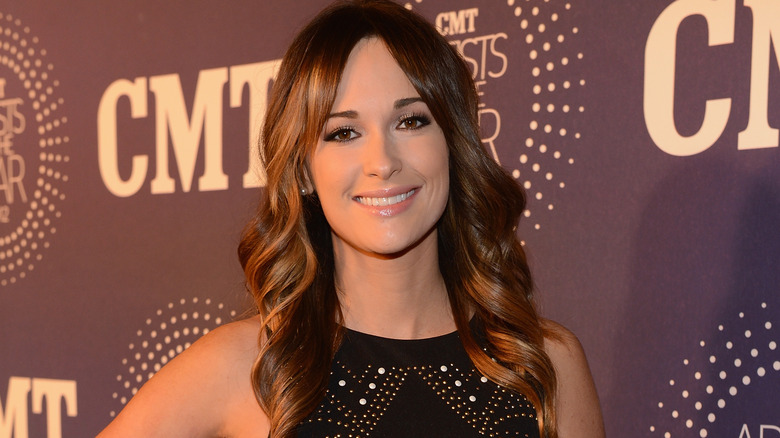 Getty Images
Kacey Musgraves is one of music's brightest stars, but she's far from an overnight success. The country crooner has been working toward her many accomplishments in the music industry for most of her life, including performing every weekend in her regional opry circuit with a live country band when she was only eight years old.
In the 'About' section on one of Musgraves' early websites, the singer describes how her early experiences as a young performer and songwriter shaped her career, crediting her young opry experience for helping her become familiar with "being in front of people and working with musicians." At the age of 12, Musgraves began taking guitar lessons from a local teacher and musician named John DeFoore, calling the experience, "one of the most important things that ever happened to me." According to Musgraves, DeFoore would push her to write a new song every week — and while the singer insists her first songs were "pretty bad," she says DeFoore's homework gave her a new appreciation for the creative process.
Her grandmother was instrumental in her career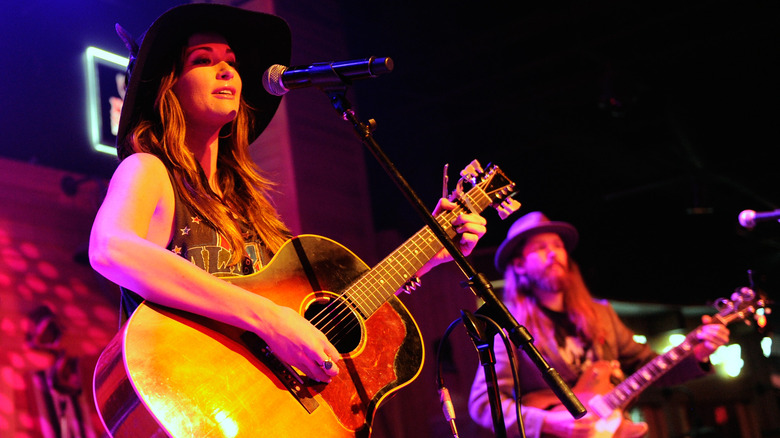 Getty Images
John DeFoore wasn't the person who had a major influence early on in Kacey Musgraves' passion for performing. In an interview with Robin Roberts, the "Keep It To Yourself" singer revealed that her grandmother was one of the most instrumental figures in helping the young Musgraves to cultivate a career in country music. Musgraves told Roberts, "I just had one of those families that was like, 'OK, you want to be a singer, you want to be a performer, or whatever? OK, let's get you guitar lessons, let's load up the minivan, let's go to shows.' We had really nurturing parents and grandparents that really encouraged us to just be who we wanted to be."
Musgraves revealed that each of her family members had a hand in helping the aspiring young singer reach her dreams, but her grandmother was especially involved. "My grandma was my booking agent for a second," Musgraves told Roberts. You go, Grandma!
She's far from your typical country star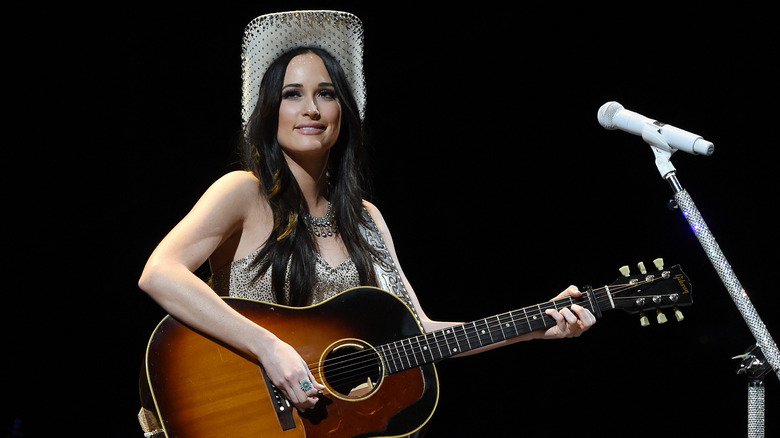 Getty Images
From the moment Kacey Musgraves began making major waves in the country music scene, one thing has been glaringly obvious: the gal isn't your grandma's country music star. While the country crooners of yesteryear helped give the genre a reputation for churning out depressing ballads about ex-wives, old trucks, and dogs — Musgraves' lyrics tend to live on the border where classic country and modern social issues meet. As The Independent noted in a 2019 feature, "[Musgraves covers] topics most of her peers wouldn't touch with a barge pole – casual sex, marijuana, macho culture, slut-shaming, the stronghold of religion, and queer acceptance among them."
A shining example of this can be found in one of the singer's biggest hits, "Follow Your Arrow." In the 2013 single, Musgraves sings, "Make lots of noise/ Kiss lots of boys/ Or kiss lots of girls if that's something you're into." Later in the song, Musgraves encourages listeners to "Say what you feel/Love who you love/'Cause you just get so many trips 'round the sun." That's a message everyone can get behind.
She almost gave away a hit song to another artist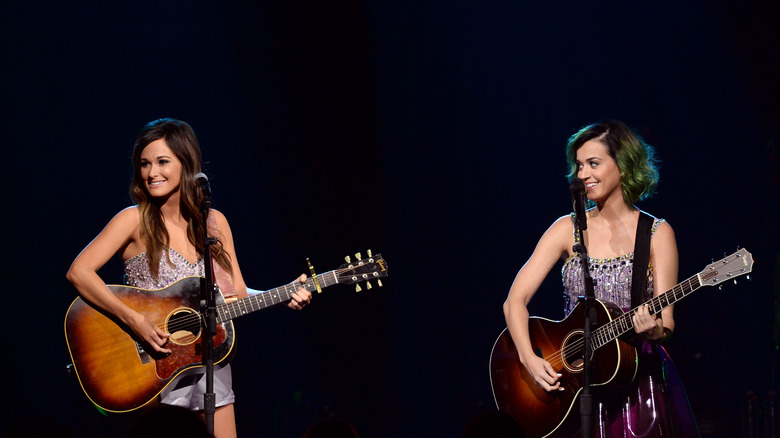 Getty Images
While Kacey Musgraves is famous for redefining what it means to be a country music artist and standing behind her lyrics no matter the controversy they may cause, she hasn't always been so secure. In fact, she almost gave away "Follow Your Arrow" to a mega pop star out of fear that her country fan base wouldn't relate to — or agree with — the song's themes of inclusivity and equality for all.
In an interview with actress Reese Witherspoon for the series Shine On with Reese (via Billboard), Musgraves revealed that her label encouraged her to give up what would go on to be a CMA award-winning hit. "[My label was like], 'People are going to hate it. You're going to go down in flames in the country world,'" Musgraves told Witherspoon. While she considered handing the song over to superstar Katy Perry — who famously has a loyal LGBTQ fan base — Musgraves ultimately decided to stick to her guns, telling Witherspoon, "I was like, 'Look, I'm fine with that. This is something I want to say, and there's all kinds of country people out there,' you know?"
Country radio has not been kind to her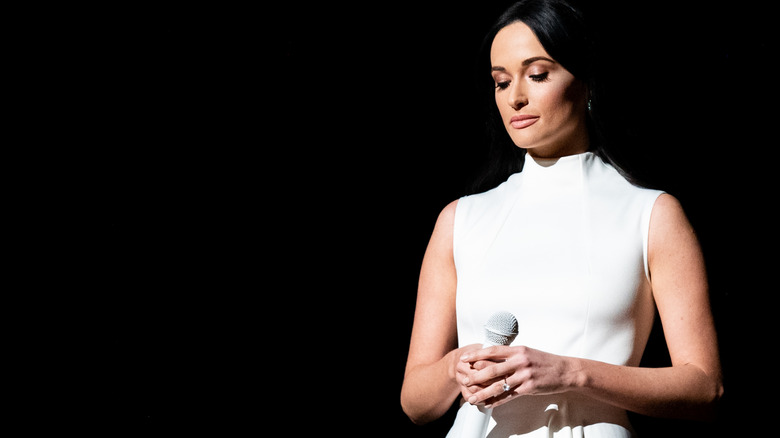 Getty Images
Kacey Musgraves' willingness to be bold and go against the grain of stereotypical country music has left the country music industry puzzled as to how to classify her work. And as Musgraves has evolved as a singer and lyricist, so has the confusion of country music radio.
As noted by The Huffington Post, when the Association of Country Entertainers was founded in 1975, its mission was to "preserve the identity of country music as a separate and distinct form of entertainment." In other words, traditional country music leaves little room for those who aren't blue-collar white folks. Since neither Musgraves nor her music fall neatly into that category, country radio has seemingly refused to claim her as one of its own. Despite critical acclaim, only two of Musgraves' songs have reached the Top 20 Airplay chart — "Merry Go 'Round" and "Follow Your Arrow."
She had a little help while writing Golden Hour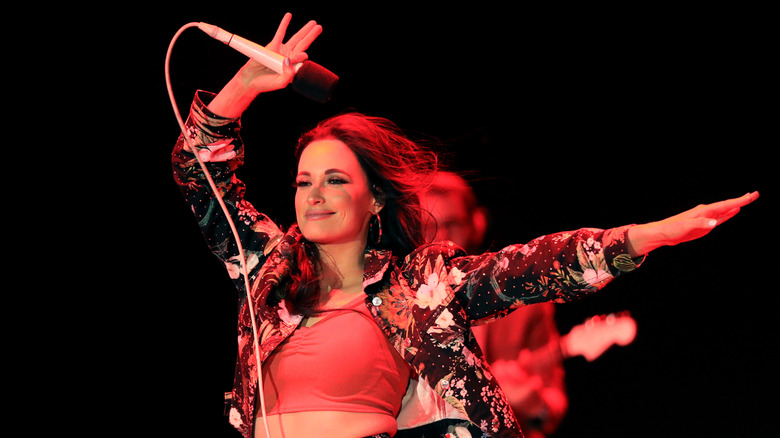 Getty Images
When Golden Hour — Kacey Musgraves' third studio album — was released in March 2018, its sound was widely noted by critics to have strayed from the singer's previous releases. In an interview with The Huffington Post, Musgraves referred to her new sound as "galactic country," with the publication describing it as "hippie country," claiming that Golden Hour's disco sounds and horn sections give the album "a whimsical, dreamy vibe."
Perhaps the reason Golden Hour calls to mind hippie vibes of years past can be found in the interesting approach Musgraves took to penning at least one of its songs. Shortly after the album's release, Musgraves took to Instagram to reveal that she wrote "Mother," which she referred to as "the shortest song on the album and maybe the most meaningful," while on acid.
"One summer night, surfing waves of LSD and feeling nostalgic for everywhere and everyone all at once, I got a text from my mom," Musgraves wrote. "It made me miss her [...] Wrote these words down and finished it the next day."
She's friends with royalty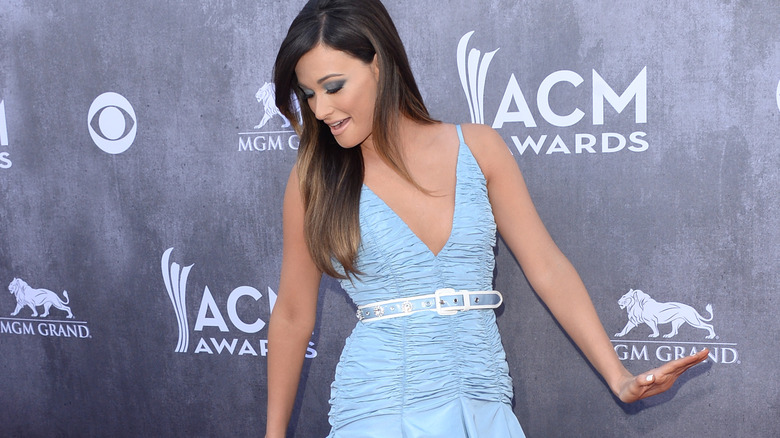 Getty Images
While mainstream radio may refuse to recognize the "High Horse" singer for the country queen she is, plenty others have hopped aboard the Kacey Musgraves train. In fact, Musgraves has recently found herself in the company of royalty.
In December 2018, Musgraves appeared on season 4 of VH1's RuPaul's Drag Race All Stars as a guest judge. Dressed in a bedazzled denim bodysuit and chaps, the country crossover queen looked as glamorous as ever and perfectly suited to sit at the judges table with Ross Matthews, Michelle Visage, Ciara, and — of course — RuPaul. Musgraves provided feedback to contestants in a singing, songwriting, and dancing challenge (via SPIN), writing on Instagram, "It was one of the most magical experiences I've ever been part of!"
Getting to hang with queens on Drag Race was no doubt a dream come true for Musgraves, who held a drag show as part of her release party in 2013 for her second studio album, aptly titled Pageant Material.
The real Hannah Montana?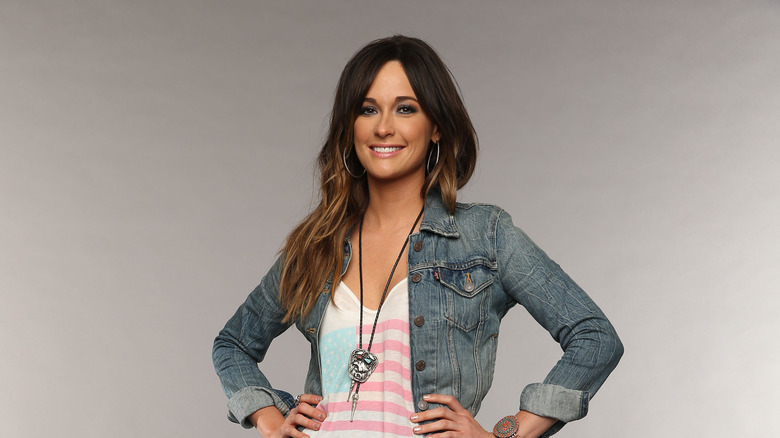 Getty Images
Considering how natural she seems to be at the whole being a bona fide rockstar thing, it's easy to forget that Kacey Musgraves has only started to become a household name in recent years. Until then, the singer-songwriter was just a girl with a big dream trying to make it in a city full of other girls with the same big dream.
Musgraves revealed in a 2013 interview with The Guardian that, while she was voted "Most Likely To Be Famous" by her senior class in the small town of Golden, Texas, fame came neither quickly nor easily. After moving to Nashville, Tennessee to pursue her music-making dreams, Musgraves took on several jobs to support herself, including writing hundreds of songs for other musicians, painting faces, and even dressing up for children's birthday parties.
"I signed up because I thought I could be Cinderella or Ariel or something like that," Musgraves told CMT News. "But I ended up having to be Hannah Montana."
"Almost every single thing changed"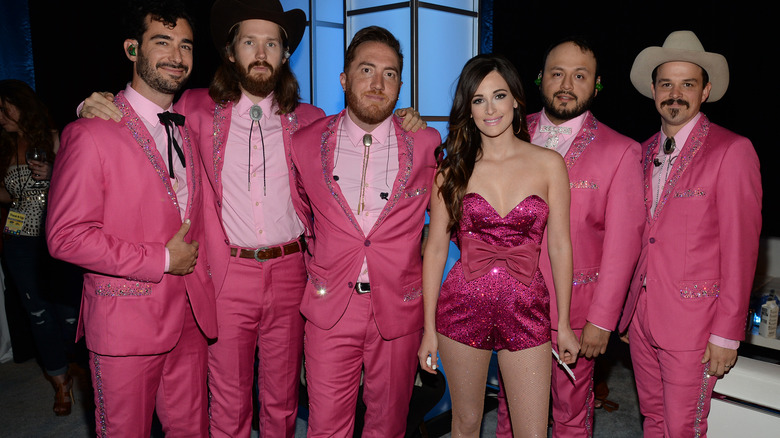 Getty Images
Change, though it can be painful, is an essential part of life — and for Kacey Musgraves, it was also an essential part of making a Grammy-award winning album. In a 2018 interview with SPIN, Musgraves detailed the year-plus she spent making her third studio album, Golden Hour, saying, "Last year was the year of change for me. You can't imagine how many things changed for me. Business management, booking agency, band members, tour manager... new producers, new songwriters. Almost every single thing changed."
However, the changes in Musgraves' life weren't purely professional. The songstress also experienced a major shake up in her personal life when she split from her boyfriend Misa Arriaga — who also happened to be her (now ex) bandmate. "I was in a weird place personally," Musgraves revealed to SPIN. I was getting out of a long relationship, I didn't have a lot of self-confidence. I didn't feel great about myself, so I needed time to figure it out again."
She has a love story for the ages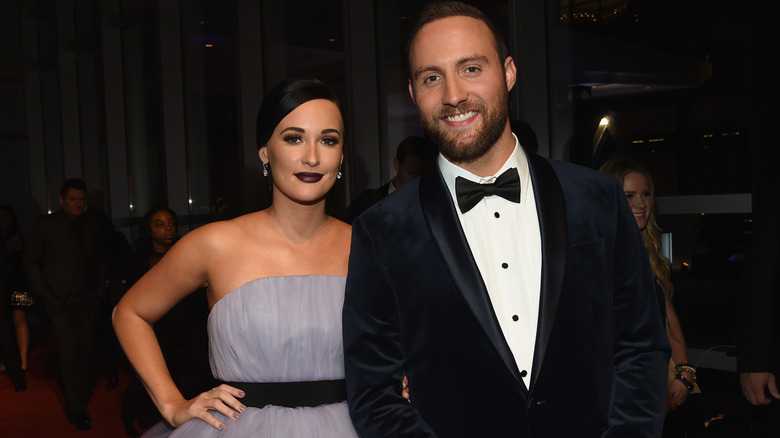 Getty Images
While a tumultuous and heartbreaking period of change in Kacey Musgraves life lead her to begin the creative process for Golden Hour, an unexpected romance she found along the way inspired many of the critically-acclaimed album's songs.
In an interview with Hits Daily Double, Musgraves recalled an evening in March 2016 when she ventured out to the Bluebird Café in Nashville, Tennessee, a famous spot for aspiring singer-songwriters. Though she usually steers clear of the touristy joint, Musgraves decided to go and support a friend who was performing that evening. As luck would have it, her future husband, Ruston Kelly, happened to be performing, too.
"Ruston played his first song, and I was just stunned by everything in it," Musgraves dished. "When it was over, I went up and introduced myself. I said, 'Hey, I don't really ever do this, but here's my number; I really wanna write with you.'" The couple married just over a year later in October 2017 in a dreamy outdoor ceremony. "I've never felt so tranquil and happy," Musgraves captioned a photo from their wedding day.
Dolly Parton is her idol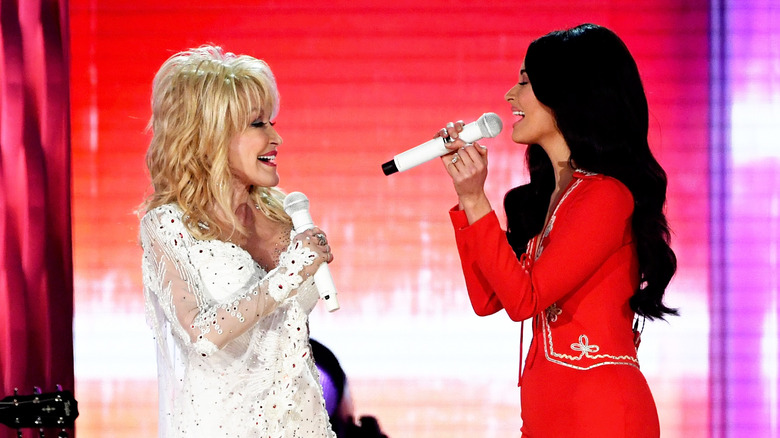 Getty Images
Considering Kacey Musgraves' determinedness to unabashedly be herself and stand up for what she believes in, it should come as no surprise that the "Space Cowboy" songstress is a huge Dolly Parton fan. But, then again, who doesn't love Dolly?
In a 2019 pre-Grammys Billboard interview, Musgraves gushed about her adoration for the undisputed queen of country music, calling her "the ultimate songwriter" and detailing all the reasons she just can't get enough of Dolly. "[Parton is] beauty, sex appeal, brains, wit, humor, beautiful songwriting, meaningful songwriting, [makes] no apologies for who she is, [was an] LGBTQ advocate long before it was even a thing or trendy or whatever," Musgraves said of her idol. "She's fearless and I admire her spirit a lot and she's very kind. She's very present when you're talking to her and I just really love her so much."
There's no question that Musgraves' love for Parton made her Grammy performance with the "Jolene" singer that much sweeter.
She believes in UFOs -- and she's terrified of them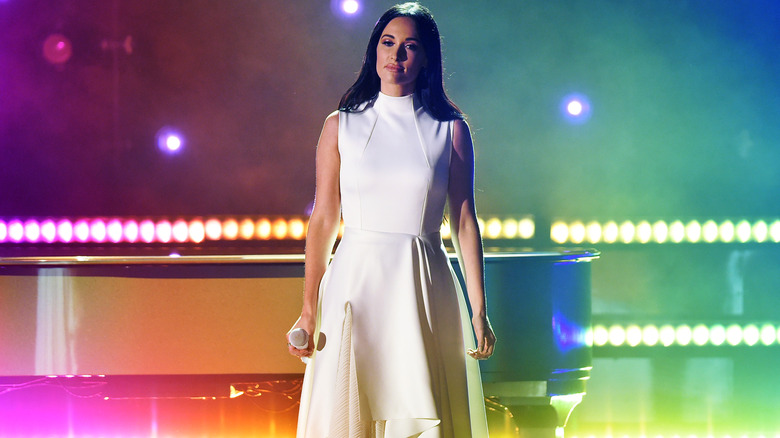 Getty Images
For a girl with a song called "Space Cowboy," Musgraves has zero interest in making contact with any kind of extraterrestrial beings. In fact, she's downright terrified of them. And before you try and tell her there's no need to fear what doesn't exist, you should know that she's seen proof of aliens — and there's no changing her mind.
In a "Two Truths and a Lie" interview with People magazine, Musgraves revealed that she's seen UFOs twice in her lifetime — once while in Mexico at a friend's wedding, and again four days later in Nashville, Tennessee. "I'm definitely a believer," Musgraves told People. "I don't think we are alone." However, being a believe in life in outer space doesn't mean Musgraves is happy about it. In an interview with US Weekly, the songstress revealed that she has an "irrational fear" of UFOs, as well as spiders. We're willing to bet this gal isn't the biggest fan of The X-Files.
"If you were everybody's cup of tea, you'd probably be boring"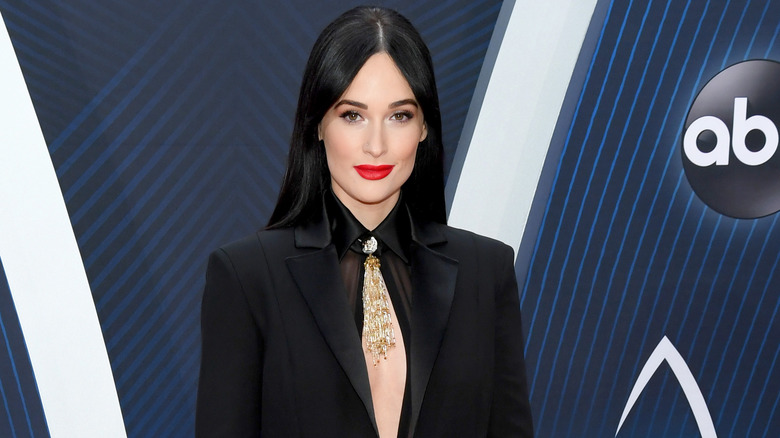 Getty Images
Being a young woman in country music in this day and age means that, at some point in your career, you'll likely be compared to Taylor Swift — arguably the most successful country crossover artist in the history of the genre. Kacey Musgraves has managed to largely avoid those types of comparisons throughout her career, but she does appreciate the contributions the "Tim McGraw" songstress made to the country music scene, telling The Guardian, "She's definitely widened the audience. I think a lot of kids who wouldn't be into country are probably fans of hers. That's cool and she's been kind of an ambassador for country."
Instead of pigeonholing herself as Taylor Swift 2.0, Kacey Musgraves has made a name for herself by staying true to her unique, edgier songwriting style — even at the expense of missing out on more mainstream country fans. "Certain kinds of people will always have an issue with my music," Musgraves told The Guardian. "But that's fine, it's OK. I don't want to be the McDonald's of music. If you were everybody's cup of tea, you'd probably be boring."
She's doesn't care if you don't listen to her music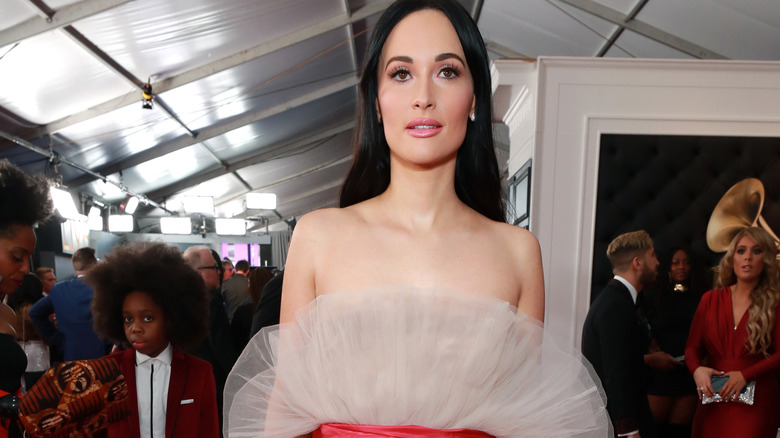 Getty Images
At the 61st Annual Grammy Awards on February 10, 2019, Kacey Musgraves came out as the night's big winner, scoring awards for Best Country Solo Performance, Best Country Album, Best Country Song, as well as the most coveted award of the evening — Best Album. In her acceptance speech for Best Album, Musgraves praised her fellow nominees, a group of A-listers which included Cardi B, Brandi Carlile, Drake, H.E.R., Post Malone, Janelle Monáe, and Kendrick Lamar for the Black Panther soundtrack. "Winning this doesn't make my album any better than anyone else's," Musgraves told the audience, visibly shocked.
While that may be true, Musgraves should give herself credit where it's due — especially considering the fact that her fellow nominees are largely more mainstream than she is, meaning their songs get significantly more airplay. But the "Butterflies" singer doesn't seem all that concerned with whether or not she'll ever be a radio darling. When asked by reporters (via Fox News) if she felt her Grammy wins would help her chances of getting airtime, Musgraves replied, "To me, radio isn't necessarily the mark of what makes good music."