The Royal Rules Meghan Markle Broke After The Baby Shower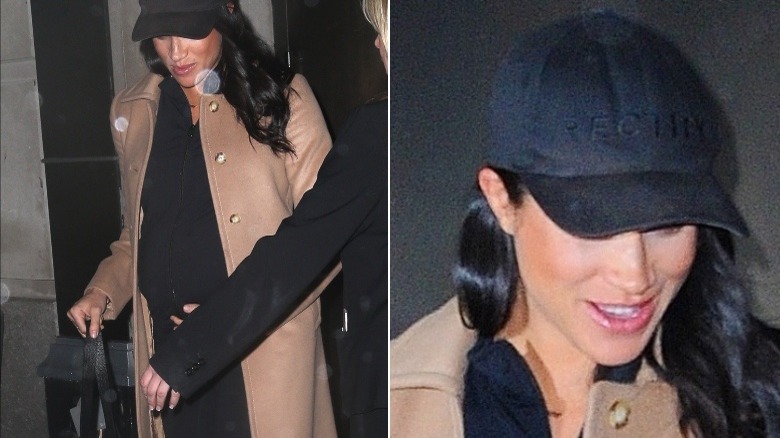 BACKGRID
During the weekend following Valentine's Day 2019, Meghan Markle celebrated the expected arrival of her baby with an epic baby shower. Throughout the week, the Duchess of Sussex was in New York City visiting with high-profile friends, like Abigail Spencer and Serena Williams. Harper's Bazaar, who cited an anonymous insider, reported that Williams and another friend of Meghan's, Genevieve Hillis, were the ones who threw the grand affair.
There was certainly a lot of excitement around the duchess' shower at one of the swankiest places in the city: The Mark Hotel. As Hello! Magazine revealed, party supplies, including a cotton candy machine, were photographed arriving into the city. A dozen carry-on suitcases were also captured on camera, which just may have been party favors. Even more exciting than that, though, were the attendees. Amal Clooney, Gayle King, as well as several of Meghan's besties were spotted heading into the event. But, once the excitement died down a bit, it became apparent that Meghan had raised some eyebrows — both during and after her baby shower. Yikes. Here's everything that most certainly caused the Queen of England to clutch her pearls.
While you might not think much of Meghan having a baby shower, a shower is not only unusual for a royal, but also for a resident of the U.K. "Customarily, the Brits don't do baby showers. It's not something that is traditional over here," royal commentator Victoria Arbiter told Today. Instead, they give gifts to the new mom after the birth of the baby. The royal expert confirmed that there is no steadfast rule prohibiting baby showers, but it is true that Kensington Palace never confirmed whether or not Meghan's sister-in-law, Kate Middleton, ever had a baby shower. "[The royals] are funded by the taxpayer and so they have to take public perception into account," Arbiter explained. 
Even if baby showers were common overseas, they would be tricky for royals. Baby shower attendee Gayle King revealed on CBS This Morning that Meghan "didn't open any of the gifts" at the shower because she wanted to open them with her husband, Prince Harry. "So I really don't know what everybody got," she revealed. "I think I got something I think is very nice." While there's no telling all of what Meghan received, a Babyletto crib was spotted arriving at the venue. According to the royal family's gift policy, when royals are given personal gifts — that is, gifts "given by people whom the Member of The Royal Family knows privately" — the royal's private secretary has to keep a record of each and every gift. And, if a royal is given a gift by someone other than a friend, the royal would only be able to accept and use the gift if its value is less than £150 (about $196). You'd imagine that Serena Williams would've only invited Megan's close friends, but if there were any friends of friends in attendance, uh-oh. Protocol would've easily been broken — and Meghan likely wouldn't know until she got home and started opening the presents with her hubby.
While leaving the Big Apple, Meghan continued to break royal protocol. InStyle reported that the duchess left her hotel suite wearing Lululemon leggings paired with an Ingrid & Isabel maternity jacket and Adidas UltraBoost sneakers. The Duchess of Sussex was also wearing an $850 Jennifer Meyer necklace that read "Mommy" — likely a gift from the shower — as well as a winter coat and a baseball cap that read "Rectify." According to the publication, the cap was "likely a promotional accessory for the namesake Sundance TV series" in which Meghan's friend Abigail Spencer stars. You certainly can't blame the pregnant duchess for wanting to relax in some leisurewear — and there is no royal rule that strictly prohibits athletic clothing — but Megs' ensemble was not exactly standard attire. Prince William, for example, has chosen to work out in jeans. White jeans, at that.
According to etiquette expert Diana Mather, jeans are only really considered appropriate attire for things like "walking the dogs." Although the royals have more fashion freedom when they're not performing official royal engagements, dressing smart casual has been the go-to whenever they're going to be seen in public. And, usually, that means choosing trousers over jeans. One can only imagine the queen's take on leggings.
Surprisingly, sneakers or, as the Brits call them, trainers, aren't prohibited. Kate Middleton has been spotted wearing sneakers on numerous occasions. While you'll also sometimes see the Duchess of Cambridge donning a baseball cap, Meghan's choice of headwear is getting called into question not because of what it is, but what it says.  
For one, royals don't accept free clothing, according to People. Furthermore, a spokesperson for Kate confirmed to People that the duchess follows a policy of not accepting "any free offers of clothing." Since Meghan's hat is for promotional purposes — and seen earlier on friend Abigail Spencer who is in the show Rectify — it's unlikely that Meghan purchased it. The seemingly innocuous cap may have also broken yet another rule. Per the royals' gift policy, royals are prohibited from accepting items that "would, or might appear to, place the Member of The Royal Family under any obligation to the donor." Before becoming the Duchess of Sussex, Meghan was quite the Instagram influencer and frequently helped excel her friends' brands. After becoming a royal, though, her #ad days became a thing of the past. Or, so we thought.