This Is What Lady Gaga Eats In A Day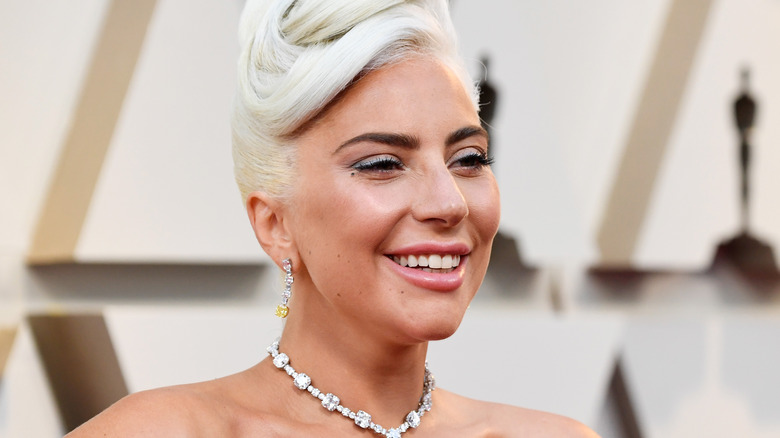 Getty Images
Lady Gaga is the embodiment of a true superstar: She's a pop star who knows how to put on an incredible performance, she's a movie star who's proven to have some serious acting chops, and she's genuinely a really talented singer. Because of this, Gaga's life is obviously extremely busy. She's always either recording music, touring, promoting something, or heading to awards shows, and she's probably going to do more acting in the future. Yet, through it all, she always looks amazing — and it's hard not to wonder what her secret is. 
In the past, Gaga has been very open about her struggle with her body image and her eating disorder issues, revealing that she used to be bulimic and that negative self-image is something with which she still has trouble. But since then, the pop star has seemed to live a much healthier lifestyle, working with popular celebrity trainers and showing off some of her favorite foods on social media (she loves to cook). Here's a look at what Gaga eats in a day.
Lots of veggies every single day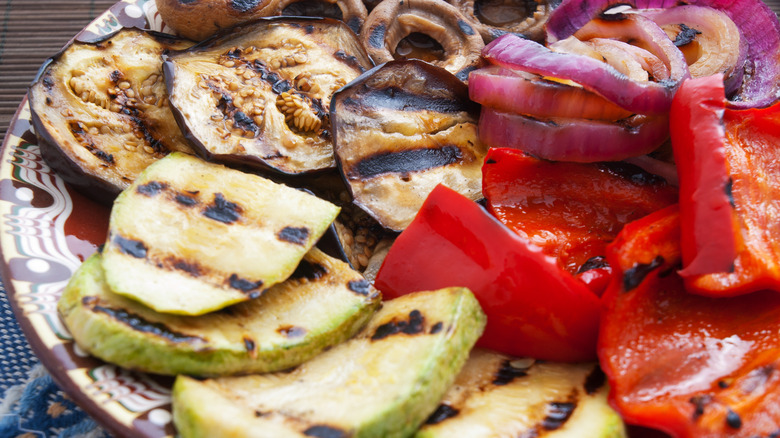 Shutterstock
As far as we know, Gaga has never followed a vegetarian or vegan diet, but that doesn't mean she doesn't appreciate chowing down on veggies. She apparently loves to eat them when on tour. In an interview with Self, Gaga's longtime friend and personal chef, Bo O'Connor, said that a typical lunch or dinner for Gaga consists of something like "quinoa with black beans, grilled shrimp, beautiful veggies." She added, "Being able to provide your body with good nutrients, including those that are in vegetables and fruit, is everything." 
O'Connor said something similar in an interview with The New Potato, stating that Gaga's favorite go-to meals are "dishes with lots of vegetables and quinoa." She explained that Gaga is "really disciplined on tour," which makes sense. But Gaga does seem to genuinely love eating her vegetables. In 2015, she posted an Instagram photo of grilled veggies with the caption, "Fresh veggies from my garden, thank you earth. Garlic good olive oil sea salt."
She opts for meals with lots of fiber
Gaga's diet definitely consists of more than just veggies — she usually chooses to go for meals that are full of fiber, which can be something that makes you feel more full. In an interview with Self, O'Connor said that they try to make sure her meals are always "healthy, tasty, filling, nutritious, and full of fiber." O'Connor added, "I really focus on meals that are good in taste but also healthy for your body. What we eat is what our bodies are." 
Some of Gaga's favorite foods are usually stocked up in her fridge. When asked what Gaga usually keeps around for meals and for snacking, O'Connor told People that she usually makes sure she has a lot of "water, kombucha, some type of unsweetened ice tea, definitely Greek yogurt and almond butter or any type of nut butters, and lots of types of fruits and vegetables — kale, Swiss chard, lemons, limes, ginger." 
She chooses healthy and filling snacks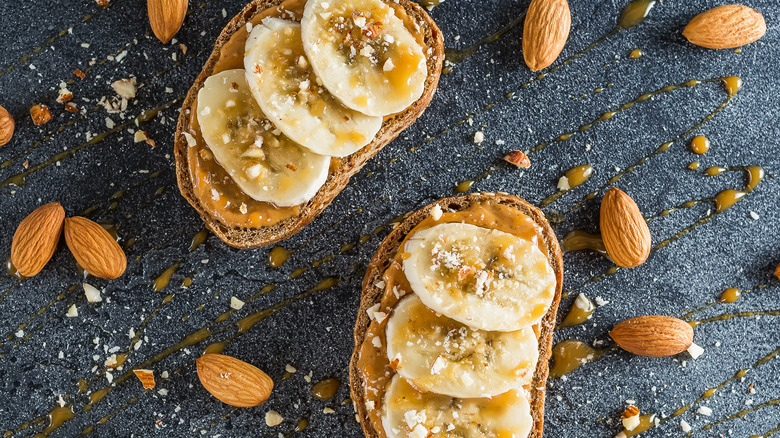 Shutterstock
When it comes to snacks, Lady Gaga likes to continue to keep things filling and healthy. In an interview with Self, O'Connor said that she likes to stock up on travel size snacks that are nutritious. When Gaga is on tour, O'Connor says she carries around "little packs of almond butter," which she combines with other things. For example, Gaga might pair Scandinavian crackers with almond butter and banana for a "filling and satisfying" snack.
In an interview with People, choreographer LaurieAnn Gibson, who has worked with Gaga on dance routines, said that the star always had "grain chips, tofu, turkey slices, hummus, and coconut water" whenever she was on tour. All of these snack options are full of nutrients, fiber, and protein, and they help keep the "Bad Romance" singer feeling full for longer, preventing her from doing any mindless snacking on sweets and processed foods.
She loves herself some sugary cereal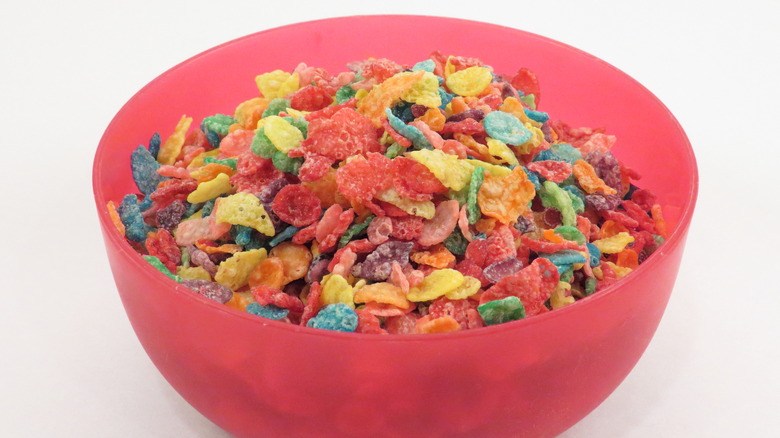 Shutterstock
At this point, it's clear that Gaga is a big fan of eating as healthy as possible, especially when she's on tour. But that doesn't mean that the star doesn't know how to enjoy some good old-fashioned sugar as well. She's also not worried about sharing those indulgences on social media. The night before the 2019 Golden Globes, where she was nominated for several awards, Gaga posted a photo on her Instagram Story (via Entertainment Tonight) of a bowl of Fruity Pebbles and a box of burger and fries. Alongside the picture, she wrote, "#GoldenGlobes tomorrow gotta fuel up!" She told ET that she had also eaten Vietnamese food. 
When speaking to ET about her delicious night in, Gaga explained, "I really had to pack it before a long evening." And she added some advice to anyone listening, saying, "You know what, women? Eat. Eat what you want." She continued, "Do what you want, be who you are, do not starve yourself, live your life. Listen, I'm telling you, the pressures in Hollywood and that celebrity aura puts on young people, it's too much and, you know, eat what you want, be who you are." 
No such thing as too much salad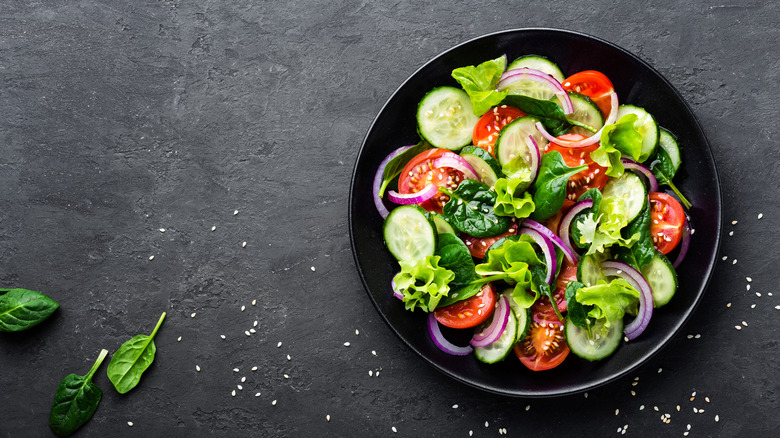 Shutterstock
While Gaga more than likely still enjoys indulgences when she's in the mood for it, it's pretty clear that she's also really focused on eating healthy as much as she can. And since we already know that she loves veggies and meals full of fiber, it's not surprising to hear that she really enjoys a nice big salad on most days. In an interview with People, Chef O'Connor said that Gaga always has a salad throughout the day "whether it's for lunch or dinner." 
But the star doesn't only stick with a plain, boring salad consisting of greens with some vegetables thrown on top. She mixes it up and adds a bunch of different ingredients. O'Connor explained, "The salad can be different and change; it doesn't always have to be super lettuce-based, rather it can have other components that are a little bit more satisfying." If we had to guess, we'd wager that Gaga likely mixes her salads with whole grains, lean protein, and, of course, lots of veggies.
She drinks smoothies to keep up with her schedule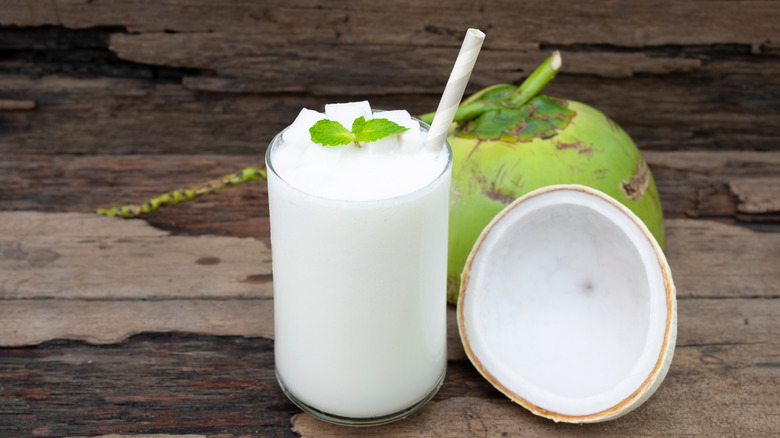 Shutterstock
When it comes to breakfasts and stomach-filling snacks, Gaga usually opts for something nutritious that is also easy and fast to eat no matter how busy she is — but especially when she's on tour. One option that she often relies on is a good smoothie. In an interview with People, O'Connor said that Gaga loves "fresh" smoothies that are full of nutrients and real foods, not just sugar. She explained, "She likes natural based smoothies, vegan with coconut, coconut water, all fresh, and she tries to be very good at that on tour." 
Smoothies are one way that Gaga makes eating healthy easy. Another way is by planning everything she's going to eat, which is why she has personal chefs. O'Connor told Self, "She has a million things on her plate. To have someone who plans her meals, and sets things aside for her, then she knows that there's no cheating." 
Homemade pasta is her favorite
It's no secret that Gaga is an Italian-American who is really proud of her heritage. So, it's not surprising that she's a big fan of pasta, especially when she makes it herself, which she appears to do quite often. In 2015, she posted a photo on Instagram of herself making ravioli with the caption, "Made fresh homemade raviolis this weekend with butternut squash and basil pesto from the garden." She added the hashtag, "#italiansdoitbest."
In an interview with The New Potato, O'Connor said that when Gaga is home, "with her hair down, whether I'm cooking or we're going out, she'll usually pick Italian," adding that, "It's just home for her." And actually, Gaga's pasta is one thing that drew actor Bradley Cooper in when they first started working on A Star Is Born. In an interview with Conan O'Brien, he said that they bonded over her pasta when they first met to talk about the movie, noting, "She made me feel so comfortable."
She eats sweets when she wants them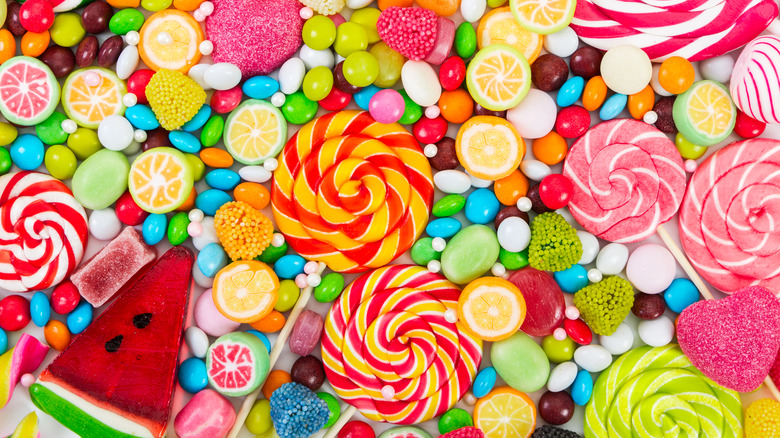 Shutterstock
Sure, Lady Gaga knows how to keep things super healthy, but she also knows how to maintain a good balance when it comes to what she eats. Aside from enjoying pasta and sugary cereal, she also loves to indulge in sweets when she wants. In an interview with People, her personal chef, O'Connor, revealed that Gaga has a sweet tooth. As one example, she said that on a trip to Tokyo, Gaga liked the fruit and produce so much that she indulged in that instead of chocolates. 
One anonymous source close to Gaga told Us Weekly that the pop star "is not afraid to indulge." They added, "She will never deprive herself. If she wants something, she eats it. And she has to have her coffee every day." Choreographer LaurieAnn Gibson said something similar to People, explaining that sometimes the two of them would indulge on tour by having "a toast or two with a little white wine." 
Give her Irish whiskey and she's happy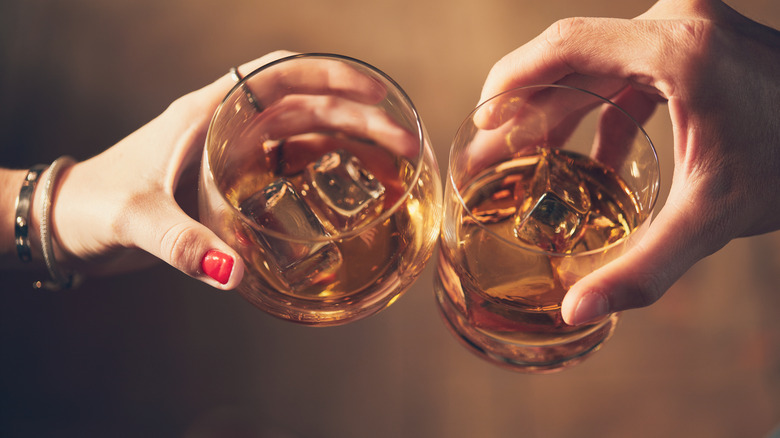 Shutterstock
The A Star Is Born actress indulges in more than just sugary treats — she also loves a good drink sometimes. In 2012, The Independent reported that Gaga had credited Irish whiskey for her songwriting on her album Born This Way. Taking a break on stage during a show at Ireland's Aviva Stadium, Gaga said, "I have made so much of my music with Jameson. I'm not being paid a cent to advertise the whiskey... I should be. The whiskey has made my new songs." She also joked around, saying she loves it in Ireland because she's "usually always wasted down the back of a pub" with a bottle of Jameson when she visits the country. 
Back in 2011, Gaga talked about her love of whiskey in an interview with Sirius XM's Morning Mash Up (via Delish), saying she's on the "drunk diet." She explained, "I live my life as I want to, creatively. I like to drink whiskey and stuff while I am working." How does she balance that? Well, by working out every day, no matter what kind of hangover she has. 
She's a believer of the 5-factor diet
Lady Gaga doesn't only rely on healthy choices — she has also followed a popular diet in the past. In 2009, celebrity trainer Harley Pasternak went on tour with Gaga, tweeting (via PopSugar), "About to '5-Factor-ize' the Lady GaGa tour...my luggage is packed with 5-factor snack bars, chips, and smoothies!" 
The 5-factor diet is pretty simple. It consists of three meals and two snacks each day that are made up of low-fat protein, healthy carbs, fiber, and fats, as well as a sugar-free drink for each meal. Anyone following it gets a "cheat day" once a week. Pasternak explained the diet to Forbes, saying, "Each meal should have protein the mass of your hand, either a palm full of a whole grain or a palm full of a high fibre fruit, unlimited vegetables, and healthy fats at least the mass of your thumb. Snacks should be approximately one third the size of a meal." 
She's a big fan of green tea
While Lady Gaga has been said to love coffee, she's also a fan of green tea. She even once had a partnership with Starbucks to prove it. In 2017, Starbucks worked with the singer's Born This Way Foundation, which helps to empower youths through mental health services and community projects. For every purchase of matcha lemonade, pink drink, pink ombre drink, or violet drink, 25 cents was to be donated to the charity, as reported by Well + Good. Gaga's favorite drink out of all of those choices is the matcha lemonade, which she explained by saying, "I instantly fell in love with [it]." 
Green tea is also known to be a good way to hydrate, and staying hydrated is super important by O'Connor's standards. In an interview with Self, she said, "Don't drink soda. Don't drink diet soda. Just drink water. Carry a bottle of water wherever you go, because otherwise you're really thirsty, and you're more inclined to eat and snack on different things."