Meghan And Harry's Gorgeous Home Is Ready For The Royal Baby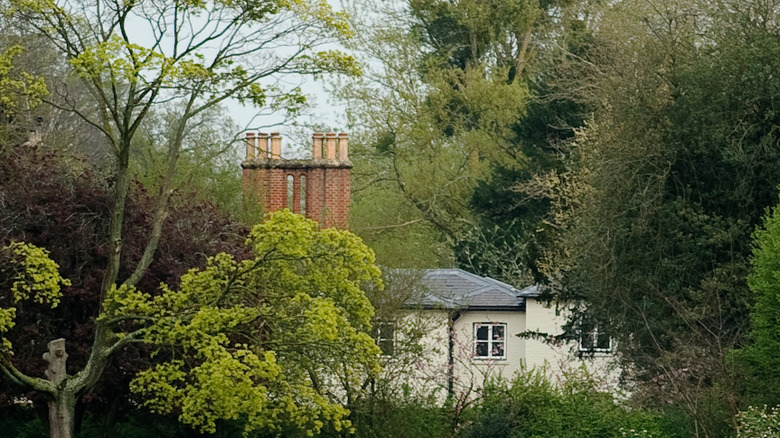 Getty Images
Prince Harry and Meghan Markle have officially moved into their new digs. In March 2019, an official royal announcement specified that the Duke and Duchess of Sussex would be moving "to their official residence at Frogmore Cottage" by spring 2019. By the first week of April 2019, People confirmed the couple had officially left their Kensington Palace apartment and taken up residence at the cottage, which is located in Windsor and shares the property with the Frogmore House and Gardens. It may seem to be a sudden change, but the announcement revealed that it had been a "long-planned move." But, you might be wondering why the soon-to-be parents picked this particular Windsor estate.
According to the royal family's official site, Charles II had the Frogmore House built for his nephew back in the late 1600s. Naturally, it's oozing with history. But, while the house is in fine shape, royal biographer Ingrid Seward told People that the cottage where Meghan and Harry now live had actually become "pretty dilapidated." In fact, the cottage was previously separated into staff quarters and, without extensive renovations, wouldn't have worked for a single family. Oh, and as you've probably already deduced from the name, there is indeed a "preponderance of frogs" that live in the area, the royals' site reveals. In addition to all the amphibians, the marshy property has "winding lakes, wooded mounds, glades, walks, and bridges" — oh, and mausoleums and a royal burial ground.
At first, it kind of sounds like a strange place to put down roots, but Meghan and Harry had a vision for this fixer upper. Plus, the long planning time allowed for all of the needed renovations. Thanks to British taxpayers, Harry and Meghan were able to put an estimated €3 million (roughly $3.4 million) into the cottage. That figure did not cover the cost of an interior designer or any furnishings, however. According to BBC News, Meghan and Harry were responsible for all of those expenses.
Despite having to partially pay out of pocket, the duke and duchess didn't skimp when transforming the cottage into their dream home. A source reportedly told Cosmopolitan that they were "going all out with the refurbishment" and were even adding Smart technology throughout the cottage because Harry apparently "loves his gadgets." Meghan and Harry have also made sure to get the nursery ready prior to baby Sussex's arrival. Katie Nicholl told Entertainment Tonight back in January 2019, "...According to sources who are helping with [their new home] renovations, the nursery itself is going to be very modern." She added, "Apparently, it's going to be a monochrome palette — whites and grays, I'm told, will be the color theme for baby Sussex's nursery." But the reno didn't end with the baby's room.
A palace insider told Vanity Fair that the Duke and Duchess of Sussex were allowed to select artwork from the queen's own extensive art collection, so you can bet there's already some spectacular paintings throughout their home. People, citing "insiders," also reported that the five-bedroom cottage has been fitted with a "floating floor" — for yoga, duh. Needless to say, the cottage is "dilapidated" no more.
Of course, the couple's ability to make some pretty rad modifications to the cottage is not the only reason Harry and Meghan chose to live there. Kensington Palace confirmed to royal expert and commentator Emily Nash that "Windsor is a very special place for Their Royal Highnesses and they are grateful that their official residence will be on the estate." After all, the couple married in Windsor and had their private evening reception at the Frogmore House. Nevertheless, that's not to say their new home is going to be perfect.
Royal expert Dickie Arbiter revealed on Twitter the "the only downside" to the Frogmore Cottage: "[airplanes] in and out of Heathrow." It seems the couple will have to put up with some noise. Still, Arbiter said the location is not only "delightful," but also "away from prying eyes." And that is certainly true. When speaking to USA Today, royal commentator Richard Fitzwilliam said the 35-acre property is "ideal for privacy."
The couple can also put their minds at ease because not only is the Frogmore Cottage private, but the security is also top-notch. In an article for Vanity Fair, Katie Nicholl quoted sources who claimed the cottage has "Fort Knox"-level protection. "No one can get close," said the insider. "Harry and Meghan have made Frogmore their very own fortress." But, hey, isn't that, like, one of the main perks of being royalty?