The Best Dressed Stars At The 2019 CMT Music Awards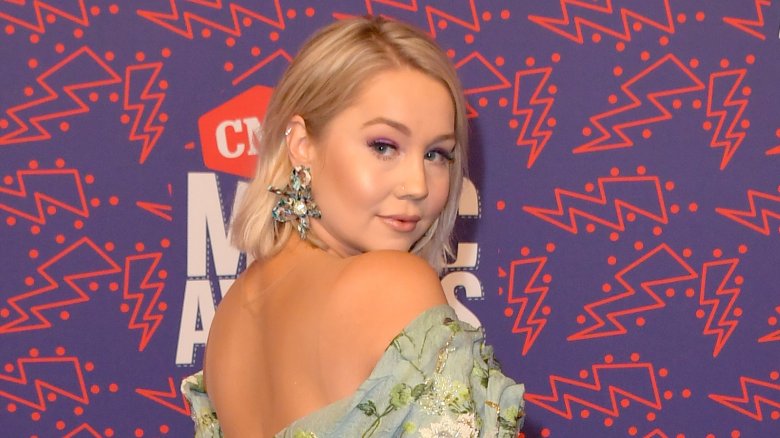 Michael Loccisano/Getty Images
The 2019 CMT Music Awards bill themselves as one of the biggest nights in country music, and the grand music event certainly delivered. Hosted by Little Big Town's Karen Fairchild, Kimberly Schlapman, Philip Sweet, and Jimi Westbrook, the high-energy show took over Nashville's Bridgestone Arena on Wednesday, June 5 with a seriously star-studded list of guests, performers, and winners.
Everyone who's anyone in the country music world were there and were treated to performances from Carrie Underwood, Luke Bryan, Dan + Shay, Zac Brown Band, and, of course, the night's hosts, Little Big Town. As impressive as those were, however, some of the most memorable moments of the night actually included guest performers from other genres, including Boyz II Men and Sheryl Crow.
Live music and trophies aside, there was also plenty of note-worthy fashion. From Carrie Underwood (who always knocks it waaaay out of the park) to Kelsea Ballerini, Julia Michaels, and Kate Bosworth (who was perhaps the most surprising guest of the night), the ladies really brought their A-game.
Kelsea Ballerini went full boho chic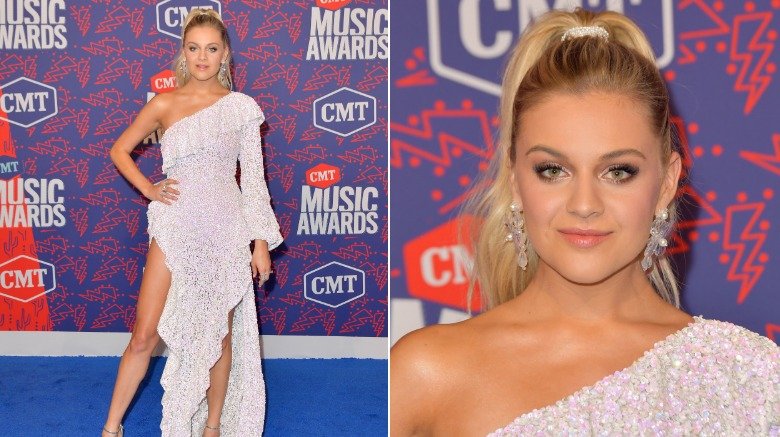 Michael Loccisano/Getty Images
At just 25 years old, Kelsea Ballerini is one of country music's youngest darlings, but what she lacks in age she makes up for in accomplishments — and in style. The young songstress, who snagged a coveted nomination for video of the year for "Miss Me More," sure knows a thing or two about red carpet dressing, and she proved that at the CMTs. 
Opting for a lacy white Blumarine dress, the songstress was giving off some major boho chic vibes (perfect for the event!) with an off-the-shoulder ruffle, flowing skirt, and asymmetrical sleeves. That being said, she was also all rock 'n' roll with not one but TWO daring thigh-high slits. As Fox News confirmed, Ballerini paired the show-stopping frock with strappy silver Jimmy Choo heels and Beladora rings, but it was her sparkly statement earrings and matching scrunchie that we can't get enough of. Are those pearls we see?!
Maren Morris had some major fun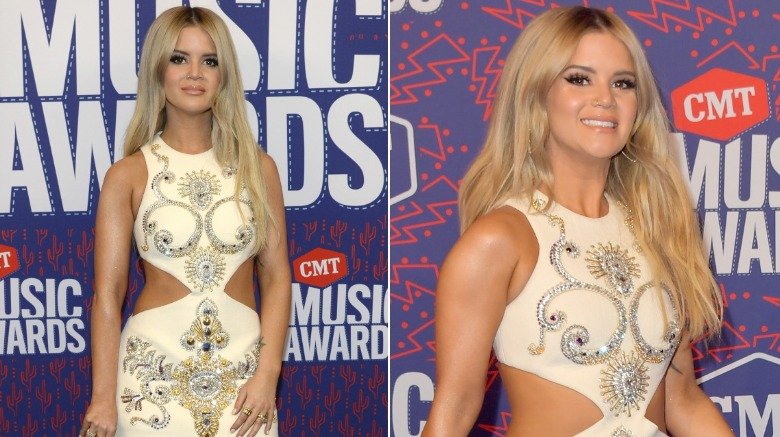 Rick Diamond, Michael Loccisano/Getty Images
There's no denying the fact that Grammy nominee Maren Morris likes to have fun in music, life, and fashion. The singer-songwriter (who was nominated for female video of the year for "GIRL") has become known for showing up to awards shows in statement-making looks, and this time was no exception, as she decided to throw caution to the wind, opting for a mini dress with some seriously risqué cut-outs from designer Fausto Puglisi. 
She kept her hair and makeup simple, letting her dress do the talking and what it said was a full-blown tribute to her country roots. Take a closer look at the sparkling swirls and sun-like motifs — the embellished pattern was undoubtedly a nod to the classic bedazzled country suits we all love to hate. As Hollywood Life noted, Morris completed her outfit with gold platform heels and a matching clutch from Jimmy Choo, as well as a number of rings from Ofira.
Luke Bryan was seriously dapper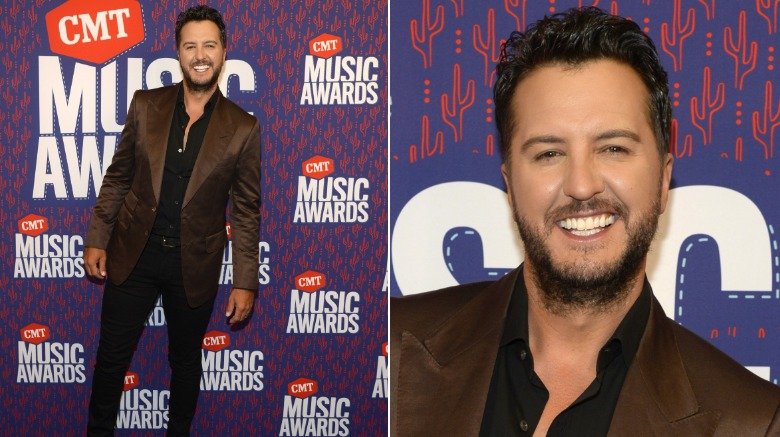 Rick Diamond/Getty Images
Fresh off his stint as a judge on the latest season of American Idol, Luke Bryan was back in his element at the 2019 CMT Music Awards. Nominated for male video of the year for "Sunrise, Sunburn, Sunset," Bryan also rocked the crowd with a performance of "Knockin' Boots," but before any of that, he caught our eye on the red carpet. While most gentlemen kept it casual with a T-shirt or classic with a cowboy hat, Bryan took us by surprise when he showed up in a beautifully tailored suit from Tom Ford... in a surprising color. Rather than choosing all-black, he threw fans a curveball by pairing his black skinny pants and black button-down shirt with a brown blazer. It may not sound like a great choice at first — and it's certainly not conventional — but it definitely worked on Bryan. As Hollywood Life gushed, the singer "nailed his red carpet appearance," and we totally agree.
RaeLynn crushed it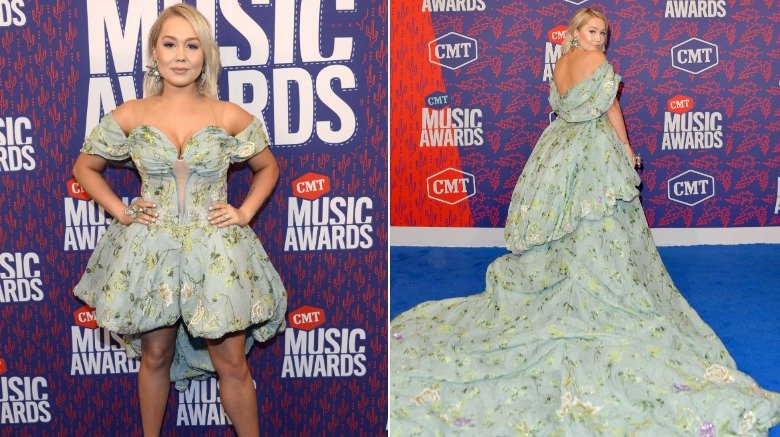 Rick Diamond, Michael Loccisano/Getty Images
We have just one word to say about RaeLynn's CMT dress: WOW. The 25-year-old clearly came to play, as she worked the red carpet in one dress, which magically delivered two totally different looks. The reality show alum, whom you might remember as a contestant from Season 2 of The Voice, made darn sure she would be noticed with a pretty floral number that transformed before fans' eyes. The soft powder blue dress was embroidered with white flowers and could have easily been suited for a fancy garden party, and we loved it. 
Most impressive of all, however, was the disappearing train. One moment RaeLynn was showing off a train of bridal proportions and the next, POOF! The train was gone and she was left with a fun, age-appropriate mini dress. As the Daily Mail wrote, the budding artist "was pretty as a petal as she revealed her famous curves."
Julia Michaels came to play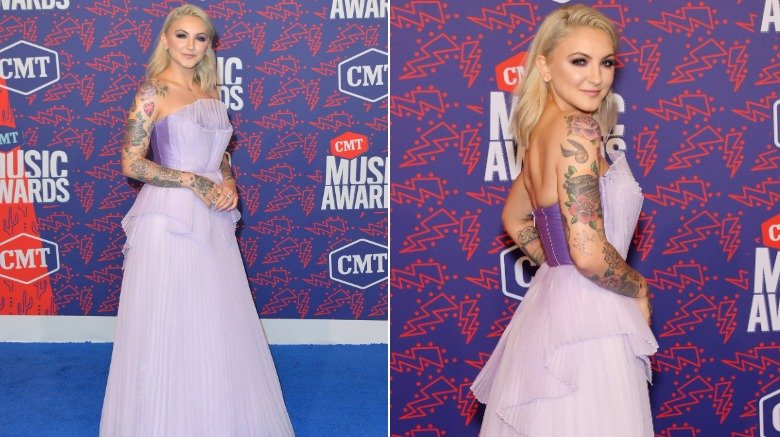 Michael Loccisano, Mike Coppola/Getty Images
Another beauty who undoubtedly came to play was 25-year-old Iowa native Julia Michaels. Not only did she win the award for collaborative video of the year for "Coming Home," a track she shares with Keith Urban, but she also won in the sartorial department. Opting for a floor-length gown, the singer (who shot to superstardom with her viral hit "Issues") looked stunning in her crimped lilac dress with a bodice detail that included a laced-up back in a darker shade of the same color.
She accented the look with bold eyeliner in the same color and that deserves its own props because not everyone could pull off such bold, unconventional eye makeup. All this while she smartly kept her blonde locks natural and jewels to a minimum. Michaels also made sure to show off one of her most famous features — her impressive tattoos — and the mix of punk and ultra feminine was a smash hit.
Brandi Carlile made power dressing country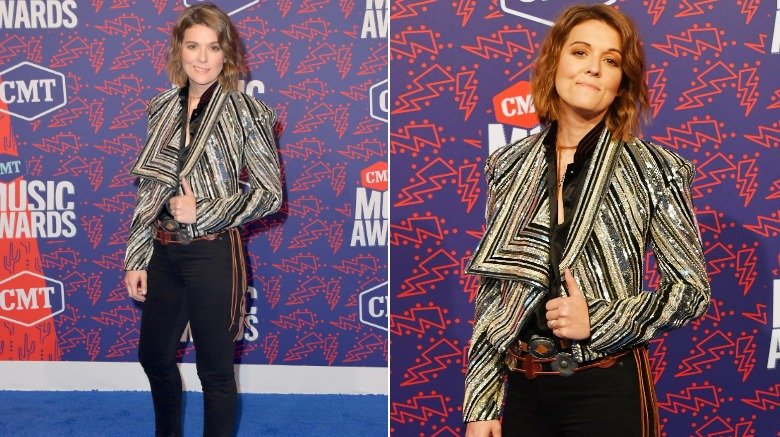 Michael Loccisano, Mike Coppola/Getty Images
Brandi Carlile may be busy working on her all-girl group Highwomen (which also features Amanda Shires and Maren Morris) and pursuing its mission to "elevate the voices of women in country music equally with no competition," but she took a short break to attend the CMTs. And she used the occasion to empower women in a different way. Making power dressing country, the talented musician was the definition of #fierce and #bossbabe in her sequined jacket with one oversized lapel. Donning the statement-making piece on top of an all-black ensemble, she finished off her country-approved look with two belts, some tassels, and heeled cowboy boots.
Earlier in 2019, Carlile told Variety that she's pretty much maxed out her credit cards while shopping for suits. Asked why she doesn't simply borrow them like many of her fellow celebs, she quipped it's because "fashion designers don't send clothes to the awkward lesbian that wants to dress like Freddie Mercury and Elton John." We, for one, would send her suits in a heartbeat.
Kate Bosworth surprised us in the best way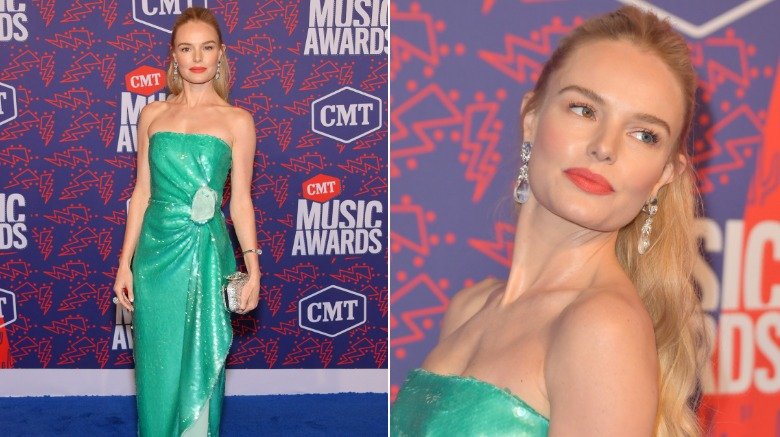 Mike Coppola, Michael Loccisano/Getty Images
Here's one person we weren't exactly expecting to see on the 2019 CMT Music Awards red carpet! And her connection to country music may have you raising your eyebrows. But the actress herself explained the odd pairing on Instagram, writing, "Dim lights.... thick smoke. And loud, loud music." She added, "Headed to the @CMT's to present and I am beyond excited! Anyone who knows me knows how much I LOVE country music (Dwight, Merle, Kelly & Bruce, Buck, & Townes to name a few)."
Unsurprisingly then, the undercover country superfan made sure to dress up for the occasion, and, as Daily Mail reported, she decided to look like a full-blown mermaid. The strapless green dress from Prabal Gurung was covered in sequins from head to toe and featured ruching across the bodice that came together over her left hip in a knot that seriously resembled an oyster. Someone's ready for the Little Mermaid live-action remake.
Carrie Underwood stole the show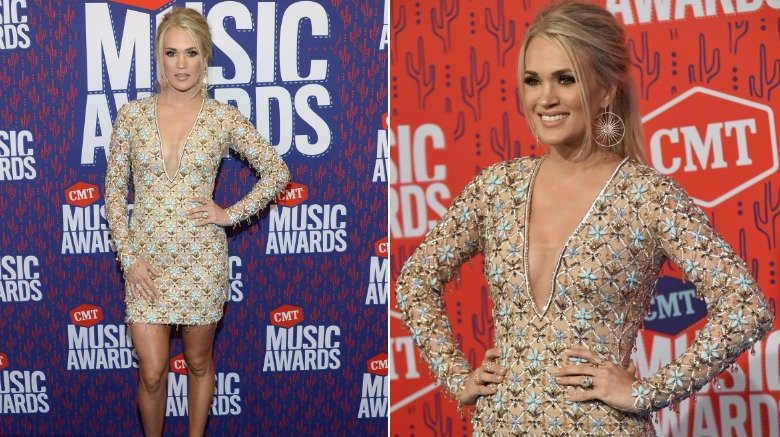 Rick Diamond, Mike Coppola/Getty Images
She's the Queen of Country and the Queen of Style. Carrie Underwood had been a red carpet staple for years and the more award shows she attends, the more fabulous her fashion seems to get. This time was no exception as the mama of two, who took home the biggest prize of the night, winning video of the year for "Cry Pretty" and female video of the year for "Love Wins," took our breath away and presumably made countless best dressed lists when she walked the red carpet at the 2019 CMT Music Awards. 
As E! News learned, the country diva sparkled in a Michael Cinco creation that was completely embellished with blue and brown sequins. The nude-colored number had long sleeves and a statement-making plunging neckline, which she confidently rocked, and she looked absolutely perfect with her slightly tousled pony and big disk earrings. And can we talk about that gigantic diamond engagement ring on her finger, courtesy of hubby Mike Fisher?