The Kardashian Kids' Insanely Glamorous Life
You don't have to keep up with the Kardashians to know that they're living the sweet life. The clan's lavish lifestyle is truly something out of a fairy tale. While most of us work to pay the bills and dream of taking vacations and buying a nice car, for the Kardashians, living comfortably is just par for the course. With the exception of Kendall Jenner, all of the Kardashians and Jenners we know and love (or love to hate, as the case may be) have kids of their own now and they are more than ready to share their considerable wealth with the next generation of celebrities and trendsetters.
So far, the kids of the extended Kardashian family consist of Kourtney's kids with Scott Disick (Penelope, Mason and Reign), Kim's kids with Kanye West (North, Saint, Chicago, and Psalm), Khloe's daughter with Tristan Thompson (True), Rob's daughter with Blac Chyna (Dream), and Kylie Jenner's daughter with Travis Scott (Stormi).
Wait until you see some of the luxurious goods that these kids have stashed away in their playrooms. Seeing just how glamorous the Kardashian kids' lives are is enough to fill anyone with envy. 
Stormi celebrated her first birthday with her own theme park
While many people throw parties for their babies when they turn 1, they don't tend to be very big affairs. One-year-olds are not, after all, going to remember the party and don't exactly have the most developed social skills. A smash cake is probably as fancy as things are going to get for most kids celebrating their first birthdays. At most, their invite list will likely consist of a few close family and friends gathering for a small party.
Of course, most 1-year-olds aren't Stormi Webster. We just knew that Kylie Jenner was going to give her firstborn a lavish celebration, but the extravaganza she threw for Stormi was truly over the top. Kylie built her baby her own theme park called Stormi World complete with rides. It seems the new mom couldn't help herself when it came to celebrating her little one's first year of life. "I had to go all out for my baby," Kylie wrote on Instagram in February 2019.
The girls all have designer handbags
A Louis Vuitton handbag is a luxury item that many people wish they could afford. With even the brand's lower priced bags coming in at more than $1,000, purchasing that coveted LV bag tends to be a pretty big deal for most. If you're a Kardashian, however, you can buy Louis Vuitton handbags in bulk on a whim and use them as stocking stuffers at Christmas. 
"I got these for all of the baby girls in the fam for Xmas from Japan," Kim Kardashian wrote on a picture of eight Louis Vuitton Speedy Mini handbags. Kim shared the picture to her Instagram story (via People). In a January 2019 tweet, Kim added that she kept one of the expensive purses for herself, as well as another "for the future."
Similar handbags are listed on the Louis Vuitton website at $1,100 a pop, so Kim's impulsive Christmas gifts for her daughters and nieces set her back nearly $10,000. It looks the Kardashian girls were very good that year!
A stuffed animal throne fit for a queen
To many young adults, affordable furniture means flat pack Ikea furniture that is frustrating to assemble. If you're part of the Kardashian fam, though, you could afford to pay someone to put it together for you — that is if you shopped somewhere as mainstream as Ikea. Kardashians are in a totally different class when it comes to seating options. 
In January 2019 Kylie posted on Instagram that Travis Scott, Stormi's dad, gave their then-11-month-old daughter a custom chair made out of stuffed toys designed by brothers Humberto and Fernando Campana. According to People, their custom seats have been listed for sale for as much as $25,000, although the magazine added that Stormi's throne might have cost even more. A spokesperson for the gallery that represents the brothers refused to disclose the price, but its safe to say that the one-of-a-kind chair cost a pretty penny. While the chair is considered a work of art, Stormi has been using it as, well, a chair instead of admiring it and putting it on display. 
Chicago has a mini Mercedes
Most kids dream of being given a car by their parents when they turn 16 and are old enough to get a driver's license. If they're lucky, their parents will hand over the keys to a trusty sedan or a hand-me-down clunker. In the Kardashian world, it's more likely that the kids will get a sports car upon turning that magical age. When Kim herself turned 16, she was given a BMW. 
Her daughter, Chicago West, didn't have to wait nearly so long for her first set of snazzy wheels."Look what Kourtney got Chicago for her first birthday!" Kim wrote on Instagram in January 2019 on a video of her kids playing in a toy car. The car was a mini yellow electric Mercedes given to her by her Aunt Kourtney. The toy car is a downsized version of the one Kanye West gave to Kim, so Chicago and her mom will be twinning behind the wheels of their cars. 
Chicago isn't the only one with her own (fake) Mercedes. Her cousin, Dream Kardashian, was gifted a pink Mercedes for her first birthday by her dad, Rob Kardashian, in November 2017.
These cousins have matching mini Bentleys
When it comes to toy electric cars, the Kardashian kids seem to be Bentley babies rather than Mercedes mavens. There are quite a few mini Bentleys in the family. Khloe Kardashian's little girl, True Thompson, has not just one but two toy Bentley cars. In December 2018, the then-8-month-old received a sparkly pink Bentley as a holiday present. 
Eight months is pretty young to get an electric toy car, but that was actually True's second Bentley. She was given her first Bentley four months earlier by family friend Kimora Lee Simmons. Simmons also gave identical cars to Stormi and Chicago. Dream also has a Bentley of her own. She received the sparkly blue toy vehicle in November 2018 for her second birthday. We have to wonder where the kids are keeping all these cars. Do they have their own miniature garages for their fancy toys? 
Kim shut down Disneyland for North's second birthday
Throwing a big bash for your kid's second birthday party is one thing. Shutting down an entire section of one of the biggest theme parks in the world to do it seems a little excessive. Still, doing something that extravagant is definitely in keeping with the Kardashian m.o.
We don't even want to know how much it costs to shut down even just part of Disneyland, but considering that it gets roughly 44,000 visitors per day, we're going to guess it's a lot. That bill seems even heftier when you consider that, at the age of 2, North West probably didn't remember a thing about the celebration. That didn't stop Kim from going all out and reserving the Big Thunder Ranch Jamboree in Frontierland in 2015. Guests were given passes to cut to the front of other rides, where they were accompanied by personal escorts to protect them from the prying eyes of the park's non-celebrity visitors. 
The extravaganza was a step up from North's first birthday party, an outdoor festival her parents called Kidchella. For that party, Kim and Kanye kept things (comparatively) low-key by having a Ferris wheel set up in their backyard.
Stormi has an outrageously expensive stroller
While it's important to have a safe stroller for your little one, a stroller is still a fairly simple piece of baby equipment. It's also something that you're probably not going to need for more than a few years, unless you're planning on using it for several children. Such mundane concerns aren't on the Kardashians' radar, however. Stormi is only paraded around in her designer best, and that includes the pram she's pushed in. 
In April 2018, Kylie posted a picture on Instagram of her pushing her little one in a Fendi stroller. Kylie was wearing Fendi herself and posing next to the stroller which cost an astonishing $12,500. That's a lot of money for a piece of equipment that likely won't see that much use. With that money, Kylie could have bought a used car or a dozen UPPAbaby strollers which often top lists of the best baby strollers.
Chicago's stroller costs more than some used cars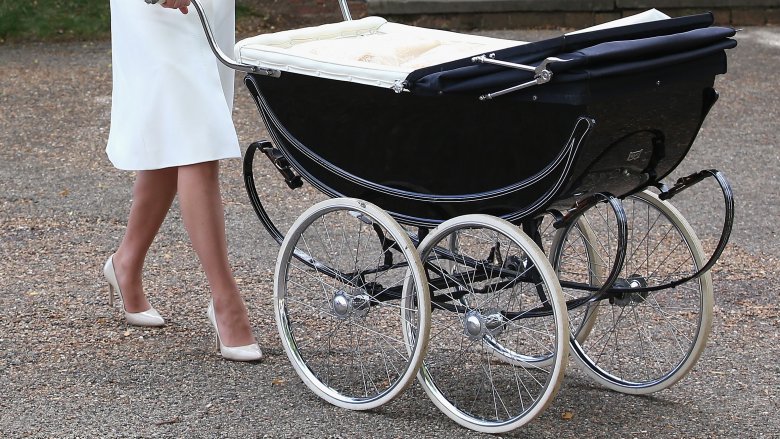 Chris Jackson/Getty Images
Stormi isn't the only member of the Kardashian family being pushed around in a stroller that is as expensive as a used car. Kylie was just following in her older sister's footsteps when she got her baby a costly pram. Kim's daughter, Chicago, has enough expensive strollers that they could almost be considered a collection. People reported in January 2018 that Kris Jenner bought her granddaughter three Silver Cross Balmoral prams — the same kind Kate Middleton uses. According to the magazine, each pram cost $2,700 at the time. Jenner reportedly bought two of the strollers in black and white and another in all black. 
What makes these strollers so expensive? According to the Silver Cross website, each stroller is meticulously handcrafted. The stroller also boasts a patented chassis that is supposed to provide an exceptionally smooth ride. Each of the luxury prams comes with a certificate of authenticity as well as a care kit to keep the astonishingly expensive stroller in prime condition.
North is a fashionista in the making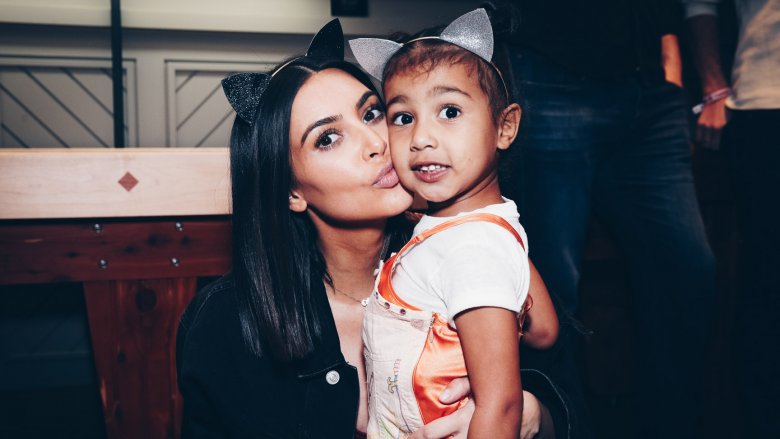 Handout/Getty Images
For a lot of people, spending a ton of money on baby clothes and kids clothes doesn't seem like a worthwhile investment. Children grow quickly after all, and, while you can always save the clothes for your next kid or sell them to a consignment store, kids can be pretty hard on their duds. Imagine forking over a lot of cash for a designer outfit only for your kid to decide to play outside in it. Good luck removing grass stains from that Gucci!
But then, normal rules simply don't apply to the Kardashians. North, like her mom, Kim, is quite the fashionista and has a closet chock full of designer clothing. Among the costly looks she has been spotted slaying are a white fur coat, custom Balmain jackets, a tailor-made Alexander Wang outfit, and Charlotte Olympia loafers.
North is already modeling and landed her first solo magazine cover by the age of 5.  While we wouldn't normally recommend taking your style cues from someone who is barely out of diapers, North is an obvious exception.
A lavish nursery is a must
A Kardashian kid is living in the lap of luxury from day one. Case in point: Kim went all out when setting up the nursery for her kids. One of the expensive items found in North's nursery was a crib that cost nearly $4,000. What could possibly make a baby bed so expensive? The pricey Nursery Works Vetro Crib is a nontoxic acrylic crib entirely made by hand and is 100 percent recyclable. It seems that this crib is popular in celeb baby circles. According to Yahoo, North's crib is identical to the one Beyoncé and Jay Z's daughter, Blue Ivy, slept in. 
Kim ended handing down the same crib to her other kids, but the luxurious nursery items don't stop there. The Kardashian-West nursery is also occupied by a $1,900 bassinet, a $575 rocker, a $1,495 glider, and a Calvin Klein rug that is priced between $1,599 and $5,399. "I love having functional pieces, like a glider, mixed in with really unique pieces, like a vintage Royère bed," Kim wrote on her app (via E! News). Considering that a vintage Royère can cost between $75,000 and $85,000, "unique" is an understatement!
Mason's ridiculously expensive coat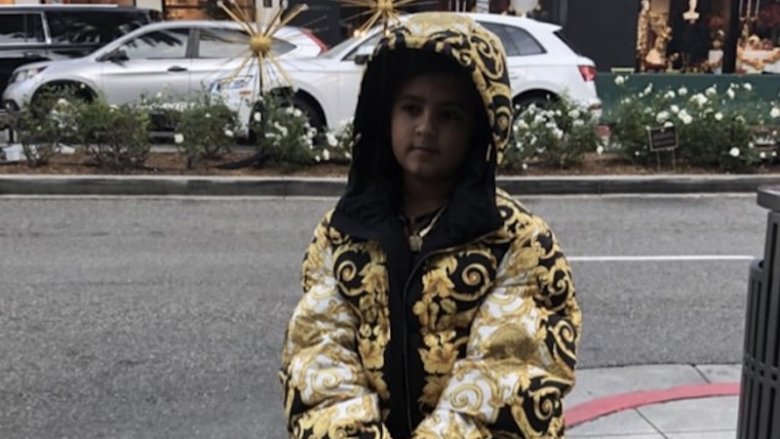 Instagram
While it might seem like the girls in the family are the only ones getting spoiled, that couldn't be further from the truth. The boys are also treated to some ostentatious and lavish goods that most people wouldn't dream of buying for their children at any age. Kourtney Kardashian's son, Mason Disick, was gifted an incredibly expensive piece of clothing for his ninth birthday. We're not sure what a 9-year-old is going to do with a Versace coat priced at $3,125 other than wear it for a couple of months before inevitably outgrowing it, but at least the Kardashians have enough money to buy the expensive coat in another size when he needs a larger one. 
Kourtney washed her hands of any responsibility for the lavish gift, posting a picture of Mason in the coat on her Instagram story in December 2018 (via ET) and pinning the blame on her mom with the caption "When @krisjenner takes him shopping." Grandmas are supposed to spoil their grandkids, but the coat still seems like a little much.
Penelope and North have joint birthdays parties that are incredibly lavish
Instagram
The Kardashians are no strangers to ridiculously extravagant birthday parties. The family knows how to throw a bash, and it's clear that they don't believe in heeding the adage "less is more." Cousins Penelope Disick and North West often have joint birthday parties, but combining the two celebrations (their birthdays are a month a part) isn't so much a cost-saving measure as an excuse to throw a really, really opulent party.
Their birthday party in June 2019 had a Candyland theme. A family member's home was transformed into a massive Candyland game, complete with a rainbow walkway. An ice cream truck set up shop (we're guessing the frozen treats inside were pre-paid by the hosts). Naturally, there was candy everywhere which undoubtedly led to a massive sugar high for the girls and their guests.
Other epic bashes the girls have had in the past include a Moana birthday party and a mermaid extravaganza.
They're living a jet setting lifestyle
For most people, traveling around the world is a luxury. People can save up money for years in order to take that dream vacation to a faraway place. For the Kardashians, however, jet setting is less of a dream and more of a way of life. Their preferred method of travel? Private jet, naturally. In April 2019, Scott Disick shared an Instagram picture of him on a private jet with his son, Reign Disick. "All the way up with my little Reign," he wrote. 
Taking trips is a common occurrence with the clan. The family flew to Bali for Kim's 38th birthday in October 2018. Less than a year later, in June 2019, members of the family were again heading out for some sunshine, this time to Costa Rica. The kids probably have more stamps on their passports than most adults several times their age. Talk about living the life!
Kim claims she doesn't want to spoil her kids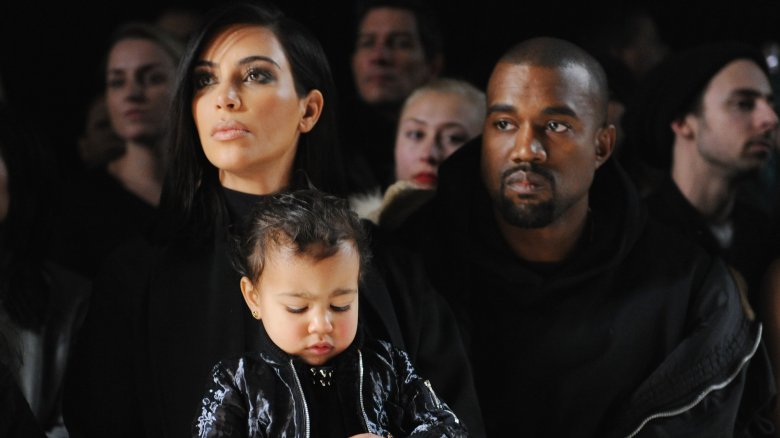 Craig Barritt/Getty Images
Even though it seems like all of the extended members of the Kardashian family are raising their kids like royals, at least one member of the family claims that they are against spoiling their kids. Kim said that she wants her kids to be down-to-earth. "I worry about giving my kids too much," she told Wealthsimple in 2018. "We don't do gifts. They have to really earn it. But we talk about it all the time, about not getting too much and just trying to be as grounded and well-rounded as possible."
It's hard to believe that Kim has such a straightforward and simple approach to parenting when it does seem that she's giving her kids the best of everything. She swears, however, that she wants to show her kids the value of hard work so that they can learn to work for themselves. She wants them to see themselves as their greatest asset and infuse them with the same self-confidence she has cultivated through her career. "Is it cheesy to just say the best investment I've made is I've invested in myself and believed in myself?" she said.