The Real Reason Fixer Upper Homes Are So Hard To Sell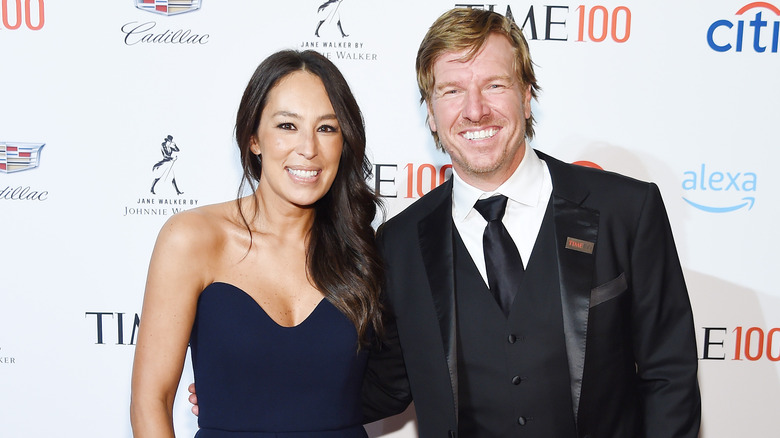 Larry Busacca/Getty Images
The homes that Chip and Joanna Gaines have upgraded on Fixer Upper are no doubt showpieces, and the husband and wife team have made quite the name for themselves on the HGTV show renovating dilapidated homes. While the show wrapped in 2018, you haven't missed your chance to own a Fixer Upper home. Homes that were fixed up by Chip and Joanna are regularly put on the market, although they can be surprisingly hard to sell. Why do these stunning houses have such a hard time finding a buyer? 
Chip and Joanna Gaines know how to design a gorgeous home, but those renovations don't come cheap. Kristin Clements, a real estate agent with Camille Johnson Realtors, told Insider in August that selling a Fixer Upper home can be tricky because the asking prices of the houses is often above the median price of a home in the area. 
Clements is currently handling the sale of Season 2's "Asian Ranch House" which is listed for sale for $679,900 in Waco, Texas, where the median listing price is $200,000. The sellers originally paid $262,000 for the 4,235 square foot ranch, giving the Fixer Upper couple a budget of roughly $190,000 to transform the house. While the Chip and Joanna Gaines certainly improved the home's market value, they might have done too good of a job. The house was originally listed at $739,900 in April 2019, but has since faced a series of price cuts in an effort to attract a buyer. 
"Our honey spot is around that $150,000 to $250,000 range — that's where we'll get people buying right away," explained Clements. She added that there have been other Fixer Upper homes in the Waco area that haven't had as much trouble finding a buyer, but they've all been priced much lower than the "Asian Ranch House."
Clements said that while she's shown the home to a handful of people, the price seems to be out of budget for most of the people who are interested in the house. When the home was listed, it racked up 18,000 views online, significantly more than the hundred or so views her homes normally garner. "Just by having the Fixer Upper name in our description, we get a lot of traffic online, which is typically how you sell houses," she said. Unfortunately, that traffic isn't translating to showings or to a sale in this case.
Another Fixer Upper home having trouble finding a buyer is Season 4's "Prickly Pear Home." Originally listed for $499,000 in December 2018, the house has since been reduced to $469,000.
If you do end up buying a pricey Fixer Upper home, you could always earn some of your money back by turning it into a luxury rental — Season 3's "Shotgun House" is currently listed on Airbnb at a whopping $325 per night.