Is Jonathan Van Ness Dating Anyone?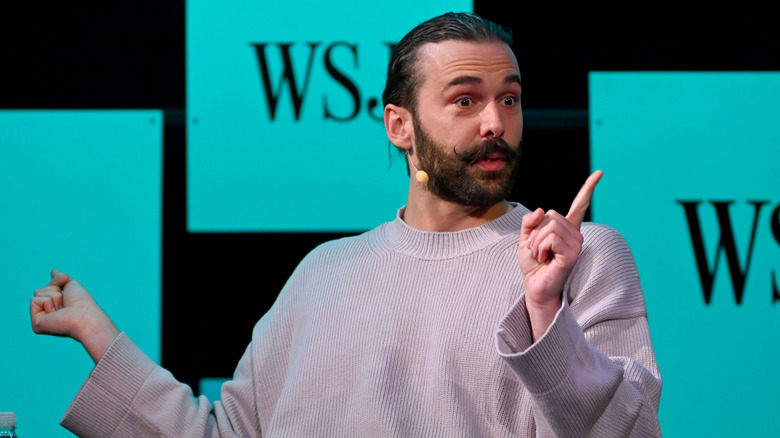 Nicholas Hunt/Getty Images
Jonathan Van Ness is the heart and soul of Netflix's Queer Eye reboot, which, as noted by Bustle, makes it all the more baffling that he continues to be the only Fab Five member yet to find that special someone. Lately, rumors have been circulating among fans of the show that Van Ness and co-star Antoni Porowski are actually dating each other. The two stoked the flames when they posted a pic of them kissing over the 2019 Fourth of July weekend. Could the rumors be true?
However, the duo set the record straight on an August 2019 appearance on Strathan and Sara. As reported by People, who shared an exclusive clip from the show, Porowski explained simply, "We have way too much free times on our hands sometimes." He and Van Ness' Queer Eye co-star Karamo Brown, however, couldn't resist an opportunity to tease fans, jokingly suggesting, "Where there is smoke, there is fire." Dashing those hopes once more, Jonathan Van Ness further clarified on Instagram that he and Porowski are definitely not together. 
The hair guru briefly dated rugby player Wilco Froneman in 2018, with Van Ness revealing to E! News that he originally thought they were just going to be friends. The publication reported the two had called it quits at the end of December, with both parties acknowledging the positive impact they'd had on each other's lives. People, meanwhile, suggested Froneman may have cheated on Van Ness due to a "cheatersneverprosper" hashtag the Queer Eye star had initially added to one of his Instagram posts, which he subsequently deleted.
Still, Jonathan Van Ness seems content to focus on himself for the time being, sharing a Valentine's Day message with his fellow singletons on the most romantic day of the year. The Queer Eye star also came out as gender non-binary in an interview with Out magazine in June 2019, so clearly the hair stylist and fledgling figure skater is living his best life.