Is Queer Eye's Antoni Porowski Dating Anyone?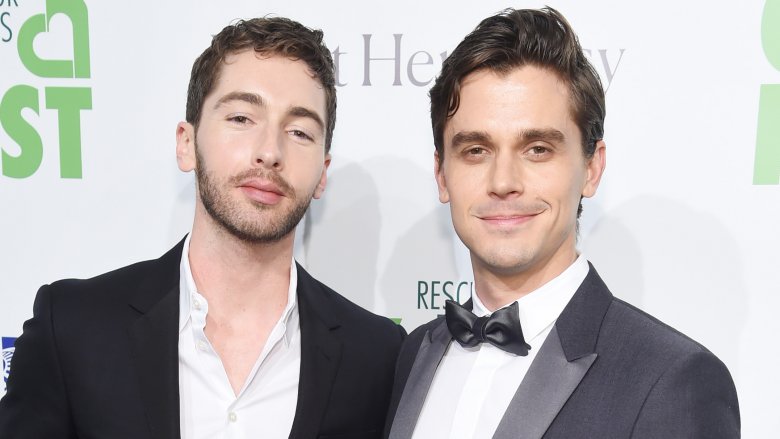 Jamie Mccarthy/Getty Images
They say the way to a man's heart is through his stomach. So it's no surprise that Queer Eye's resident food guru, Antoni Porowski, hasn't had much difficulty in finding — and breaking — hearts over the last few years. 
According to People, Porowski and former Flipping Out star Trace Lehnhoff have ended their relationship, though the reasons why aren't really known at the moment. One anonymous insider is quoted as saying, "The relationship ran its course [...] Things just didn't work out and [Porowski] is concentrating on work."
So where did Porowski met his former beau? On social media of all places. People reported Porowki and Flipping Out star Trace Lehnhoff first got together in summer 2018, but their relationship began in that most romantic of places: their Direct Messages (or DMs). Appearing on Watch What Happens Live in March, 2019, with Andy Cohen, Antoni Porowski reminisced about their meet-cute, noting, "We met on Instagram. It's like, the 2019 way." 
The foodie and reality star was previously seeing photographer Joey Krietemeyer for seven years before he and Lehnhoff got together in 2018. Porowski and Krietmeyer split amicably, according to Us Weekly, who reported the news in October of that year. 
For a while, all seemed rosy in the Porowski-Lehnhoff camp, with the happy couple appearing in public together as recently as May 2019. However, shortly before news of their split hit, Antoni Porowski had stopped following Trace Lehnhoff's Instagram account. While Porowski has removed just about any, well, trace of Trace from his account, images of the duo still appear on Lehnhoff's as of this writing. 
If you've ,made it this far and you're still wondering about Trace Lehnhoff's reality show resume, he appeared on the fifth season of Flipping Out. As reported by Refinery 29, he scored an internship at Jeff Lewis Design, the firm at the heart of the hit Bravo reality show, almost immediately after graduating from the Art Institute of California. He was fired in 2011 after working his way up to a full-time role, after it was discovered he'd been designing his own stuff during working hours.
Meanwhile, Antoni Porowski recently revealed in an interview with Gay Times (via People) that he's had more relationships with women than men over the course of his life. "For me personally, I've never really had a label for myself. Today I'm gay, I'm in a gay relationship, and that's where I am. That's good enough for me," the Queer Eye star reasoned.