Do The Busbys Get Paid For OutDaughtered?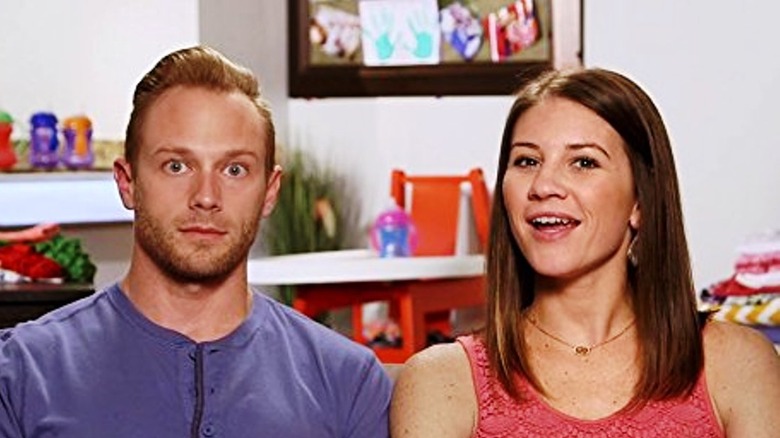 TLC
We may receive a commission on purchases made from links.
Family life is hard enough with six kids running around, without adding cameras into the mix. And yet, that's the exact premise of the hit reality show OutDaughtered, which sees insanely busy parents Adam and Danielle Busby struggling to keep track of their six adorable little girls: oldest daughter Blayke Louise, along with the first set of all-girl quintuplets ever born in the U.S. (Olivia Marie, Ava Lane, Hazel Grace, Parker Kate, and Riley Paige). The masses are more than happy to tune in to TLC each week to get their Busby fix, but do Adam and Danielle actually get paid to allow viewers a behind-the-scenes look at their chaotic lives?
Though the Busbys do have additional sources of income, nobody would begrudge these particular parents a little extra money. And if certain sources are to be believed, OutDaughtered is a cash cow for the Busby family. According to InTouch Weekly, who spoke to reality producer Terence Michael in 2017, families on similar shows stand to earn around 10 percent of their show's budget.
Michael estimated at the time that TLC likely budgeted around $250,000 to $400,000 per episode of OutDaughtered, which means the Busbys could be pulling in around $25,000 to $40,000 per episode. Considering that as of 2019 they've done 52 shows over five seasons, they're looking at a total payout between $1.3 million and $2 million. It's hard to imagine, though, that TLC wouldn't have upped the budget for this obvious ratings winner, meaning the Busbys could be bringing in even more than that for each episode.
While a cool couple million sounds like a lot of money for allowing a few cameras to follow you around, it does come with its own set of challenges. Danielle Busby told StyleBlueprint, "The biggest challenge is on two sides — on the personal side, the logistics of doing anything. The other is this life of people watching you. It is the security and the safety of our lives and the girls. We choose to share God's story, but it's still a scary world, and we can only protect so much of our home. But we do go outside the house ... it's just being in the public eye is a little bit scary..."
As for their "normal" jobs, it's hard to say how much they earn, but they've got plenty of irons in the fire. We know that Adam previously worked as a Key Account Manager at a safety equipment company pulling in around $80,000 per year (via Good Housekeeping). But as of September 2018, he went into business for himself under Adam Busby Media, and by the end of 2019's season, Adam had accepted an offer to become a partner in a wellness company with which he had previously worked producing commercials.
While Danielle's LinkedIn does show her working as a Project Coordinator Team Lead, as of 2019 she does not actually hold a traditional full-time job. After all, who can remember to update their LinkedIn status when they've got six kids? Speaking to People in 2016, Danielle explained that managing their finances wasn't easy. "It's been a big drop because I used to work full-time and we had two incomes coming in," she said. "We had to make the call when I was pregnant, to make [the kids] a priority, and it took me away from my job."
Danielle does, however, work as an independent beauty consultant, and co-owns CADi Fitness, a fitness apparel shop that she founded with her sisters, twins Ashley and Crystal. As if all that wasn't enough, the super busy Busby couple also run their own Amazon shop, It's a Buzz World, which features Adam and Danielle's recommendations for camera gear, kids' books, and all the things you'll need to feed six little ones — topics they are clearly experts on. Their online clothing store, Buzz World, features apparel, hair bows, and jewelry. In other words? They're hustling.
Speaking to Country Living, the mother of six noted, "The most difficult part of having a large family is just the logistics of doing anything and everything. It takes some thought to do everything from cooking dinner to getting out of the house." A profound understatement if ever there was one.