What's Bretman Rock's Real Name And What Does It Mean?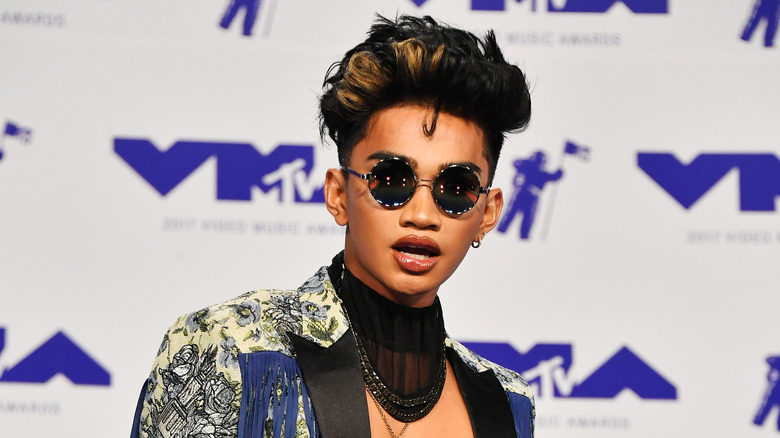 Frazer Harrison/Getty Images
Bretman Rock is one of the hottest celebrities on the Internet. The makeup artist and YouTube star boasts a legion of fans (he has 13.5 million followers on Instagram and 3.6 million on Twitter, as of August 2019) who can't get enough of his beauty videos that are all branded with his personal comedic flair. His name is quite an unusual one, and it's bound to make fans curious to know if it's just a stage name he uses for the internet or if it's his real name. Either way, we've got to wonder, what does Bretman Rock mean?
Bretman Rock's real name is, indeed, Bretman Rock. While Rock uses Bretman Rock as his full name professionally, it's not actually the name on his birth certificate. Rock is his middle name — the star's full name is Bretman Rock Sacayanan. Rock has his pro wrestling fan dad to thank for the unusual name. "My dad was obsessed with wrestlers, and he liked Bret Hart and The Rock, so that's how he got Bretman Rock," Rock told KITV.
Today, that one-of-a-kind name isn't just found all over the internet, but is also emblazoned on beauty products. Rock has collabed with beauty brands Morphe and ColourPop, making Bretman Rock a recognizable name even if you aren't up-to-date on Internet celebrities.
Rock is also building up a name for himself as an activist and philanthropist. Named one of 2017's most influential teens by Time, Rock celebrated his 21st birthday in July 2019 with the launch of a line of merchandise including rolling papers, makeup bags, and metal straws. Rock announced in a YouTube video ahead of the launch that a large portion of the proceeds would go to charities in his home state of Hawaii. 
On the merchandise line's website, Rock revealed that some of the proceeds would also go towards turtle conservation. In keeping with his penchant for humor, Rock explained why he's choosing to give money to turtles: "Because without Turtles, there would be no Turtles. Periodt [sic]."