Here's How Much The Stars Of My 600-Lb Life Really Get Paid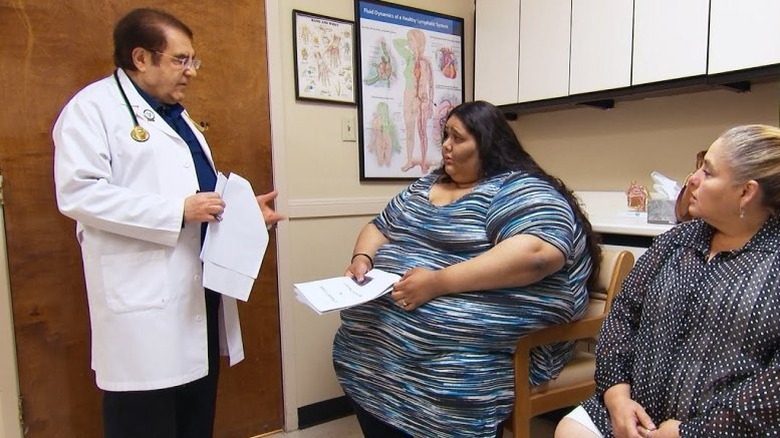 TLC
The stars of TLC's My 600-lb Life put themselves out there in a more vulnerable manner than arguably anyone else on reality television. The insanely popular show sees its cast heading to Houston to be treated by the inimitable Dr. Nowzaradan, changing their lives forever in the process. But who's footing the bill for their all-important weight loss surgeries? Or for their stories in general? 
Sadly, the stars of My 600-lb Life aren't earning crazy money by being on the show. According to a report by Starcasm, the fee for a cast member to appear on an episode is $1,500. This payment is a flat fee, covering the entire shooting schedule, which can take up to a year. Rumors abound that participants get more money if they agree to take part in the show's bathing scenes, but they remain unsubstantiated. 
According to someone who took part in an earlier season, the fee has actually gone up $500, since they were previously paid just $1,000 to appear. Annoyingly, the flat fee doesn't include royalties, so whether an episode is re-run 10 times or 100 times, the participant doesn't get any more money from it. 
Cast members traveling to Houston are given a $2,500 relocation stipend, though it's unclear what those who live in or close to Houston get, if anything. Starcasm points to how Kathryn Lemanski, fiancé of since-deceased My 600-lb Life cast-member Robert Buchel, set up a GoFundMe page to assist with costs for their cross-country move from New Jersey to Texas. It's also worth noting that participants are frequently put up in housing owned either by the production company or TLC in Houston. Whether they get to live there rent free, or for a nominal fee, remains unclear.  
Elsewhere, the show covers one year of medical expenses which means that once a participant qualifies for surgery, the costs will be covered. However, skin removal, which falls under cosmetic rather than medical surgery, is not included.
Participants are also paid the same nominal fee to appear on "Where are they now?" episodes of My 600-lb Life. The show's non-disclosure agreements are iron-clad, but it's believed cast-members are lured back with the promise of a second appearance fee and another year of medical expenses. 
While it's not a lot of cash, a year of paid medical expenses and the opportunity to work with Dr. Now is definitely worth something.