The Average Cost Of A Wedding Dress Is Higher Than You Think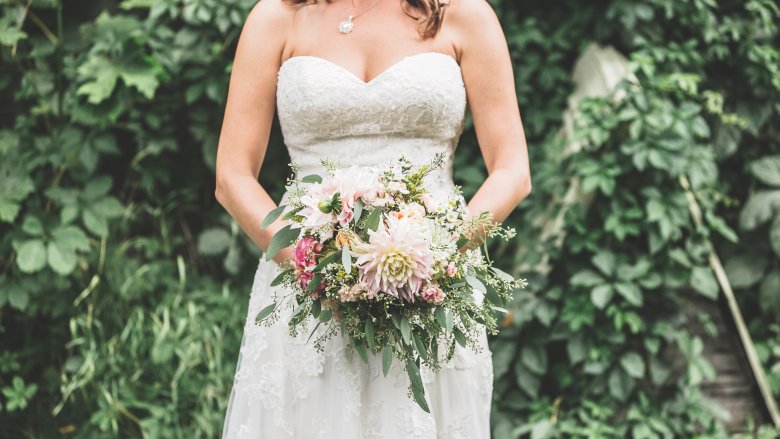 Shutterstock
Many people spend years dreaming about their perfect wedding, planning details from the color palette to the venue to the rings. One of the most important elements of a fantasy wedding (at least if you're a ribbons and lace sort of person) is the wedding dress. You know the kind we're talking about. Yards upon yards of white fabric, perhaps embellished with intricate embroidery or pearls. The kind of dress a princess would wear.
The traditional white wedding dress is such a staple that there are entire businesses, such as David's Bridal, that primarily sell wedding dresses. If a stunning white dress is something your heart is set on, though, be warned that a wedding dress costs a pretty penny. Once you hear the average cost of a wedding dress you might be wishing you could build a time machine to tell your childhood self to start saving for that special day ASAP.
According to Credit Donkey, the average wedding dress costs $1,564 (as of May 2019). That's not counting shoes or accessories or even underwear. If you want a designer dress, expect that price to shoot drastically higher. A coveted Vera Wang dress from the Vera Wang Collection starts at a hefty $2,900, while a gown from the pricier Luxe Collection starts at $6,900. Oof.
It's no wonder that many brides look for alternative options such as renting. This can still get pretty pricey, though. Rent the Runway provides affordable options as low as $30, but rentals at Borrowing Magnolia can range from $500 to $1,500.
You can also cut costs if you shop during the off seasons. Wedding dress collections are typically launched in spring, so shopping outside that time might help you find bigger discounts. You should also start wedding dress shopping as early as possible. "Plan in advance," wedding expert Linda DiProperzio told Fox Business. "The sooner you start looking for a dress, the more time you'll have to bargain shop. You'll have the time to search for sample sales, trunk shows and other bargains in your area."
Another option is to buy a used wedding dress. Most wedding dresses are only worn once, so a used dress won't just save you money but will also be practically new. 
Whether or not you land your dream dress, remember that the most important thing on your wedding day is the love between you and your soon-to-be spouse. You can't put a price on that.