Here's How Much Money The Friends Cast Still Makes Off The Show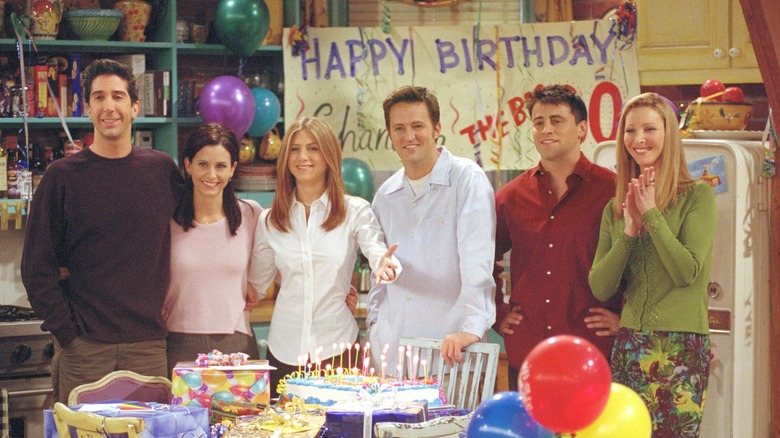 Getty Images/Getty Images
Friends is on TV approximately 23 hours out of the day, so it's easy to forget that the show actually ended all the way back in 2004. Still, those reruns are worth big money, for nobody more than key cast members Jennifer Aniston (Rachel), Courteney Cox (Monica), Lisa Kudrow (Phoebe), Matt LeBlanc (Joey), Matthew Perry (Chandler), and David Schwimmer (Ross).   
USA Today reports that the cast is banking major money annually, even now, 15 years after Friends wrapped (they also reported that the Central Perk set was tiny, but that's not especially surprising).
The show is syndicated, which is why it's on basically all the time, and that translates to a whopping $1 billion in annual revenue for Warner Bros. But that's not the kicker — each member of the Friends cast gets 2 percent of that syndication income, which equates to $20 million each.
That's a $20 million paycheck for doing absolutely nothing. Every year. For the foreseeable future. And, with the news that WarnerMedia is launching its own standalone streaming service, the cast might be making even more if they get to renegotiate their contracts as a result.
According to a study done by TV Time (via Variety), Friends was the most binge-watched show of 2018, which isn't too surprising considering the uproar that erupted when there was talk of it being taken off Netflix (the streaming service subsequently confirmed the show would be leaving the U.S. site in 2020 in a tweet, but those in other corners of the world are safe, at least for now). 
The Netflix deal itself was likely pretty lucrative for the cast, too, as The New York Times reported at the time that the streaming service shelled out a whopping $100 million to keep the show for another year — a massive jump from the $30 million they'd been paying previously. Even with a tiny percentage of that total, the cast stands to make an additional $1 million or so each.
For the cast of Friends, the beloved show truly is the gift that keeps on giving.