The Huge Difference Between A Victoria's Secret Model And An Angel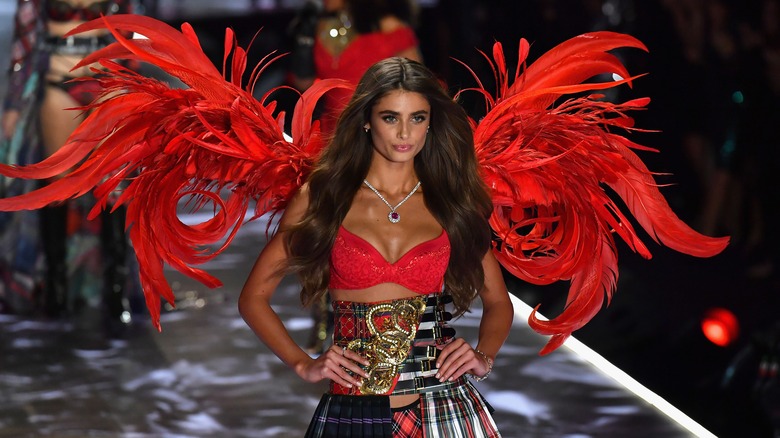 Angela Weiss/Getty Images
Victoria's Secret Angels are heavenly beings. Although their infamous annual fashion show boasts dozens of gorgeous models, even if they're wearing wings, they might not necessarily be Angels. As Insider revealed, of the 60 ladies who walked the 2018 show, only 12 were officially Angels.  
So, what gives? Are models like Kendall Jenner bestowed those magical wings as a matter of principle? Or are they just nabbing a pair backstage, strapping them on, and launching themselves down the runway hoping nobody stops them? The answer is much less sexy. Basically, it's all about contracts and brand loyalty.
Angels have obligations that a regular runway model does not, with campaigns, TV appearances, and runway shows beyond the big annual affair. The details of their contracts aren't publicized, but chief marketing officer Ed Razek referenced them in a since-deleted Instagram post about the departure of former Angel Doutzen Kroes, in which he referred to her "lucrative opportunity in Europe and it would have conflicted with her VS obligations" (alluding to how Angels, presumably, have to prioritize Victoria's Secret). Likewise, Miranda Kerr, when she left in 2013, told the Sydney Morning Herald the time commitment was, "three months at bare minimum," which is a lot for a working model. 
The other big difference (emphasis on big) is money. Simply put, Angels get paid the most, with Gisele Bündchen and Adriana Lima earning $30.5 million and $10.5 million in 2018 respectively, while newer recruits like Taylor Hill and Jasmine Tookes earned $4 million. Considering that as of 2016, there have only been 36 Angels ever (via Vogue Australia), they're evidently special.
Elsa Hosk gushed, in her VS All Access video, "Becoming an Angel means you are officially part of the family of Victoria's Secret and you are a spokesperson for the whole brand, and that is such a cool thing because it's one of the biggest, most amazing brands in the world." Both she and Taylor Hill put years into modeling for the brand before becoming Angels.
Even superstars Gigi and Bella Hadid, who have been featured in PINK campaigns and stomped down the runway in the Victoria's Secret Fashion Show aren't Angels. In fact, according to a 2016 report by Elite Daily, fans were annoyed both Gigi Hadid and Kendall Jenner were allowed wear wings for that year's fashion show while actual Angels like Martha Hunt were not. As the old adage goes, just because she has wings, it doesn't make her an angel.