What Is Eyebrow Tinting And Is It Safe?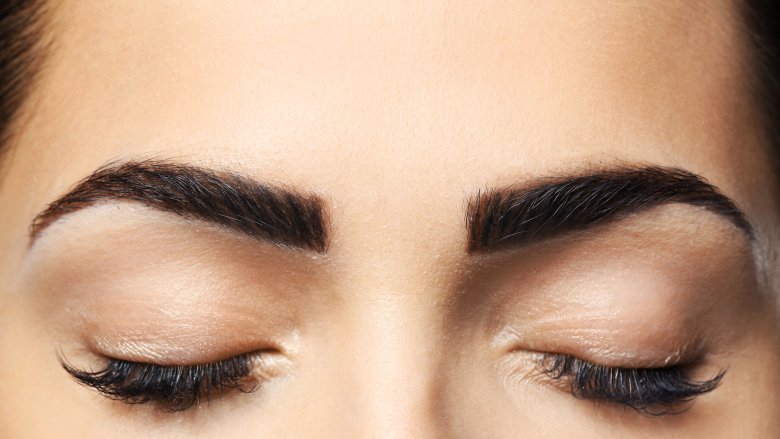 Shutterstock
The right pencils, serums, and other trusty makeup products can help us achieve fuller eyebrows, but those looking for something a bit more permanent are increasingly turning to eyebrow tinting as their go-to beauty treatment. It's still a relatively new process, as Harper's Bazaar noted when they spoke to dermatological surgeon Dr. Tiffany Libby and Shobha Tummala, CEO and founder of Shobha Salon in February 2019. 
The process involves applying semi-permanent dye onto your brows to enhance, shape, and define them. "It gives the appearance of thicker, more youthful looking brows. We're not making brows darker, we're just matching your natural color," Tummala explained. Tinting can be done at salons, in a doctor's office, or even at home (if you're brave enough) and takes about 15 minutes.
How does eyebrow tinting work?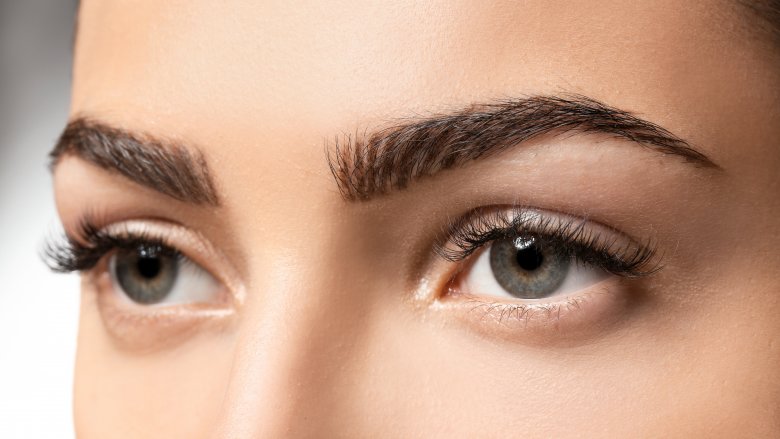 Shutterstock
Dye is first applied in the direction of hair growth and then a second layer is applied in the opposite direction. It's left on for a few minutes to attain its strongest color, then any excess is wiped away. Eyebrow tinting is suitable for most skin types, tones, and hair colors, but if you're looking to color gray hairs, Tummala advises going to a specialist.
Afterwards, you'll need to prevent your brows from getting wet for 12 hours. You'll also need to clean the area with gel or cream-based cleansers, but avoid exfoliating or using any oil-based products. The color should last around three to six weeks, and you'll need to get touch-ups every four to six weeks to maintain it.
Is eyebrow tinting actually safe, though?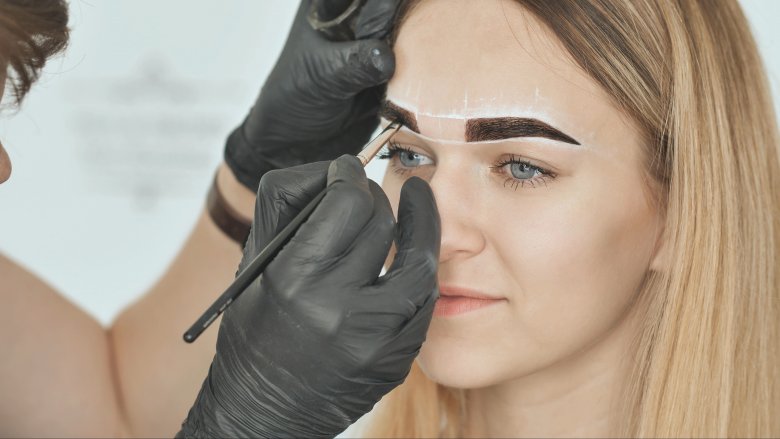 Shutterstock
Eyebrow tinting isn't 100 percent safe, however. Tinting dyes are not FDA approved and there is currently no standard dye formulation. Libby also warns there are dyes which contain unregulated preservatives, and explains why these dyes might be risky, saying, "The major risks with eyebrow tinting are allergic reactions and infections; the skin around the eye is thinner compared to skin on the rest of the body, and more susceptible to allergic reaction and irritation,"
In extreme cases, Libby warns, you may end up with painful reactions. "Some permanent eyelash and eyebrow tints/dyes may contain a chemical allergen called para-phenylenediamine (PPD), which can cause severe contact allergy and even blistering reactions," she says. Likewise, as cosmetic chemist Perry Romanowski told Allure, "You could also suffer chemical burns to your eyes and possibly permanent eye irritation." Always ensure to do a patch test to make sure you're not allergic to the dye prior to getting your eyebrows tinted, the same way you would if you were getting your hair dyed.