Why Kate Middleton's First-Ever Instagram Post Was So Important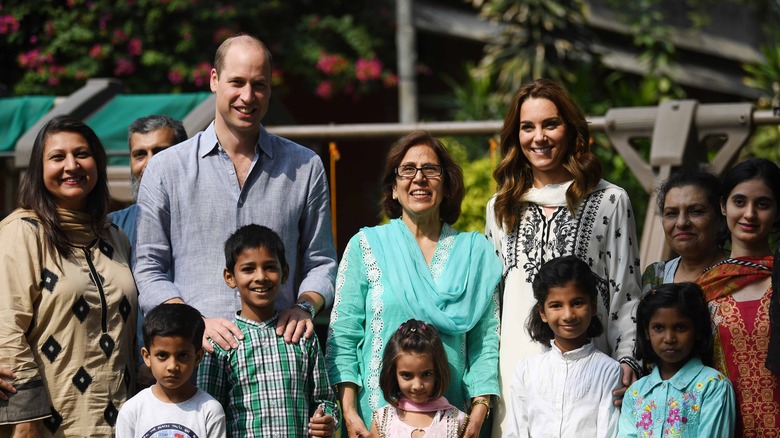 Pool/Getty Images
That Prince William and Kate Middleton, Duchess of Cambridge, enjoyed their recent five-day trip to Pakistan was pretty obvious from the gorgeous photos captured while they were traveling. But did we know it would prompt Kate to do something she had never done before?
Just a few days after she returned to the UK, Kate surprised royal fans and supporters with her first-ever Instagram post. Royal watchers were tipped off as she signed her post simply as "Catherine." Her message read: "The community at the SOS Village is built around family — and the best possible family you could imagine — where everyone comes together to nurture, love and protect the children in their care. These vulnerable children, many who have come through traumatic circumstances, are nurtured in this caring environment and are able to form these quality relationships that they so desperately need to thrive. — Catherine"
Supporting children is important to Kate Middleton
Hello reports that William and Kate had first visited SOS Village on October 17 as part of their official program. But after their flight got caught in a freak thunderstorm the Cambridges found themselves in Lahore with time to spare. So instead of staying at their hotel, they decided to pay a second visit to the orphanage. While there they did arts and crafts, and took part in a cricket match. That explains the friendship bracelets Wills and Kate were wearing as they boarded their flight out of Lahore.
Kate's only speech during the Pakistan tour was delivered at SOS where she said: "Some of the things I've been looking at back home are how best do you support children and what do they need to have a successful life. One, it's about quality relationships and two, the environment. What's great is that you have both here" (via People). 
This may have been Kate's first Instagram post, but it's not the first time the younger royals have used the platform to put a spotlight on important causes. Both Princes William and Harry have, in the past, used social media to express their views on causes that are near and dear to their hearts. And if something as simple as posting to Instagram can help the SOS Village, why wouldn't the Duchess of Cambridge do so?