The Untold Truth Of Camila Mendes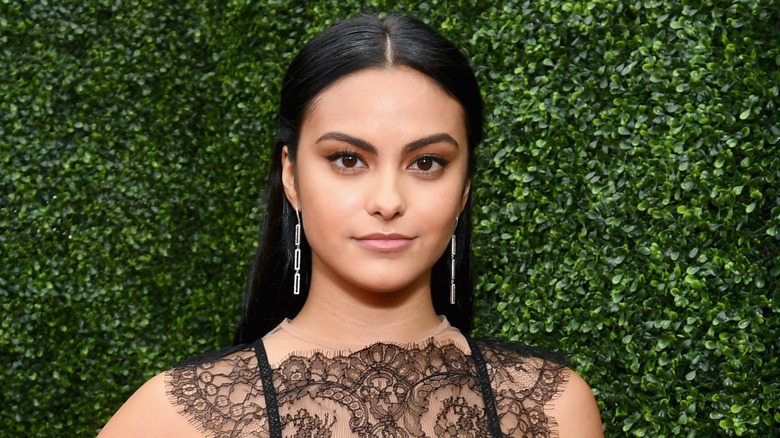 Emma Mcintyre/Getty Images
Camila Mendes is Veronica Lodge, at least for a whole generation of viewers. With most young actresses, pigeonholing them with their most famous role would be limiting, but, in Mendes' case, her breakout role on Riverdale is also, genuinely, her biggest. After attending New York's famous Tisch School of the Arts, the Latina was cast right out of college, and a cursory glance at Mendes' IMDb page confirms the CW teen hit really was her very first gig.
And yet, there's so much more to Mendes than just her Riverdale character Veronica. Although Mendes shares some of her onscreen counterpart's fiery energy, she's considerably more laidback. Mendes is unafraid to speak her mind, and she is passionate about sharing her story with young fans searching for a role model.
Mendes is only just getting started, but already there's a lot more to the starlet than what meets the eye. This is the untold truth of Camila Mendes. 
Camila Mendes' very first role was as a precocious fruit
Before she would go on to play a sassy rich girl in Riverdale, Camila Mendes got a taste for acting early on. As the actress regaled Los Angeles Confidential in an interview, in the third grade, she was cast in a production of The Turkeys Go on Strike, acting in the role of a take-notice fruit, though she didn't have the spotlight all to herself. "I was a cranberry and I had my own solo song. Actually... no. I had a duet. It was a duet. I'm getting carried away," she recalled. 
Even back then, the burgeoning performer was eager to be taken seriously. "I was really committed to the choice and to the emotion, and to being a really sad cranberry. The audience was laughing, and I started to get a kick out of it, realizing, 'People enjoy this,'" she admitted. According to the actress, her mother noticed her' keen sense of playing to an eager crowd and quickly enrolled her in a private school with a strong arts program. By senior year, Mendes was headed for New York City.
Camila Mendes got a tattoo to commemorate surviving a traumatic time in her life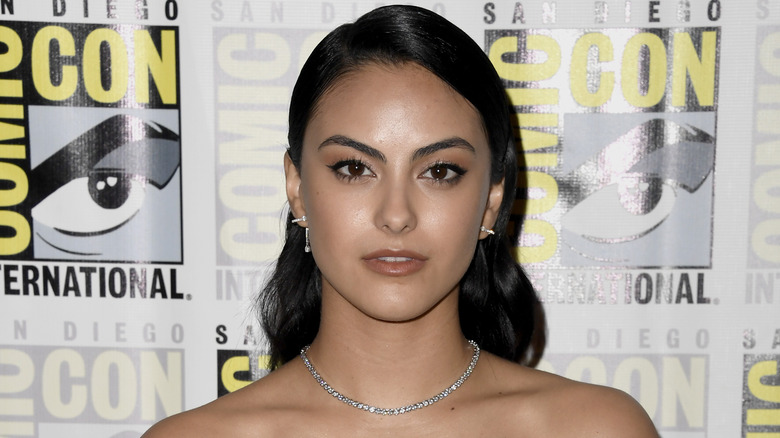 Frazer Harrison/Getty Images
Although NYU's Tisch School of the Arts was clearly the ideal place for her, Camila Mendes' time at the legendary art school wasn't an entirely positive experience. She opened up to Women's Health about a traumatizing incident during her freshman year, after which she had "to build a home" inked above her ribcage in cursive. "I got the tattoo after my freshman year," Mendes recalled, fighting back tears. "I had a very, very bad experience; I was roofied by someone who sexually assaulted me."
The tattoo refers to Mendes' need to make everything in her life feel safe, secure, and comfortable, just like the ideal physical home. It also reminds her to stay strong in both herself and the environment around her, while always also staying connected to her body. "Whenever I feel like I'm going through something difficult, I think about what I can do physically for myself," she explained of her workout regimen, which Mendes credits with helping her stay strong mentally too. 
Camila Mendes is not interested in becoming a brand
In direct contrast to many other young superstars, Camila Mendes isn't keen on the idea of capitalizing on her newfound fame for anything other than job opportunities. She is a serious artist who's utterly committed to her craft, and becoming a brand is the last thing on her mind. As the Riverdale star succinctly put it in a conversation with Teen Vogue, "[Social media] feeds into questions of 'Who am I? What's my brand?'" She noted, "I don't feel the need to brand myself. In fact, I feel the need to purposely not brand myself." 
Although she's part of one of the hottest shows on TV, Mendes is focused first and foremost on the work itself, choosing interesting indie movies while on breaks from Riverdale, such as Coyote Lake. The female-fronted movie following Mendes' character and the character's mother who drown drug runners and human traffickers in the titular lake on the basis of ridding the world of evil. Her character is totally different from Veronica Lodge, but that's the point. Mendes argued, "I'm going to value myself for what I do and what I bring to the world, and my work."
Camila Mendes' Riverdale audition was harrowing
It's hard to imagine a more exciting first role right out of college for an up-and-coming actor or actress than Riverdale, even without knowing how the show would take off. But the part of Veronica Lodge, didn't come easily to Camila Mendes. In fact, as she revealed to W, getting it was kind of a nightmare.
"I had the most harrowing audition process. They were like, 'You're our top choice, but we want to open up a new search, and we want someone that can compete with you,'" she recalled. Mendes knew how much the part would mean for her, revealing, "I lost sleep, I was crying every night because it felt like I was so close to something that could be big, and like my life and career changing." Thankfully, it all worked out in the end, but Riverdale certainly was a first job well earned. 
Ashley Graham inspired Camila Mendes to stop obsessing over being thin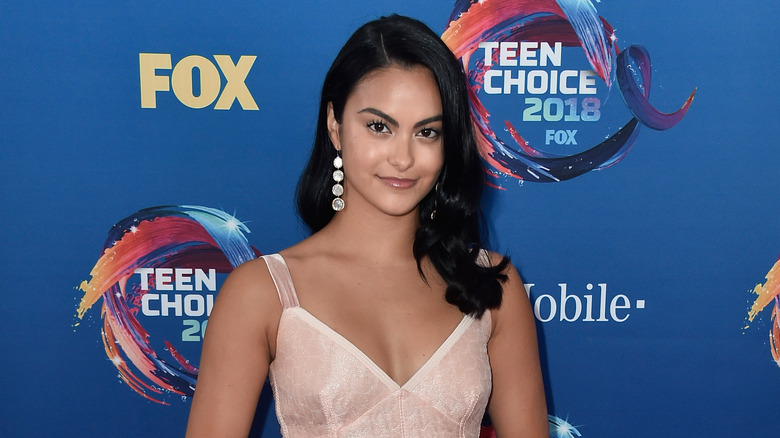 Frazer Harrison/Getty Images
Camila Mendes has been open about her eating disorder struggles, telling Marie Claire Malaysia that it took her years to realize she even had a problem. "Because I was never that skinny, I never thought that I did (have the disorder)," Mendes admitted (via Just Jared). The Riverdale star obsessed over being thin from a young age and her changing, more womanly body caused serious alarm. She acknowledged there weren't many body positive champions at the time to set her straight but, thankfully nowadays, there are. 
"Now, we see models like Ashley Graham who are encouraging women to embrace being unique, and that made me let go of the standard that was established so long ago — that thin is the only type of beautiful," she explained. These days, Mendes is also committed to working with Project Heal, an organization that raises both awareness and funds for the treatment of eating disorders. 
Camila Mendes got professional help to cure her diet addiction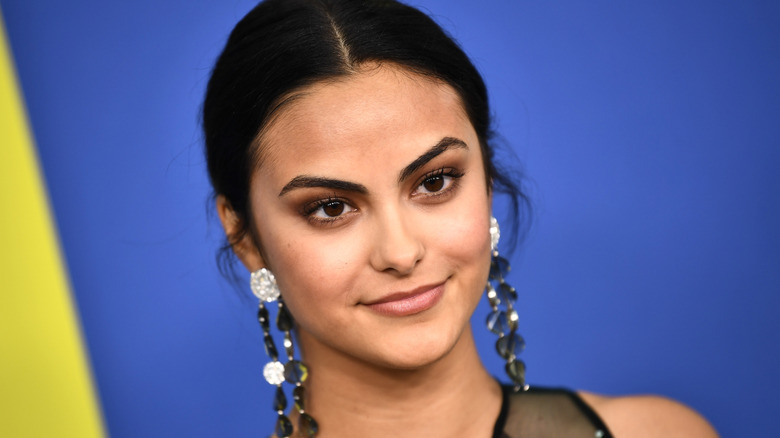 Dimitrios Kambouris/Getty Images
Even with the evolving discussion surrounding "acceptable" body types, Camila Mendes needed professional help to curb her addiction to yo-yo dieting. As she revealed to Shape in 2018, it wasn't too long ago that the actress was stuck in a dangerous cycle. "About a year ago, I got to a point when I realized I needed to see someone. So I went to a therapist, and she recommended a nutritionist as well, and seeing both of them changed my life. So much of the anxiety I had about food went away when I started learning more about nutrition," Mendes admitted.
After being cured of her "fear of carbs," the Riverdale star began to embrace eating properly and working out, focusing on being strong, fit, and healthy rather than starving herself to be skinny. Now she can relax and be comfortable in her own skin. "She also cured my addiction to dieting. I was always on some kind of weird diet, but I haven't been on one since. I'm very proud of myself," she shared.  
Camila Mendes went through a Blair Waldorf phase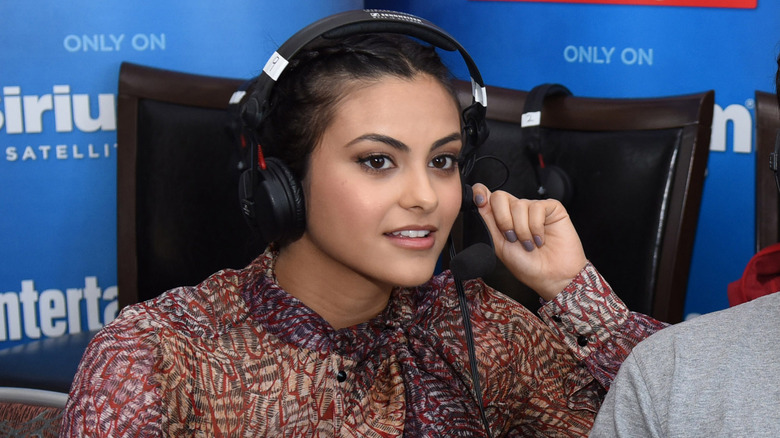 Vivien Killilea/Getty Images
Given her prominence as a member of the Riverdale posse, Camila Mendes has to deal with teens and preteens online and in person at conventions more often than she'd probably like. Although the attention can be difficult to handle sometimes, Mendes understands that a lot of the strong attitudes she comes up against have to do with immaturity. "Often, these people are basically children," she told Refinery29.
She speaks from experience, having apparently been a little terror herself at their age. "I did so many things when I was a 13-year-old. I was mean when I was 13!" she admitted. In fact, Mendes apparently even took inspiration from another sassy TV starlet. "I went through a Blair Waldorf phase. I was a b***h!" she said. It's easier for Mendes to separate herself from harsh comments as a result because, "When I look back on that time in my life, and I think that these kids are going through that same time, I can't [really judge that much]." 
Camila Mendes has to actively try to keep things private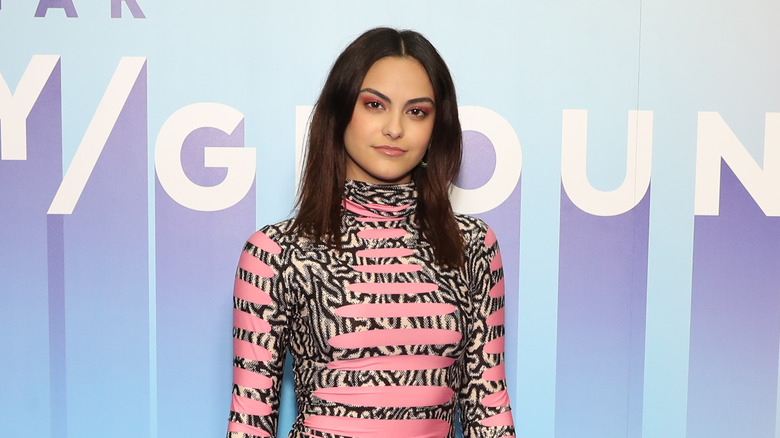 Cindy Ord/Getty Images
Camila Mendes is the definition of an open book as evidenced by, well, everything she's shared with the press. The actress gave an incredibly frank interview with Nylon about how difficult she finds it not sharing everything with the world. "I'm so willing to talk about anything at any given moment in time. I thrive off that. I have to actively try to keep things private," she shared. "My first instinct is to be open. Most of the time, I'm like, 'F**k it!. I'm just going to talk about this.' I am not precious about a lot of stuff."
Mendes sees it as a way of connecting with other people, but her openness extends to almost everything in her life, with the actress admitting, "I probably would show my t**s to anybody." She continued, "I actually would probably do that. I really don't care. It's just this genuine, Yeah, these are my boobs. Is there a problem? I don't understand what the problem is." Still, certain things are off limits, especially considering that she doesn't exist in the public eye alone. 
There's one thing Camila Mendes won't discuss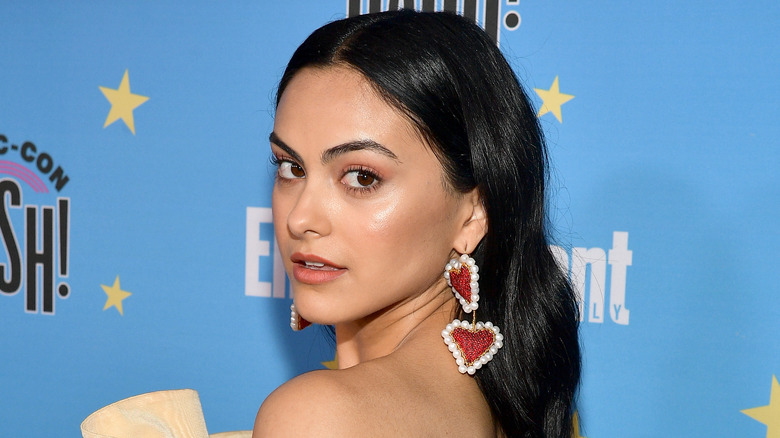 Matt Winkelmeyer/Getty Images
The one element of Camila Mendes' life she absolutely will not discuss in any great detail is her romantic relationship with Riverdale co-star Charles Melton. She explained to Los Angeles Confidential that, although her life is all about transparency, there are certain things Mendes cannot control. "I understand how my spoken words can translate into written words and how things can appear out of context. It's like, yeah, even though I feel comfortable talking about some things, do I really want to see it written over and over again? Sometimes, it's not really worth it," she explained.
The actress does enjoy working with Melton, however, though she was quick to note their onscreen dalliance did not arise as a direct result of their real-life relationship. "The show is fictional. I don't have an attachment to it. All [I'm attached] to is my character. Whatever direction the writers take, I will make it work. I am adaptable. I always make it work," she stated.  
Camila Mendes' nickname is somehow both fierce and adorable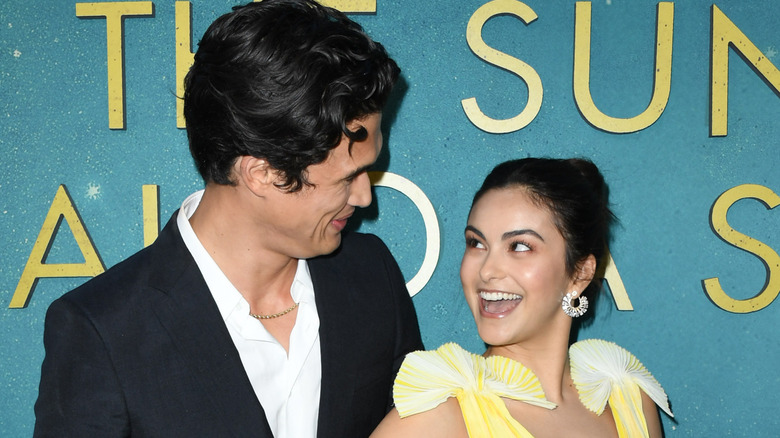 Jon Kopaloff/Getty Images
We may not know much about Camila Mendes' romance with Riverdale co-star Charles Melton, but certain key details have slipped out. For instance, as reported by E! News, Mendes was confronted with a "fan question" that was actually from Melton while she walked the red carpet alone at the 2018 E! People's Choice Awards. The query, which was about them working together, led to Mendes hilariously revealing that working with her man is "a lot, very intense." She joked, "You can't talk to him, you can't look at him. He only eats cashews rolled in cheese."
She may have been kidding about Melton's backstage demands, but the Riverdale starlet did reveal something about their relationship that was genuinely sweet: his nickname for her. "I'm baby dragon! I'm just like a baby dragon," she admitted. When questioned about what the nickname actually meant, Mendes explained, "Cause I'm kind of, you know, ferocious a little bit. I'm cute, but psycho." 
Camila Mendes bonded with the other Riverdale ladies over pottery
Riverdale was a massive break for basically everybody involved, not least the show's diverse female cast of newcomers. When Camila Mendes and co-stars Lili Reinhart (Betty), Madelaine Petsch (Cheryl), and Ashleigh Murray (Josie) first landed in Vancouver, Canada to start shooting, they headed out for a bonding session at the last place you'd expect their onscreen characters to gather. Teen Vogue noted the crew of bada** ladies went to a Color Me Mine-style establishment to paint pottery together and get to know each other. 
It worked, too, with the cast becoming incredibly close throughout the show's seasons and its increasing, although often frightening, popularity. As Mendes recalled, they coach each other through self-tape auditions and keep one another company through those long and often isolated hours on set away from their friends, families, and homes. "None of us knew what to expect and we've all been dealing with it together," she explained of their instant bond. 
Camila Mendes is proud Veronica is a Latina character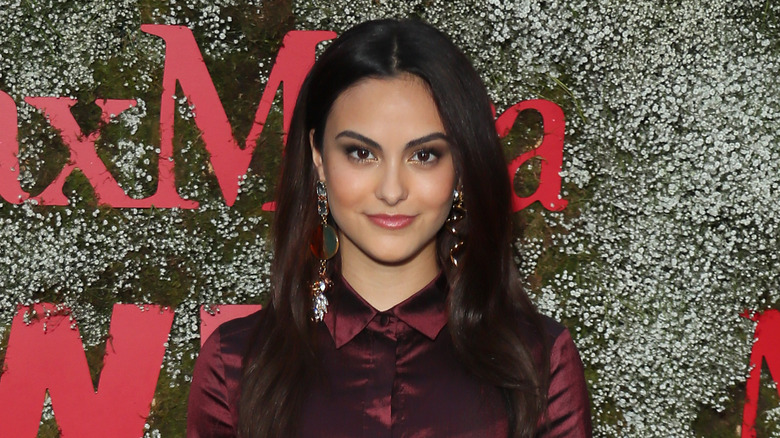 Leon Bennett/Getty Images
It only took a few episodes for Riverdale to reveal that the powerful Lodge family, which is rounded out by Marisol Nichols as Hermione and Mark Conseulos as Hiram, as proudly Latino, with the simple utterance of the word "mija," meaning "daughter," from Camila Mendes' onscreen mother. As the actress gushed to W, the decision to make them Latino really touched her heart. "I'm so happy...and it's not just Veronica, it's the whole Lodge family being all Latino...portraying Latinos as a strong, powerful, intelligent family. We do well, we're go-getters," she explained. 
However, on the other hand, Mendes is also wary of being typecast as a Latina actress, noting, "Being Latina, everyone is always going to want to be like 'Fierce, sexy, strong, confident!' — which is great, I think that's definitely a good type of personality to portray and it's empowering." However, she advised, "Latinas can be the goofy, nerdy, quirky, vulnerable women that I think is usually associated with white girls."
How Camila Mendes really feels about fans shipping her and KJ Apa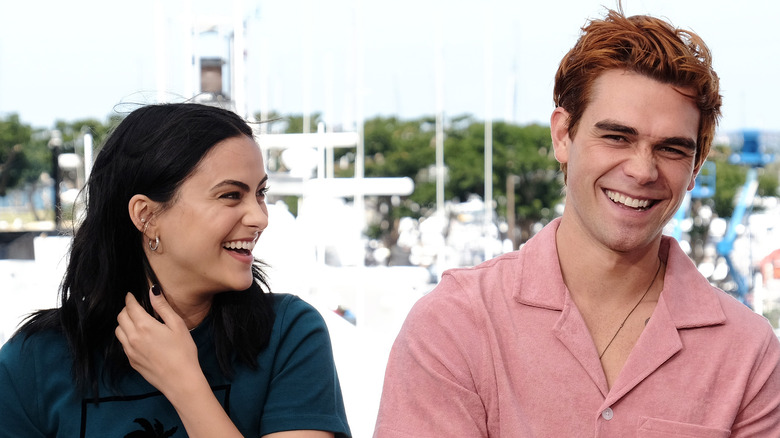 Tommaso Boddi/Getty Images
Although Camila Mendes may get frustrated with the constant attention on her personal life, she understands Riverdale fans are interested because of their enthusiasm about the show in general and her character in particular. To that end, the actress finds it endlessly fascinating that certain fans continue to ship her and co-star KJ Apa (who plays Archie) in real life, following their steamy onscreen relationship. 
"I think it's funny that these people, who don't know me, [care about my love life.] ... It's funny the amount of people who got upset when it was announced that I wasn't dating K.J. You don't know K.J. personally!" Mendes reasoned in an interview with Refinery29. "If we were supposed to, we would be in love right now. If we were supposed to date, we would be dating. But we're not, for a reason."  
She did, however, admit to how attractive they are as a couple, saying, "Yeah, we have chemistry — we're friends, we get along! — but that doesn't mean we should date!"
Camila Mendes wants nothing more in life than stability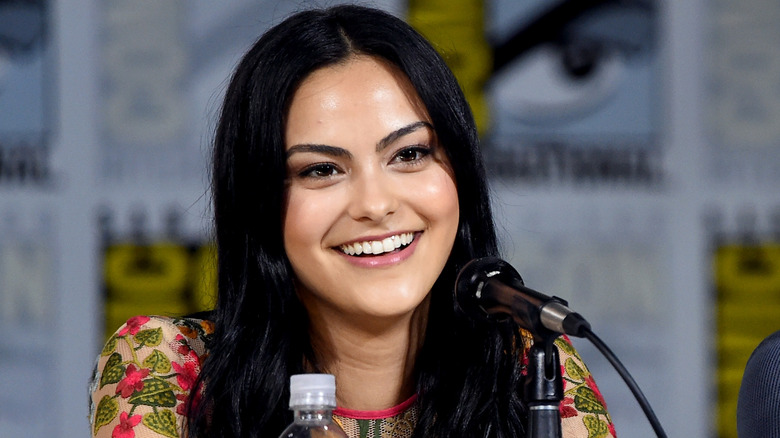 Mike Coppola/Getty Images
The life of an actress can be a difficult, isolating one, particularly in Camila Mendes' case, as she spends much of the year shooting in Canada, far away from her mostly Florida-based family. As she told Women's Health, a childhood of moving around left her feeling fractured. "You're constantly saying goodbye to people, and you're constantly being removed from your identity. When you start to feel like you're connecting with a group of people, an environment, and a home — a physical home — it can be destabilizing when you're uprooted and taken somewhere else," she recalled.
All she's ever wanted was stability, and, as a creature of routine, Mendes now clings to a sense of home by frequenting the same hotels, workout classes, and even coffee shops when traveling. The Riverdale star took an even bigger step towards her goal by purchasing a house for her mother in Florida, even though she spends much of her time in Vancouver and Los Angeles, so she has more roots laid down. "We finally have a home," she gushed.