Here's Why Vanessa Grimaldi Didn't Want Bachelor Nick Viall To Propose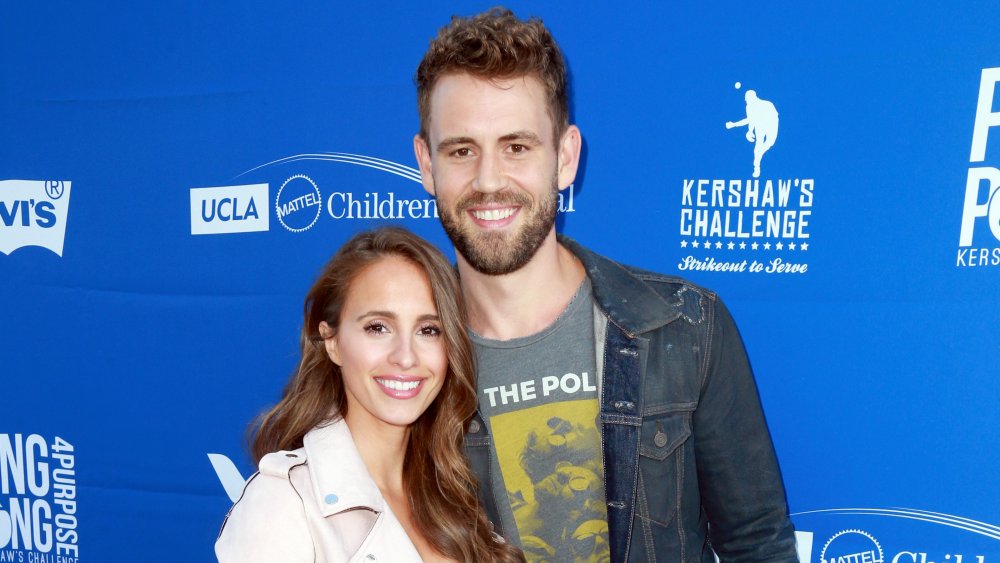 Leon Bennett/Getty Images
Former-Bachelor star Nick Viall is no stranger when it comes to devastating TV break-ups. Fans of the hit reality series watched Viall go through not one, but two heart-wrenching break-ups before the star tried his luck on the Bachelor spin-off, Bachelor in Paradise. There, Viall had a brief romance with Jen Saviano before the show announced him as the series' next lead. It seemed Viall finally found "the one" when he proposed to Vanessa Grimaldi during the finale of his season. 
Of the moment he got down on one knee, Viall told People, "It was a calming feeling of knowing I made the right decision." However, that calm proved to be short-lived, as the couple called it quits just a few months later. 
According to Us Weekly, in a new interview with Taylor Nolan, who competed against Grimaldi for Viall's affection on season 21 of The Bachelor, Grimaldi said she told Viall she didn't want him to propose, indicating the pair already had different views on the relationship before the show even aired.
Vanessa Grimaldi wanted to 'get to know' Nick Viall before a proposal
In the new interview for the "Let's Talk About it With Taylor Nolan" podcast, Grimaldi revealed some surprising insights about her relationship with Viall. According to Grimaldi, the Bachelor producers chose not to air the conversation she had with Viall about the pair's future. However, she claims she told her ex, "Listen, wouldn't it be better if we just date outside of the show and then get engaged? 'Cause that'd be more meaningful. We'd get to know each other."
This is not an unreasonable request, considering the show has a tight two-month filming schedule — that's not exactly a ton of time to fall in love and decide to get married. Take into consideration the track record of Bachelor couples and Grimaldi's concern makes even more sense. 
For his part, Viall told Grimaldi "[an engagement] is going to hold us together." And that was partly true, as Grimaldi believes "if we weren't engaged, we would've broken up sooner." At the time of the break-up, Grimaldi told People the pair "loved each other and tried to make it work" but ultimately "weren't the best fit." 
Despite their issues, by all accounts, Grimaldi and Viall are amicable as they continue to navigate their post-Bachelor lives. Viall told Us Weekly "there's a lot of mutual respect" between the two, and Grimaldi told Nolan she believes "everything happens for a reason."