Ruth Bader Ginsburg Reveals The Secret To A Happy Marriage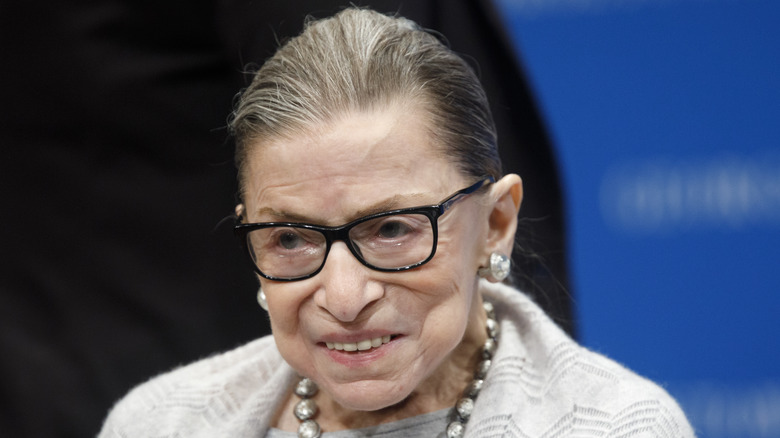 Tom Brenner/Getty Images
She's a Supreme Court justice, a wife, mother, pop culture heroine, and popular internet meme, but now the legendary Ruth Bader Ginsburg is adding another feather to her cap as a marriage counselor. At least, casually, and for the right person, anyway.
None other than Jennifer Lopez reached out to the Notorious RBG for advice ahead of her wedding to Alex Rodriguez. Her choice makes complete sense, of course, as not only is Ginsburg the smartest person in basically any room she's in ever, but she was also happily married to husband Martin Ginsburg for more than 50 years (via People). 
Ginsburg shared advice from her own wedding day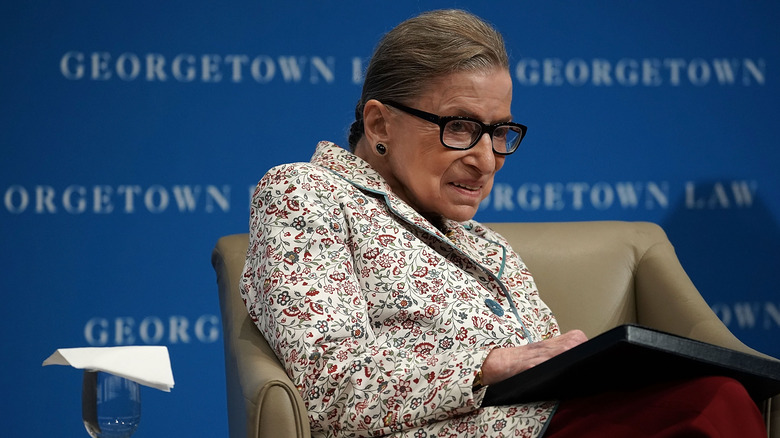 The U.S. Supreme Court justice revealed what she'd told the Hustlers star during a conference at the Library of Congress in August 2019, explaining Lopez had reached out looking to meet her, alongside A-Rod. The two ladies are both New York born and bred, with RBG hailing from Brooklyn and J-Lo from The Bronx. The trio subsequently gathered at her chambers where, according to Ginsburg, they had a "very nice visit."
Lopez had ulterior motives, however. "She mostly wanted to ask if I had any secret about a happy marriage," Ginsburg explained. Pressed to give more details, RBG shared the advice she got from her own mother-in-law, whose home she and Marty were married in. "She took me aside and said she wanted to tell me what was the secret of a happy marriage... [that] it helps sometimes to be a little deaf," Ginsburg reminisced (via E! News).  
Jennifer Lopez says she looks up to Ruth Bader Ginsburg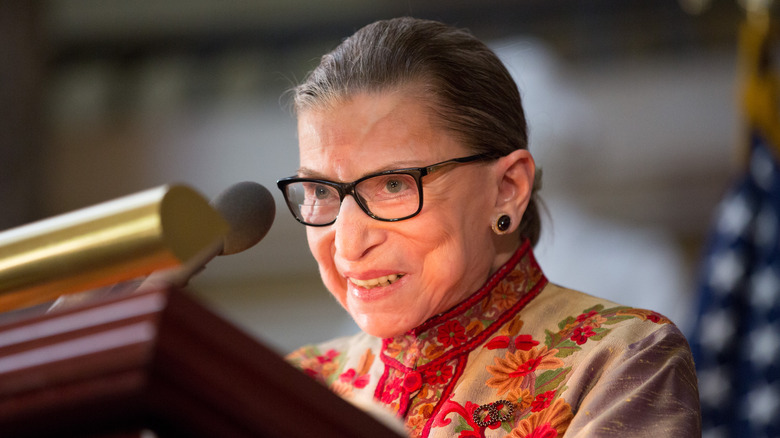 Allison Shelley/Getty Images
Lopez posted about their meeting on Instagram, gushing, "It was an honor to meet RBG... I so look up to her as a person, a woman, and a human being; but also as a wife, a working woman, and a passionate advocate for equality for women and minorities, the underprivileged of this country."
The singer and actress got engaged to Rodriguez in March 2019, according to CNN, while Ginsburg was married to Marty until his passing in 2010. The legendary Supreme Court justice attended the event at Congress following a health scare, confirming to NBC News that she was doing "very well" following three weeks of radiation therapy for a malignant tumor on her pancreas.
Lopez, meanwhile, told Variety all about her relationship with A-Rod, noting, "He loves being at every show that he can be at. I go to all his baseball games. ...We have a beautiful life."