How Adele Got In Serious Shape After Her Divorce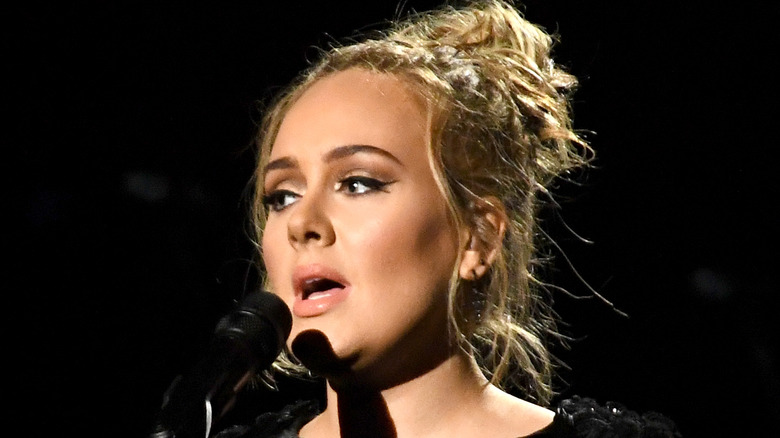 Kevork Djansezian/Getty Images
Who doesn't know and love Adele? Her songs (mostly about yearning and lost loves) have touched a chord in our hearts. We cheered when she married Simon Konecki, the father of her son Angelo and the man she thought was the love of her life, and mourned with her when she announced her divorce. We were keen to adopt her life mantra about focusing on happiness first and looks second. When Karl Lagerfeld commented in 2012 that Adele was "a little too fat," she responded by saying, "I've never wanted to look like models on the cover of magazines. I represent the majority of women and I'm very proud of that" (via People). 
Adele's divorce was a trigger
It may not surprise many of us, however, that Adele used her post-divorce period to work on a brand new her — who doesn't use a life changing event as a reason to make a few tweaks? An exclusive source tells Life & Style, "When Adele was married to Simon, she let herself go and lost confidence because she felt so unglamorous. That's why she'd go to extreme measures to avoid being photographed by paparazzi... [she's since] given herself a Hollywood makeover and feels like a million dollars." The source adds, "With the split came other big changes. Instead of sitting at home feeling sorry for herself, with the help and encouragement from friends, Adele took on a whole 'New life. New start' approach."
New start, indeed. Adele picked Drake's birthday party on October 23 to wow her friends — and floor her fans — with her new look, and also made a splash on Instagram, captioning a selfie from the party, "I used to cry but now I sweat" along with a laughing emoji.
How Adele pulled off her transformation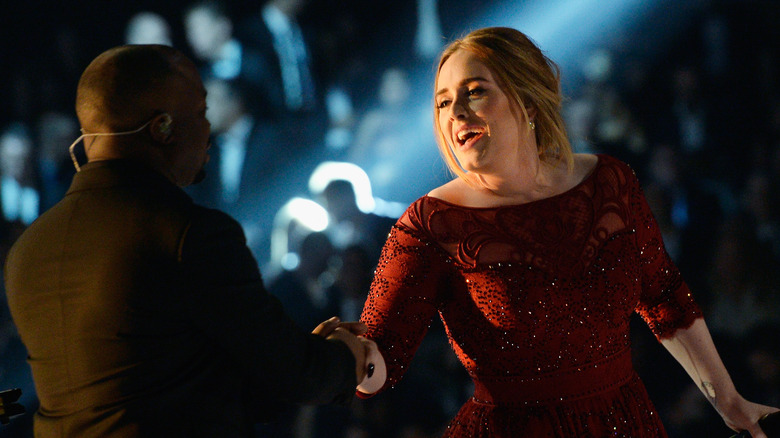 Kevork Djansezian/Getty Images
Curious fans want to know how she did it, of course, but Adele's jaw-dropping transformation wasn't an overnight thing; it took six months to achieve (that's determination!). The Sun began recording the changes as far back as June, when it reported that Adele had begun doing Reformer Pilates with her pal Ayda Field. There were also personal trainers and a healthy, plant-based eating program that allowed for chocolates and red wine (that's a program we can get behind). 
Of her new routine, a source close to the singer told the tabloid, "Adele has been out enjoying herself and she sees that as her priority at the moment, along with being a mum to Angelo. She has been loving her new workout regime and it really works for her. It's a bonus that she has shifted some weight. Her mates are glad she's letting loose and there's nothing but good feelings towards her. She's got a new lease of life."