Jorge Nava's Transformation Has 90 Day Fiance Fans Doing A Double Take
A recent photo of 90 Day Fiancé star Jorge Nava has just surfaced, and his dramatic transformation has fans doing a double take (via E! News). The TLC star, who's currently serving a two-and-a-half year sentence for possessing drugs with the intention to sell, seems to have lost quite a lot of weight.
It's been some time since fans have seen Nava and his wife, Anfisa Arkhipchenko — they last appeared on the 90 Day Fiancé: Happily Ever After? tell-all in July 2018, and in October of the same year, Anfisa announced on a since-deleted Instagram post that she and her husband would not be returning to the 90 Day Fiancé franchise after Jorge's arrest (via In Touch). What fans really want to know, though, is whether or not the two are actually still husband and wife — but Anfisa clearly isn't ready to spill the tea on that just yet.
Jorge Nava's new look is dramatic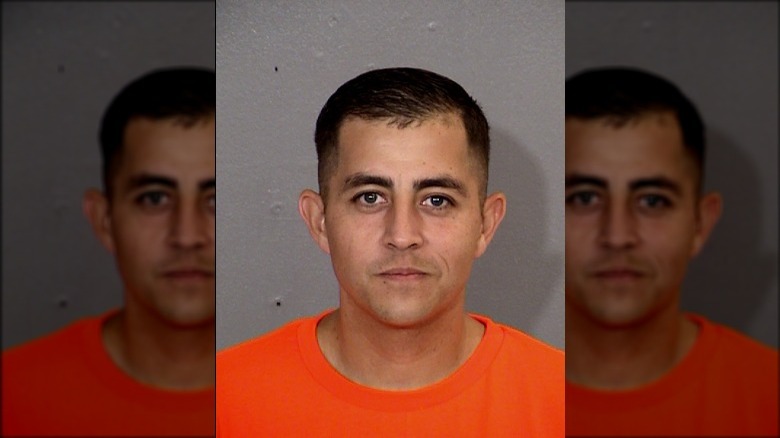 Arizona Dept. of Corrections
In September 2018, Jorge and Anfisa confirmed that he would be serving 30 months in prison for having nearly 300 pounds of marijuana in his car (via Us Weekly). He had been arrested that previous February when he was pulled over for a traffic stop, and he ultimately pleaded guilty to a class four felony. 
Luckily, he was given the chance to serve a shorter sentence. He told TMZ that he and his lawyer worked together to get his class two felony charge, which would have resulted in 24 years behind bars, dropped to a class four. Of the time he'd be serving, Jorge said, "I feel like it's really harsh of a penalty for the crime being. Just because it's marijuana-related and right now, it's going legal... I feel like the whole fact of it, going to prison over the same stuff that's legal is kinda crazy to me" (via Pop Culture). Despite this, Nava said the TLC couple were doing great, and he mentioned that Anfisa was "very supportive" of him throughout his case.
According to his prison profile when he went in, Jorge's weight is listed at 275 pounds, though it's clear to see in the Arizona Department of Corrections inmate photo that the reality star has undergone a major transformation since that weigh in (via In Touch Weekly). Whether it's due to diet, exercise, or both, there's no denying his new look is a dramatic change.
Jorge Nava's arrest hasn't stopped Anfisa from living her best life
Even though Jorge is currently out of commission as a husband right now, Anfisa continues to live her best life. In a since-deleted YouTube video, she said that she believed since Jorge is an adult, he needs to take responsibility for his actions, and it doesn't have to drag her down. "Whatever is going on right now, he brought it upon himself," she said. She's used this time away from her husband to really work on herself, and it shows.
In 2018, Anfisa lost 26 pounds, and has been participating in bodybuilding competitions, as she's shown off on her Instagram. On top of being a fitness queen, she also revealed to fans in her November 3 YouTube video that she's in her second year of community college, and she hopes to transfer to a four-year university soon. However, she says that she's struggling to figure out what she wants to do, and that being on social media has been really difficult. "I want to share with you but at the same time, I don't want to overshare," she revealed. "I'm a bit confused to be honest right now." 
Are Jorge and Anfisa still together?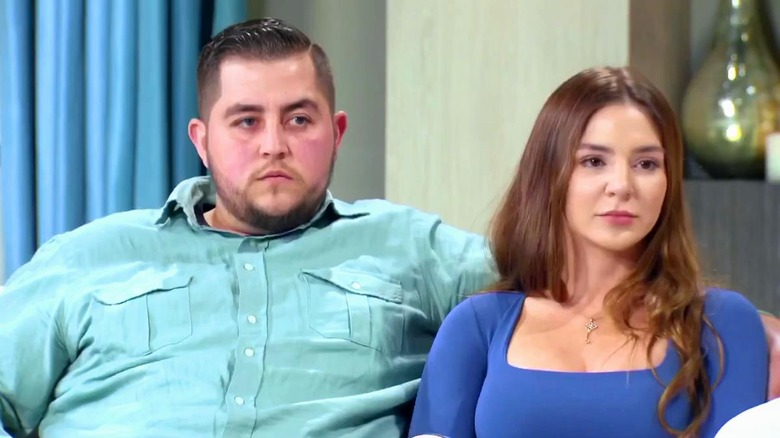 TLC
Regarding her current relationship status, the reality star said in her recent video, "To be honest, I'm not ready to address this topic and I hope you understand it and I know that you do. Those who truly support me, you'll understand it. And those people who constantly keep asking questions about it, I just feel like, 'Why do you want to know? Do you just want to gossip about it?' If you support me, you support me no matter what my relationship status is, no matter who I am with. I don't want to have any sort of drama, any sort of gossip, so right now I'm not ready to address this topic." 
She also revealed on Instagram in August that she moved into her own apartment, prompting fans to assume she might be single. Looks like we might have to wait until Jorge comes home to find out the truth. He's set to be released between August 9, 2020, and March 9, 2021.