Matt Damon Reveals The Reason He Got Four New Tattoos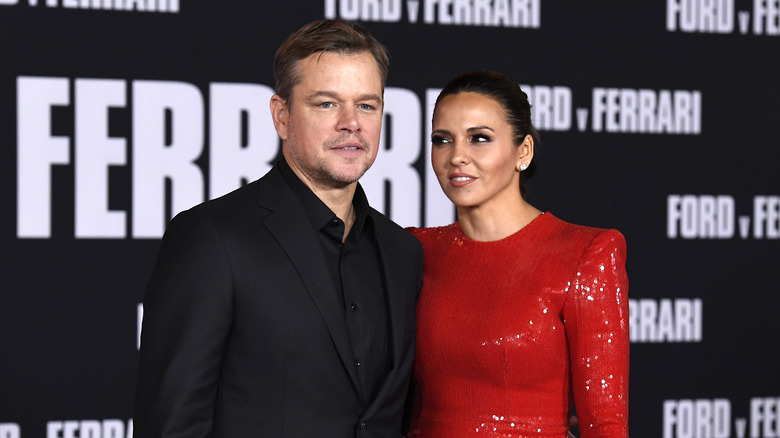 Frazer Harrison/Getty Images
In summer 2019, People reported Matt Damon got four brand new tattoos. Daniel Winter, a Los Angeles-based tattoo artist, had taken to Instagram to reveal Damon's new ink, writing, "Honor tattooing one of my favorite actors!" 
Damon got the names of his four daughters, Stella, Gia, Isabella, and Alexia tattooed on his shoulder next to his wife, Luciana Barroso's name. While the gesture is undoubtedly a touching tribute to some of the most important people in his life, it turns out the tattoos weren't exactly a spur of the moment decision. In fact, Damon had been wanting to get his daughters' names inked on his skin for years -— and it sounds like he isn't even done yet.
Matt Damon's tribute to his daughters has been in the works for 7 years
In an interview promoting his new movie, Ford V Ferrari, Damon told Access Hollywood that his wife surprised him one day by saying, "we're going to get tattoos today." So, Damon did what many tattoo artists would probably advise against — he got his wife's name tattooed on his arm. 
This story should come as no surprise to fans of the couple. In January 2018, People reported Barroso got a matching tattoo with her good friend Elsa Pataky (Chris Hemsworth's wife). Clearly, the Damons are fans of using tattoos to commemorate special relationships.
According to Damon, though, "[Barroso's name] always felt alone on my arm, and I've always wanted to put the kids on there." Damon's sentimental art is clearly a true testament to just how important his family is to him. 
Damon also made it clear that the tribute wasn't finished, telling the interviewer, "I've got to figure out a way to pull it all together." So, be on the lookout for another post with the final tattoo reveal.