Inside Austin McBroom And Catherine Paiz's Relationship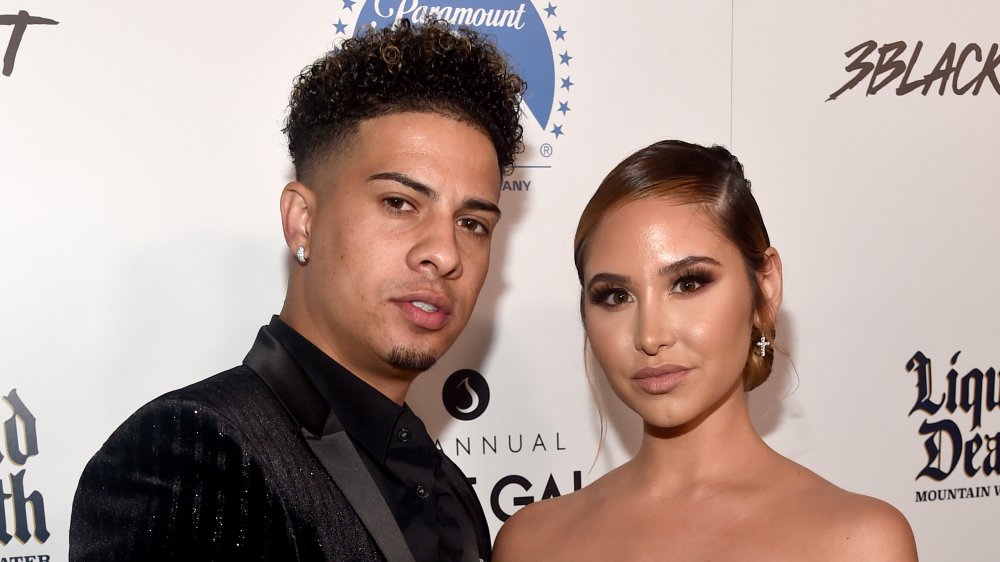 Alberto E. Rodriguez/Getty Images
The Ace family, which is made up of former basketball player Austin McBroom, influencer Catherine Paiz, and their daughters Alaïa and Elle, have been in the news a lot in the past month, and not for the best reasons. Austin was accused of rape in October in a tell-all video by YouTuber Cole Carrigan, and Catherine was quick to defend her partner on Twitter. Regardless of the allegations, it seems Catherine is choosing to stand by her man. 
The couple launched their joint YouTube channel after the birth of their daughter Elle in 2016 (via Newsweek). And while they keep postponing their official wedding date, the pair continues to move forward as a couple. But what is Austin McBroom and Catherine Paiz's relationship really like?
Catherine Paiz and Austin McBroom met at a dinner party in 2015
In an interview with Power 106 Los Angeles, Austin revealed that he knew there was something special about Catherine from the get-go. Immediately, Austin wanted something serious, but Catherine took a minute to warm up to him. She didn't even hug or kiss him on the first date! However, they continued to see each other, despite Catherine's hesitations. "I just wasn't used to like, things happening so quick, and things being so real so quick," she said in the interview. 
They welcomed their daughter Elle in 2016 right before launching their YouTube channel, which they titled using the first initial of their three names. The family has been documenting their daily lives over the past few years to their over 17 million subscribers and counting. Their channel has been such a success that they've even signed a contract with Univision to join its Creator Network, as exclusively reported to Variety.
Austin McBroom has been caught up in his fair share of controversy
However, with success often comes scandal. Austin has gotten caught up in a few controversies over the course of the family's time in the spotlight. In early 2019, Austin shared a video on Snapchat of him buying a penis-shaped lollipop for a girl thought to be an extended family member. The video was then re-posted to Twitter, and critics immediately freaked out, saying he was sexualizing the child. 
Going back even further, old (and now-deleted) tweets of Austin's resurfaced that showed him making comments about Asian and Black women, and about women in general (via BuzzFeed). To defend himself, Austin took to his channel and posted a video addressing the controversy with his mother, who claimed that her son couldn't be taken seriously because Austin is multi-racial and a "jokester." 
Despite the controversies, Catherine is standing by Austin. In one of their recent videos, Catherine tells her subscribers that she and Austin are not breaking up, even though she's been seen without her ring. "People sometimes don't really understand... but he is my soulmate," she said in the video. "He is my other half, he's my person that I'm meant to spend my life with."