The Real Reason Abbi Murphy Left Below Deck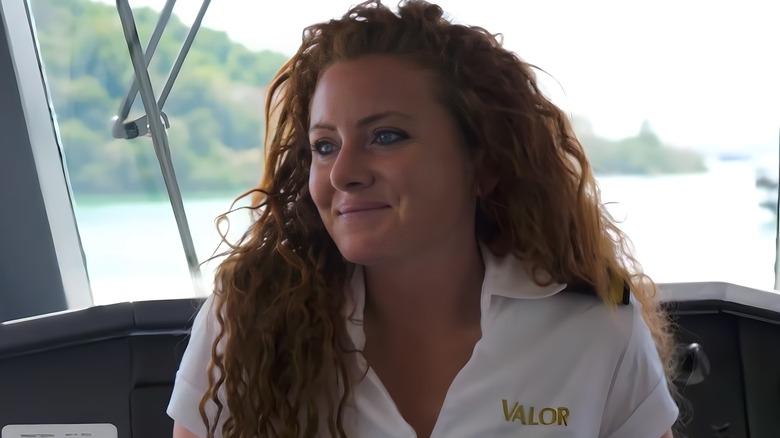 Bravo
This week's episode of Below Deck caught many fans off guard when Abbi Murphy announced she quit. The recently married reality star took to Twitter to reflect on her shock decision, noting "It was really sad to go and I struggled with the decision a lot." She continued, "Sad to say bye to everyone, even more difficult to leave, knowing I'm letting them go a man-down. I hope they replace me with someone who will love it, [and] who knows what they're doing! Hope the guys will be better off in the end! #goodtimes [and] good luck [Ashton], [Tanner], and [Brian]."
Abbi Murphy prioritized her engagement
Talking to Bravo's The Daily Dish, Murphy elaborated on the reason for her departure, explaining that the job wasn't quite right for where she was in life. "I wasn't very comfortable in the situation. I felt like I wasn't myself in the situation, and, for me, when I feel like I'm defeated by my environment, I wanna excuse myself from it," she explained.
Abbi also admitted she wanted to focus on her future with her partner. "I don't think you should be newly engaged and in, you know, a type of environment with a lot of partying and a lot of different elements with guys and this and that," she said. "You should probably step out of it and focus on your future that will last longer than your time on the boat." 
Murphy stunned the rest of the crew when got engaged to her now husband Patrik via text earlier in the season. Though many were surprised by the couple's engagement given their on-again, off-again relationship, the two have since married and are now sailing their own charter around Greece.
Murphy was struggling onscreen all season
When publicly criticized by Captain Lee on Twitter, Murphy bravely revealed that her decision to leave meant she was could put her mental health first. "I understand if you don't understand that the decision was good for my mental health and my future," the former yachtie wrote. "If you aren't happy with what you're doing and you know what you love is waiting for you, why not go for it?" she said in another tweet. "Life is too short, and nobody is guaranteed a tomorrow." As fans of the show would know, Murphy had a hard time settling down on Below Deck and she was often filmed crying. 
Earlier this month her colleague Ashton Pienaar admitted, "You know, I could see she was struggling with the uniformity and all the moving parts on a motor yacht compared to a sailing vessel. I didn't know it was so bad. I knew there was an issue when some of the other crew start coming to me and telling me how upset she was and things like that" (via The Daily Dish).