The Sad Way Emma Thompson Related To Her Love Actually Character
If you were to Google "heartbreak" and Love Actually, you'd be served up with reams of results on how Karen (Emma Thompson's character) opened her Christmas present from her husband to find a Joni Mitchell CD instead of the necklace she'd been expecting (which had been given to the other woman). To the haunting sounds of Joni Mitchell's Both Sides Now we see Karen in her room crying as she realizes her husband is cheating on her.
Emma Thompson has since admitted that the on-screen heartbreak actually came from a very real place. Grazia reports that even though it took 12 takes for the scene to be wrapped, Thompson's crying was completely unscripted. "That scene where my character is standing by the bed crying is so well known because it's something everyone's been through... I had my heart very badly broken by Ken. So I knew what it was like to find the necklace that wasn't meant for me. Well, it wasn't exactly that, but we've all been through it," she said (via The Telegraph).
Emma Thompson's heartbreak was real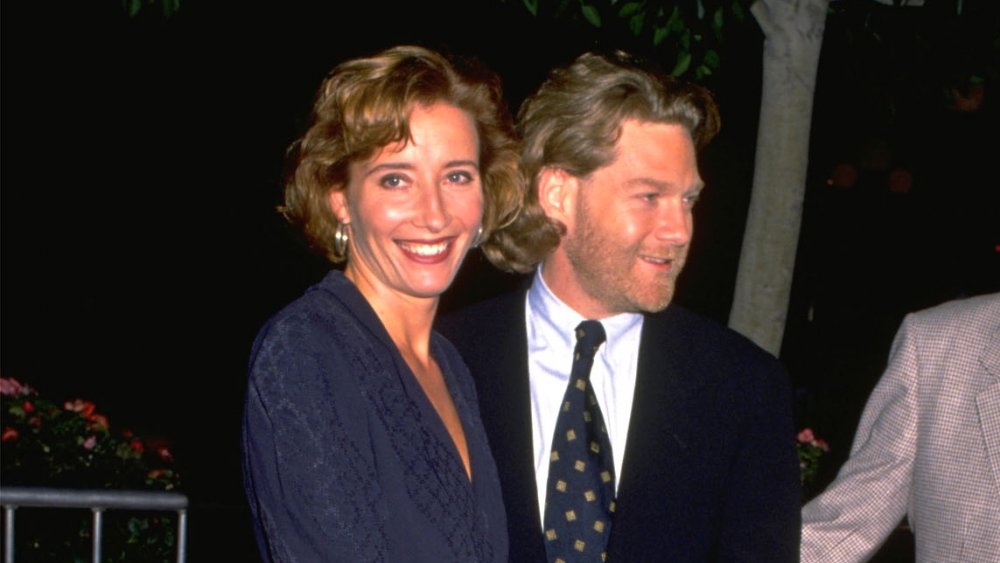 Diane Freed/Getty Images
Kenneth Branagh and Emma Thompson met in 1987, when they played husband and wife in Fortunes of War, a BBC mini-series. They were married two years later, and became "Ken and Em," the golden couple of UK cinema — think Brangelina before Brangelina was a thing. They separated in 1995, however, amid rumors that Branagh had cheated on Thompson with Helena Bonham Carter while they were filming Mary Shelley's Frankenstein (via The Telegraph), and at the same time People was reporting that Thompson had gotten too close to Greg Wise, her Sense and Sensibility co-star.
But there was no mention of infidelity when they announced their separation to the press. They merely said in a statement, "It is with great sadness that we have decided to separate. Our work has inevitably led to our spending long periods... away from each other and, as a result, we have drifted apart." 
When it reported the split, People speculated that Thompson's success might have put a strain on their marriage, because she had won the Best Actress Oscar in 1993 and received two nominations the following year, while Branagh's efforts — including Mary Shelley's Frankenstein — flopped. 
It wasn't until 2013, 18 years after her split with Branagh, that Thompson opened up to the press about the heartbreak that not only led to the end of her marriage, but to the inspiration for that iconic scene in Love Actually — a scene that no matter how many times you've seen it, and how many times you've cried over it, you find yourself freshly heartbroken for Karen every single time.
Emma Thompson ultimately found her happy ending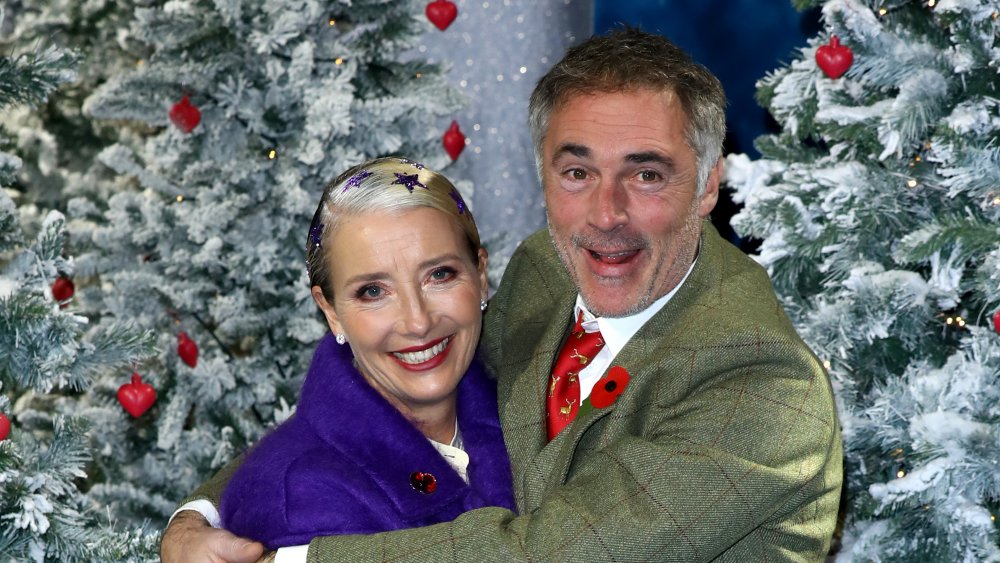 Tim P. Whitby/Getty Images
Thompson explained why the heart-wrenching scene wasn't such a stretch to pull off, revealing to The Telegraph, "I've had so much bloody practice at crying in a bedroom, then having to go out and be cheerful, gathering up the pieces of my heart and putting them in a drawer."
However, Emma Thompson has moved on in a big way. She calls her ex-husband's infidelity "blood under the bridge," saying, "You can't hold on to anything like that. It's pointless. I haven't got the energy for it... Helena and I made our peace years and years ago... she's a wonderful woman." After all these years, Thompson can even crack a joke about the affair, saying that she and Bonham Carter are similar, both "being slightly mad and ... a bit fashion-challenged. Perhaps that's why Ken loved us both..." (via The Telegraph).
The Telegraph also reports that Sense and Sensibility was Thompson's lifeline at a challenging time. The actress says that while she was going through depression, "The only thing I could do was write. I used to crawl from the bedroom to the computer and just sit and write, then I was alright, because I was not present. Sense and Sensibility really saved me from going under, I think, in a very nasty way." 
The movie also gave Thompson her own happy ending, as it was because of the movie that she met husband Greg Wise through co-star Kate Winslet. Wise says a psychic friend had told him he would meet his future wife on the movie set, and while he originally thought it would be Winslet (they even dated!), Wise tells Express, "We [Thompson and I] fell in love and it seemed that there was no reason not to get together. I simply picked the wrong woman at first, that's all." The two married in 2003 (via Bustle). Just like in the movies...