How Olivia Colman Really Feels About Playing Queen Elizabeth In The Crown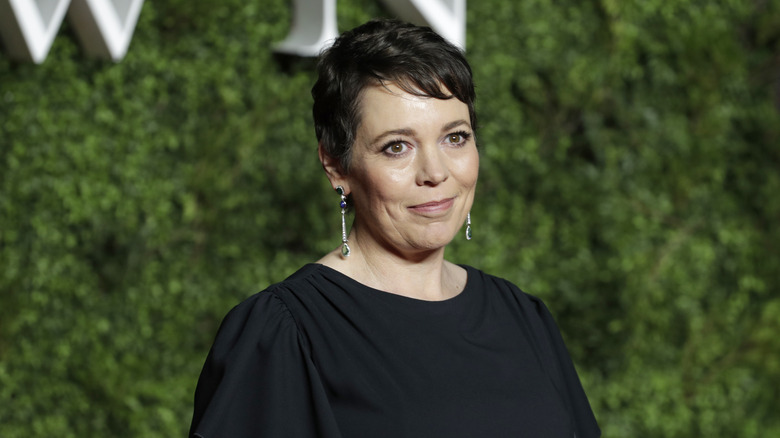 John Phillips/Getty Images
Season 3 of The Crown is set to premiere on November 17, and the series' new leading lady, Olivia Colman, has been making the media rounds and gearing up for her big debut, dishing behind-the-scenes secrets and revealing how she feels about the role along the way. 
Playing a historical figure is no easy task. Colman, though, is no stranger to playing English royalty, and her lengthy Hollywood resume gives the impression that no role is too daunting for the seasoned pro. However, it turns out playing Queen Elizabeth II was challenging for Colman. She compared it to her recent turn as Queen Anne and told reporters (via PTI), "it's harder to play the character if they are still around." At the same time, the Academy Award-winning actress also revealed her true feelings about England's longest-ruling monarch.
Olivia Colman believes Queen Elizabeth is an 'extraordinary woman'
Colman told Radio Times she had recently finished bingeing The Crown's first season when her agent called about the opportunity. Seeing as she had recently devoured season one in just three days, saying Colman was excited would be an understatement. 
After landing the coveted role, Colman learned as much as she could about the Queen. Per PTI, Colman said, "The more I researched for this part, the more I started respecting her. She has gone through so much. It is really amazing." Colman's sentiments are understandable, given the laundry list of important events Queen Elizabeth has lived — and ruled — through. Colman further expanded on the queen's reign, noting in The Guardian, "She fixed cars in the Second World War. She insisted on driving a king who came from a country where women weren't allowed to drive. She's no shrinking violet."
Given just how big of a spotlight is on the royal family — not a day goes by where we don't hear something new about Meghan Markle and Prince Harry — Colman's portrayal of the queen is going to be a major topic of conversation as fans start watching The Crown's new season. That conversation will be made even more interesting by the unique casting approach of the series. Colman is following in the footsteps of Claire Foy, who won awards for her portrayal of Queen Elizabeth in the series' first two seasons. Make that double the number of big shoes to fill for Colman. After all, as she told USA Today, "There's only one woman with that hairdo."